At the mere age of three, Lily Ling found herself picking up the accordion, the first instrument her parents introduced her to as a child, with intrigue. As her musical inclination quickly blossomed, the accordion led to the piano, the piano led to musical theater, and theater emerged into musical direction. The rest is history, as Ling now serves as one of the conductors for the renowned Broadway musical, Hamilton, and the Music Director for a company of the award-winning show.
"Being in the musical theater industry has taught me how to be a student, a musician, a teacher, a friend, a collaborator, an advocate, and most importantly, how to be an empathetic artist and human being," shares Ling.
A current student in TC's Music and Music Education doctoral program, Ling is the first person of Asian descent to conduct Hamilton on Broadway, and the first woman to music direct the show. We sat down with Ling as she shared some of her most important takeaways for success on and off stage:
Perfect Your Craft and Build Connections Along the Way
"The only way to improve your skills and know your industry better is to work under the people who have come before you," says Ling, who attributes her successes to the real-world experiences she's gained in the industry. "I think I'm an amalgamation, a sponge, of everyone I've collaborated with in my career. I've worked for many unique individuals and observed and gathered the best parts of their teachings."
These connections made over time helped foster Ling's pathway to Broadway, particularly during her time at Penn State with friend and mentor Roberto Sinha. Sinha, whose experiences include musical direction for the Broadway hit Kinky Boots, recommended Ling to stand alongside him as Associate Musical Director during the second national tour of Hamilton. "I spent my first year purely learning under Roberto, learning the language of production," shares Ling. "It really helped me learn the language of my industry."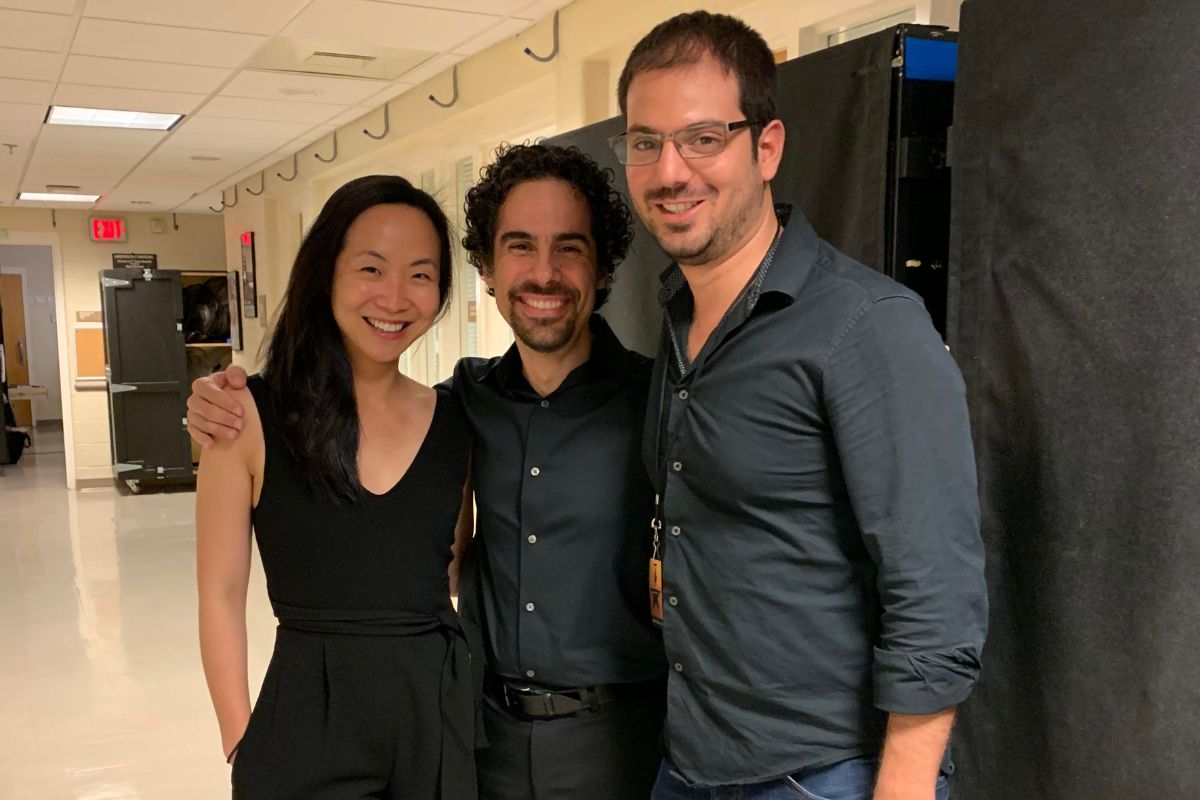 Do What You Love, Love What You Do…and Never Stop Learning
"Education never stops," explains Ling, who in addition to emphasizing the critical role of hands-on experience, is set on earning her doctorate degree. At Teachers College, Ling is hoping to explore the concept and approach of music literacy, specifically for actors. "I want to learn how to teach it to my mentees and peers so that it isn't just a foreign language. It should be something everyone can embody, regardless of their background."
The Chinese-Canadian music director shares that she's been "fortunate enough" to have her passion as her career, something many people do not experience. She credits two virtues, patience and humility, in staying grounded. "There are many factors that lead up to that first downbeat on opening night or that first band rehearsal," she explains. "But if you exercise patience and realize there's always room for improvement, you're golden."
"Music direction is a trade. The only way to learn is to watch; listen more and speak less."
Invest in Future Generations
"I believe mentoring and supporting young people is what fuels me everyday," says Ling. She's an advocate for education and a mentor for two organizations, MAESTRA and MUSE, committed to providing visibility, advocacy, and support resources to marginalized and underrepresented populations in the musical theater space.
Immigrant outreach, in particular, is close to her heart. Ling mentors students in her home country of China, using her cultural translation skills and fluency in Cantonese and Mandarin to impart some of her advice and experiences. "I am lucky to have such a specific, different perspective than most in my industry," she says.
"I entered the industry almost a decade before any social or political upheaval or support…As a woman and a person of Asian descent, I feel compelled to advocate for change. How can we rebuild the system?" She explains that while she's incredibly introverted, she wants to "share her voice for those who are willing to listen", so that everyone can have a seat at the table.
Looking Ahead
For Ling, her time at Teachers College in the Big Apple has been transformative, to say the least. "Teachers College has completely changed my trajectory regarding how I think creatively as a conductor and leader," says Ling. She adds that two courses led by TC's Randall Allsup, Creative Problem Solving and Music and Philosophical Perspective in Music Education, have been instrumental in her experience.
Most recently, she's putting what she's learned into practice while she music directs How to Dance in Ohio, a heart-filled musical based on Alexander Shiva's Peabody Award-winning documentary. The musical follows a group of young adults with autism spectrum disorder preparing for their first spring formal in Columbus, Ohio.
"This project is like nothing I've ever worked on before," says Ling. "I've learned so much about the neuro-divergent community. I've used everything from my creative toolbelt to shed light on this as not just a story, but as a piece of advocacy."
In the words of Hamilton's very own Lin Manuel Miranda, she adds, "What is a legacy? It's planting seeds in a garden you never get to see."
"I truly believe that my time at TC and how I use what I've learned afterward is just that — 'planting seeds in a garden I never get to see,'" she concludes. "I may not witness it in my lifetime, but I'm hopeful that my work will inspire future generations far after I'm gone."