In recognition of years of hard work and the successful completion of their degrees, Teachers College celebrated the Class of 2023 on May 17 and 18 in ceremonies at Washington Heights' United Palace Theater.
Columbia blue regalia, celebrating families, and overjoyed grads decorated the theater — a gilded gem of upper Manhattan that has convened people from all walks of life since the 1930s, often during the most difficult periods of history. Nearly 100 years later, future leaders across education, health and psychology gathered on the precipice of their next assignment:
"Working together to courageously envision and pursue a better future is a lesson that has never been more relevant," President Thomas Bailey told graduates during his address. "If we overcome our differences, we can launch a new chapter in the story of our society. Or as a wonderful Ethiopian saying puts it: 'When spiders unite, they can tie down a lion.' Graduates, because of who you are and what TC has given you, you are well-equipped to lead us in tying down the lions of our era."
Carousel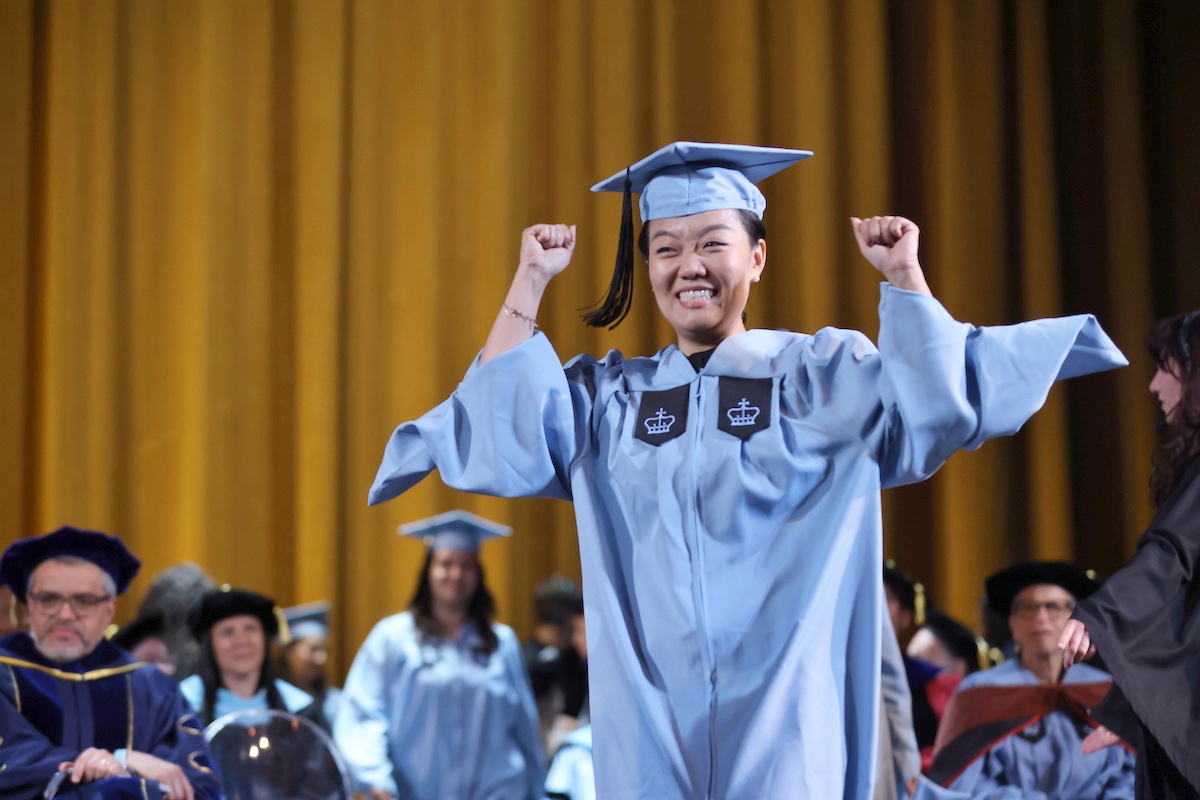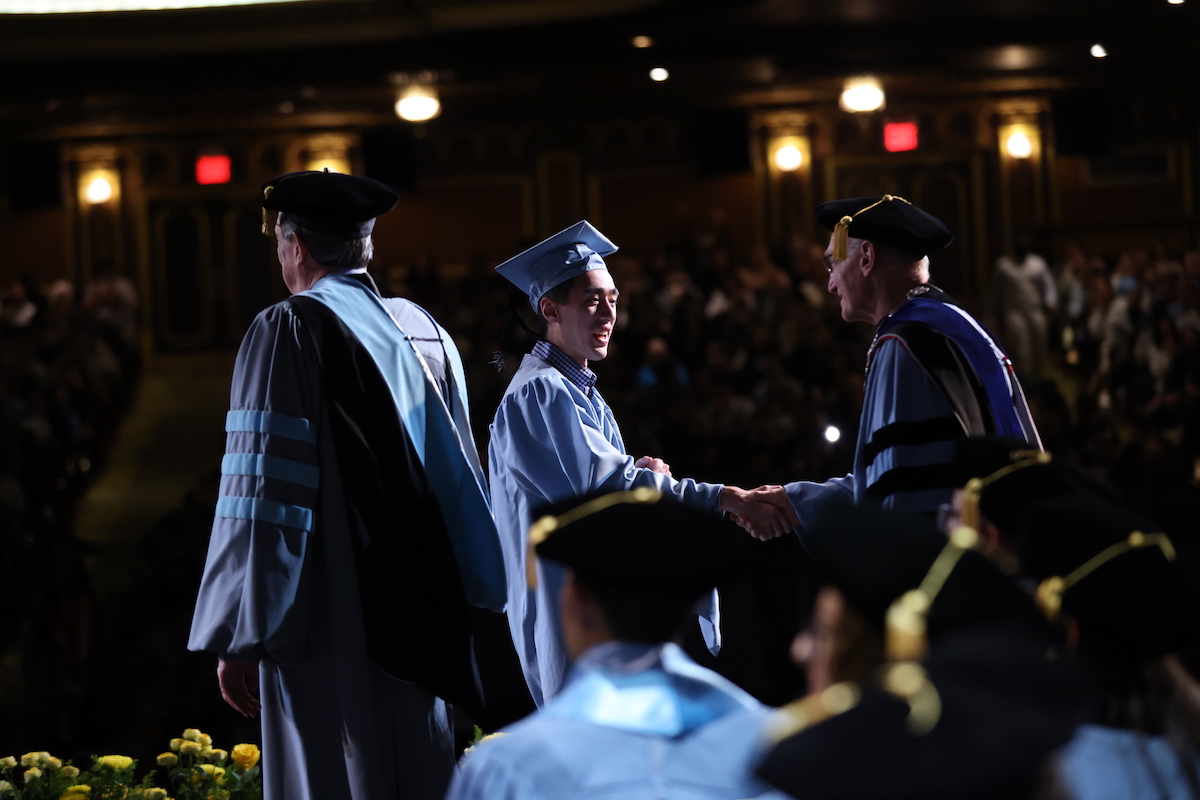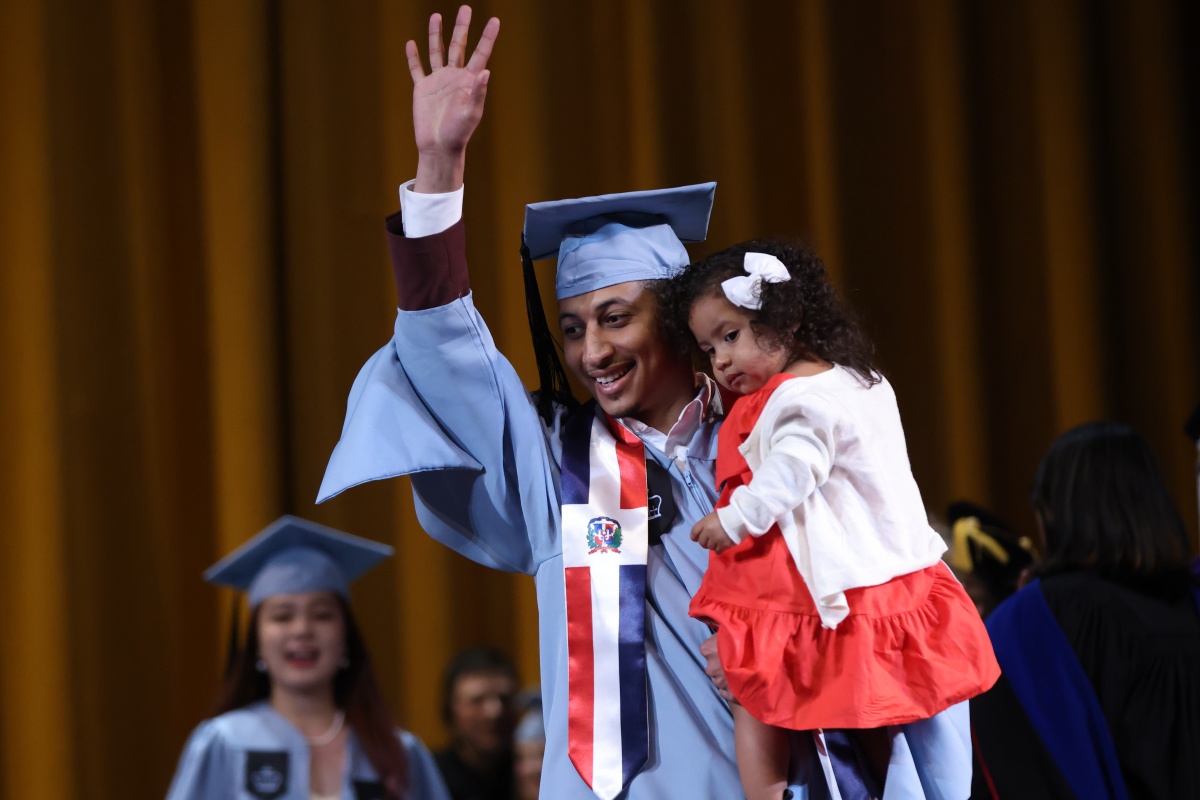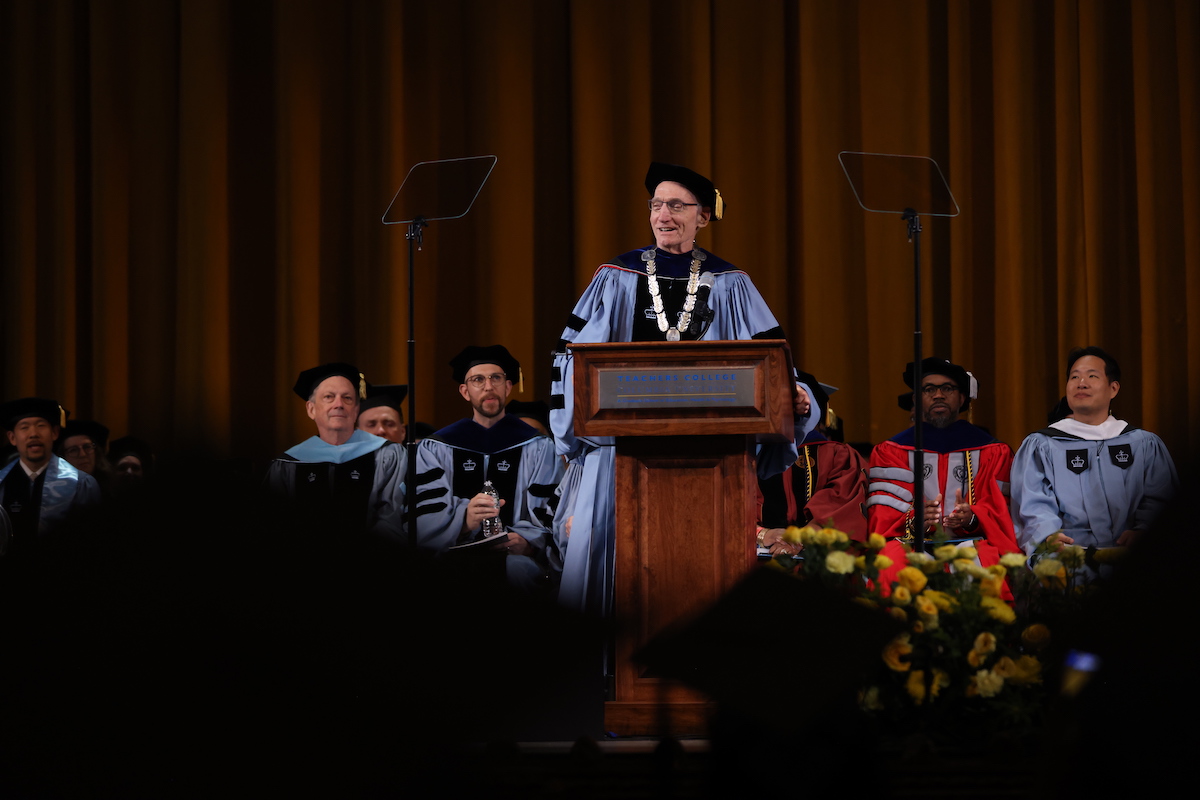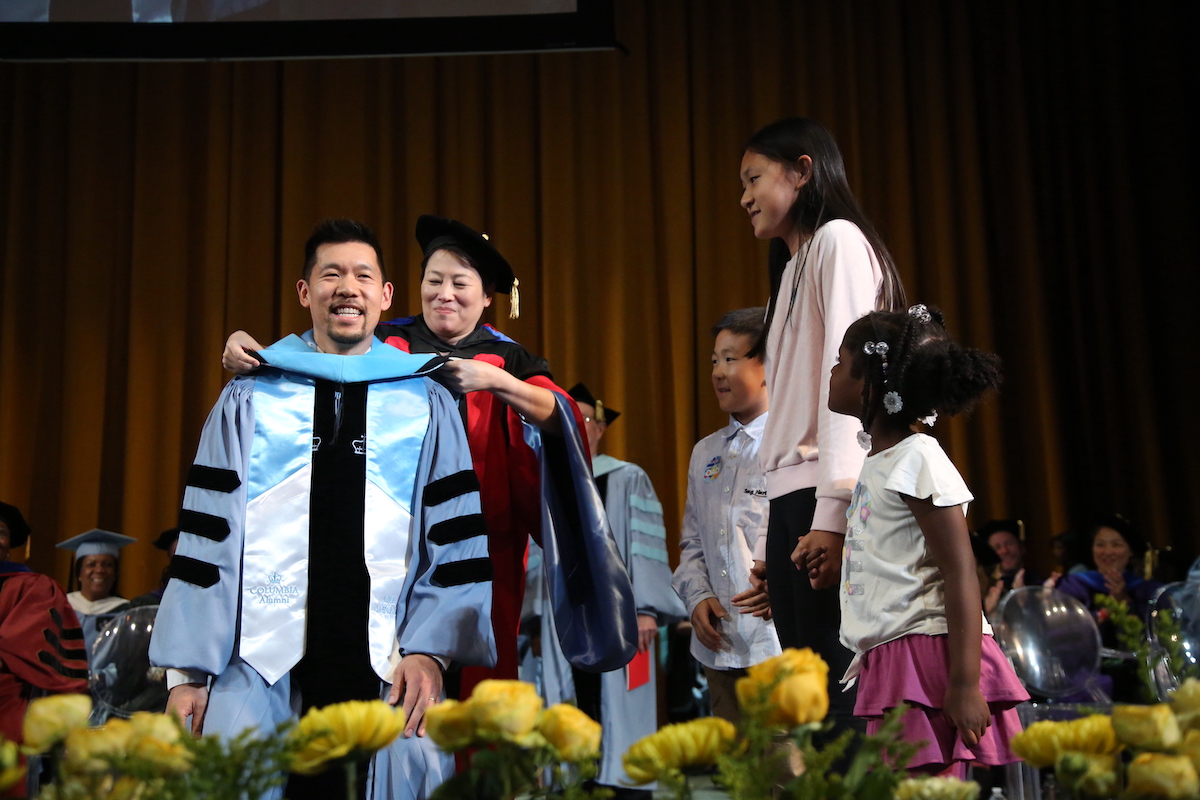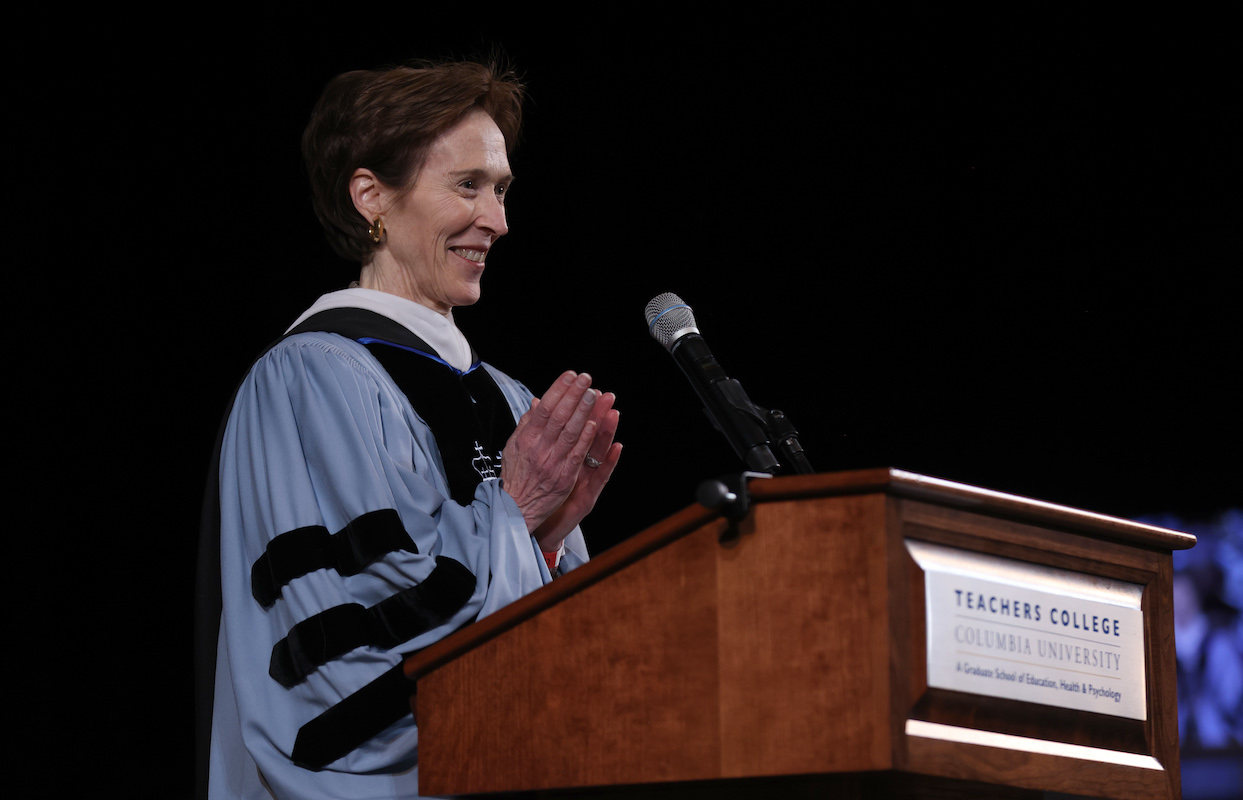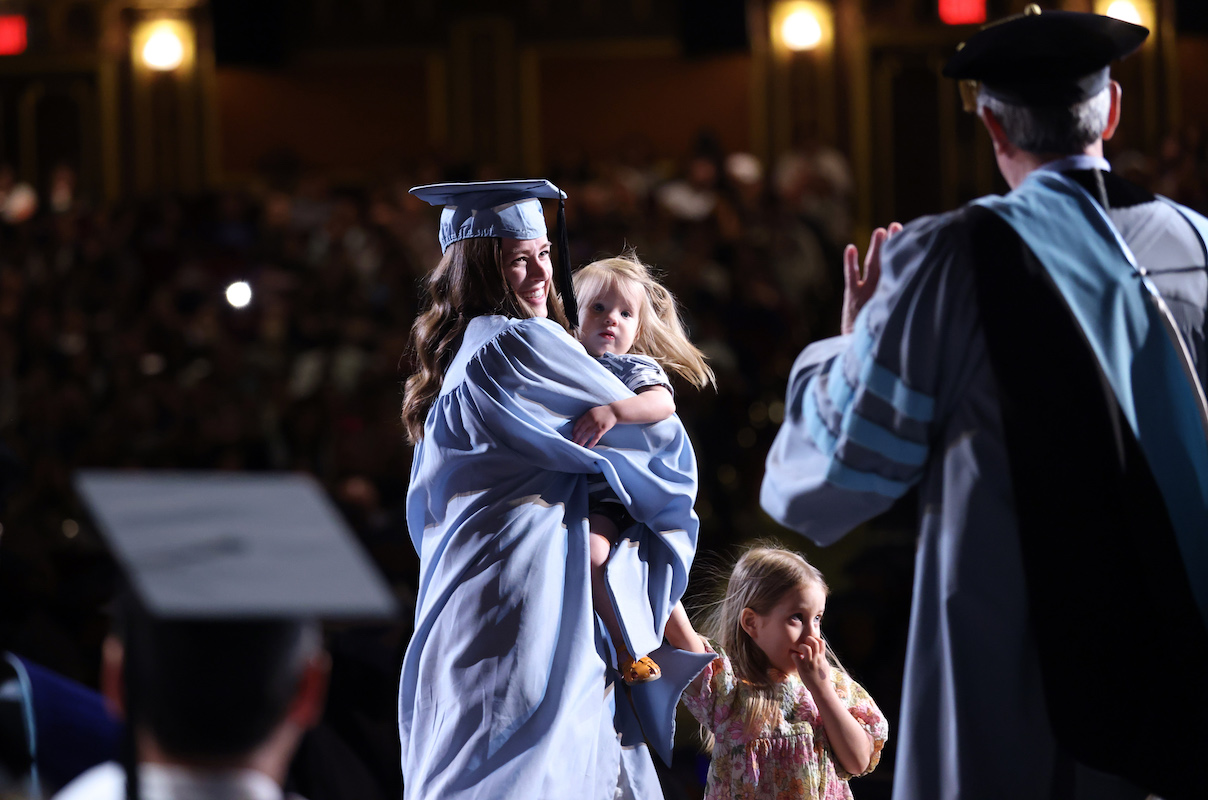 Well-equipped, indeed. In the words of Leslie Morse Nelson, Chair of the College's Board of Trustees, who took the Convocation stage for the first time after her appointment last fall, graduates are uniquely prepared because of TC's "drive to address the whole of human development."
"It is why TC scholars have always been at the forefront of identifying and meeting emerging societal needs," Nelson said, "and it is why so many TC graduates have gone on to be leaders in their fields."
Here are your key takeaways from TC's 2023 Convocation ceremonies.
Wisdom from TC's Medal for Distinguished Service Recipients
"Now more than ever, we need your courageous leadership in education. That means breaking the mold, it means challenging the status quo, it means being willing to get a little uncomfortable for what you believe in," said Miguel Cardona, United States Secretary of Education, in his address to graduates from the Organizational Leadership and Mathematics, Science, and Technology departments. "If your bold ideas and leadership are not making some people feel uncomfortable, then you're not pushing hard enough."
Cardona— a former public school teacher and principal himself — shared words of wisdom with graduates, assuring them that they are entering the teaching profession during a critical time as students need pioneers of change in the classroom now more than ever. "Investing in our children is no different than investing in defense; both protect our tomorrow."
In his final remarks and an ode to TC alumna Shirley Chisholm, Cardona urged graduates, most importantly, to keep sight of what matters most and to lead with courage. Quoting Chisholm, "You don't make progress by standing on the sidelines. You make progress by implementing ideas. Now more than ever, we need your courageous leadership in education."
"Each of you has the capacity to do extraordinary things — by challenging and disrupting systems," said Kevin Nadal (Ph.D. '08) in his address for graduates from the Counseling & Clinical Psychology and Human Development departments. "Your compassion will be your greatest weapon and your ability to see people will inspire a new generation of changemakers."
Nadal — a leading scholar in the exploration of microaggressions toward LGBTQ+ people and people of color — reflected on what his own graduation from Teachers College meant to his parents. A first-generation American, Nadal was the first in his family to earn a doctorate — and saw his path was important for other Filipino Americans.
"Whenever I walked into a room where no one looked like me, I could no longer think I was an outsider. Instead, I would remind myself that my voice was important and that it deserved to be heard," said Nadal, now a distinguished professor at John Jay College of Criminal Justice and the City University of New York's Graduate Center. At TC's Convocation, his Medal for Distinguished Service was presented by his former doctoral thesis advisor, Derald Wing Sue.
"Being the first means nothing if and when you are not actively doing everything you can to ensure that there is a second, third, or fourth behind you," Nadal said. "Perhaps one of you will even be up here someday — giving a graduation speech to the Class of 2038."
"My advice to you is to dream high, aim higher, set goals with purpose, make them happen with passion," Chef Marcus Samuelsson told graduates from the Biobehavioral Sciences, Health & Behavior Studies, and International & Transcultural Studies departments. "Have a plan, and let that plan change over time."
An award-winning chef and entrepreneur, Samuelsson is the visionary behind 30 restaurants worldwide, the author of several cookbooks, and has appeared on numerous television shows about the culinary world. His food access efforts served more than 1.7 million meals to individuals in need during the pandemic — in Miami, Newark and Harlem — and he co-produces the annual Harlem EatUp! Festival, which celebrates the food, art, and culture of the historic neighborhood.
"I've worked to transform the places I've lived and loved, those communities, and even myself, through food," explained Samuellson. "I know that you can make a change in your community as long as you collaborate with curiosity, aim high, and dream even higher."
"Creativity is not just for artists, but all thinkers and scholars need to have an innovative approach to their work so that they challenge the status quo," urged Elly Cho (M.A. '11) in her remarks during the College's ceremony for the departments of Arts & Humanities, Curriculum & Teaching, and Education Policy & Social Analysis.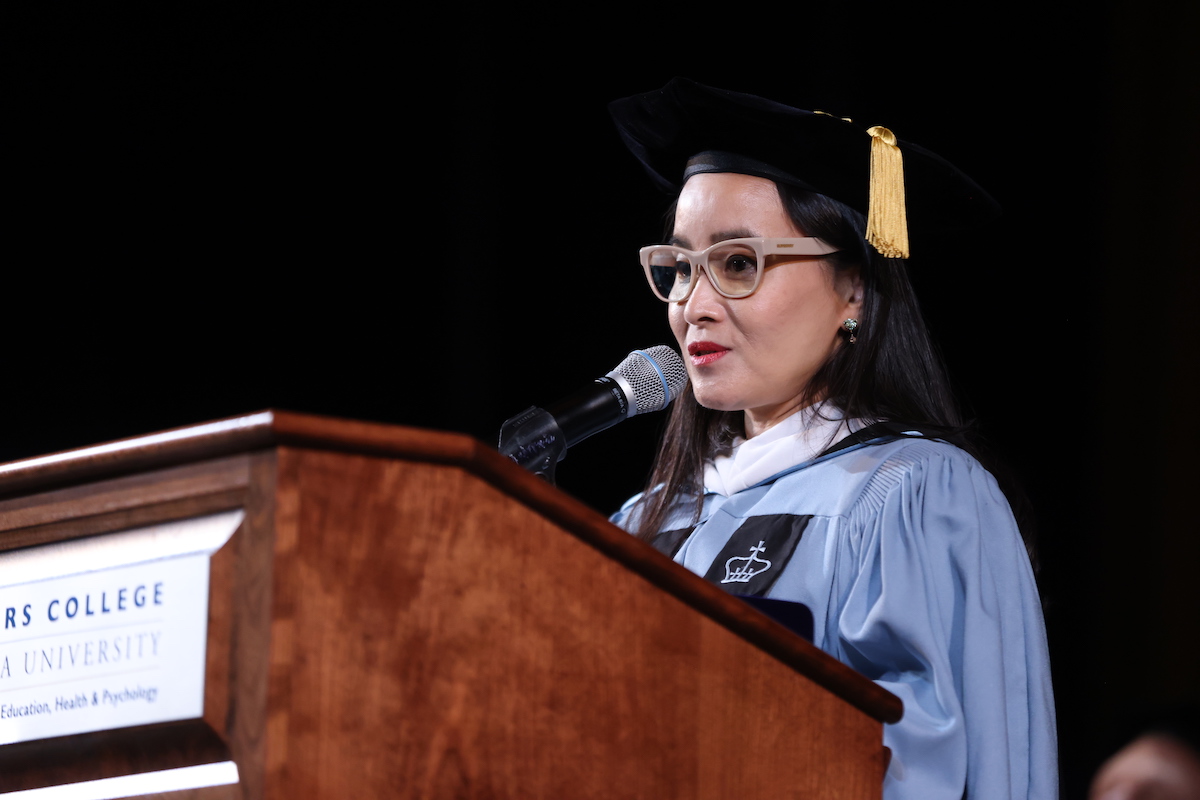 Cho — an award-winning experimental artist — discussed using her passion to overcome adversity and turn pain into deeper meaning: her to a fulfilling career in filmmaking. In sharing her story, Cho compelled graduates to also harness their experiences into fuel for their work across the arts, teaching, policy and more.
"Creativity is not just for artists, all thinkers and scholars need to have an innovative approach to their work so that they challenge the status quo," explained Cho, whose work focuses on climate change. "No matter what you choose to do with your lives, it is important to bring awareness to issues that matter by any means possible. There is much work to be done, and we must all do our part to address the challenges facing our environment and our world."
Memorable Moments of Celebration
Carousel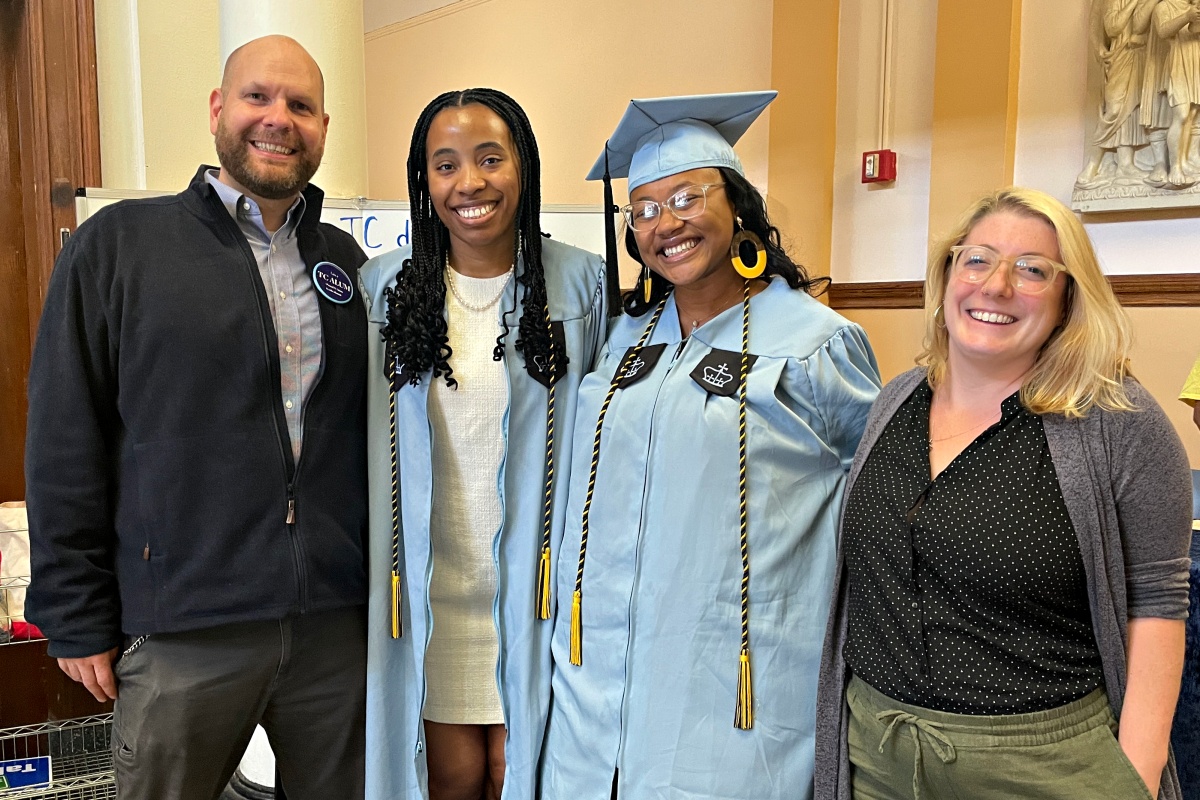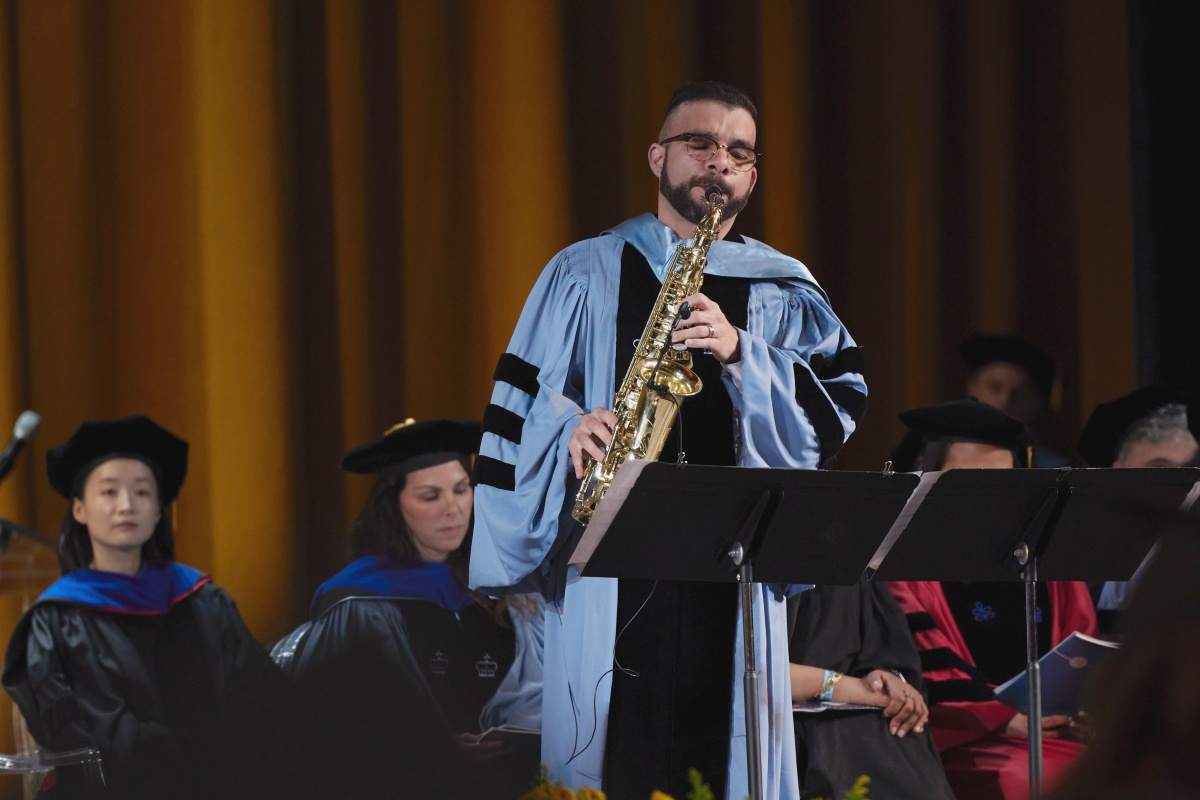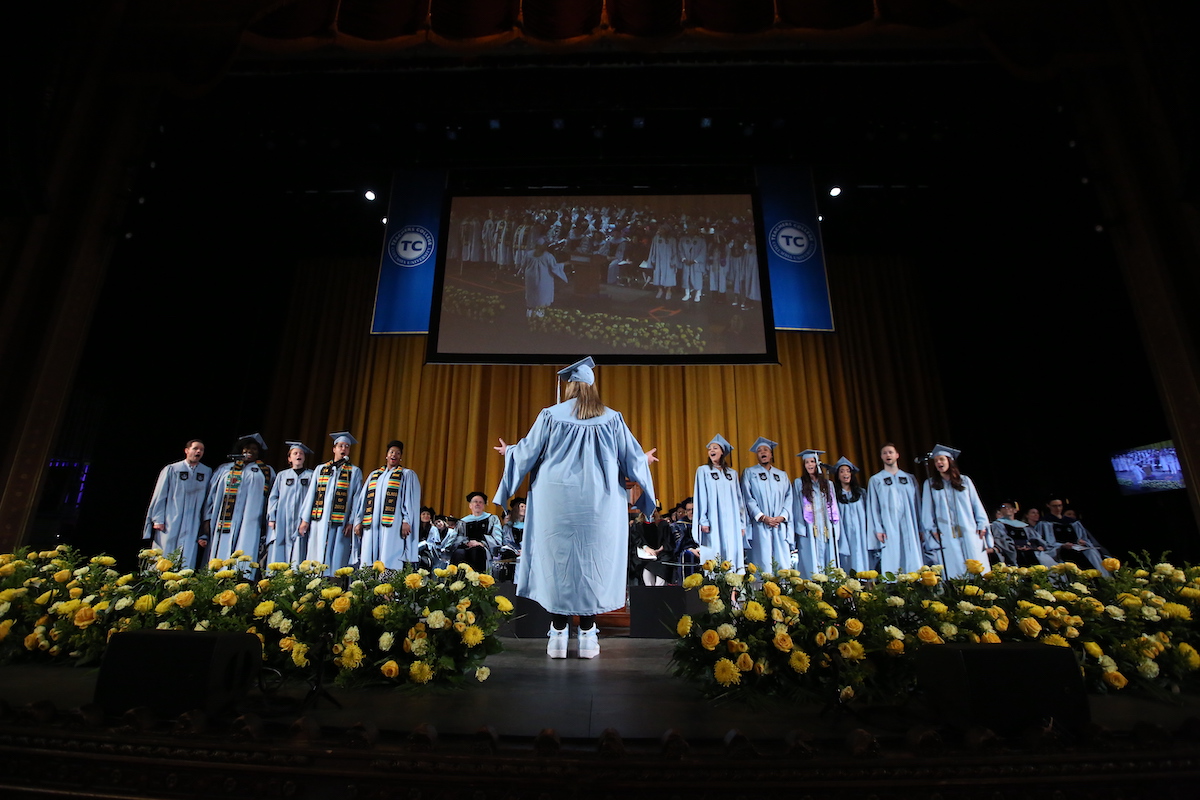 Columbia University honored TC alumna Diane McKoy (M.Ed. '02, M.A. '00) with the Alumni Medal for her immense contributions to the university community. With 42 years of service and counting, McKoy has served Columbia through both teaching and administration, having recently retired from her role as Senior Associate Director of Undergraduate Admissions. She is perhaps best known for her work with under-resourced students.
Graduates met with the TC Alumni Experience team to receive free swag and learn more about the comprehensive benefits available to them as TC alumni.
The TC Grad Ensemble — comprised of graduates from the Music and the Music Education program — performed "Ain't No Mountain High Enough" during Ceremony I. (Photos: Bruce Gilbert)
Maurice Limon from the Music and Music Education program performed "Hasta La Raiz" during Ceremony II. (Photo: JD Closser)
Doctoral student Richard Fields performed "Imagine" — originally by John Lennon — on the trumpet during Ceremony III. (Photo: JD Closser)
TC Grad Ensemble once again performed, this time enthralling the crowd with "Both Sides Now" by Joni Mitchell during Ceremony IV. (Photo: Bruce Gilbert)
Student Speakers Reflect
In his address to classmates, families and guests, graduate Ruohao Chen (Ed.D '23 Adult Learning and Leadership) highlighted the individuals at TC who inspired him "to become an authentic, humanistic adult educator."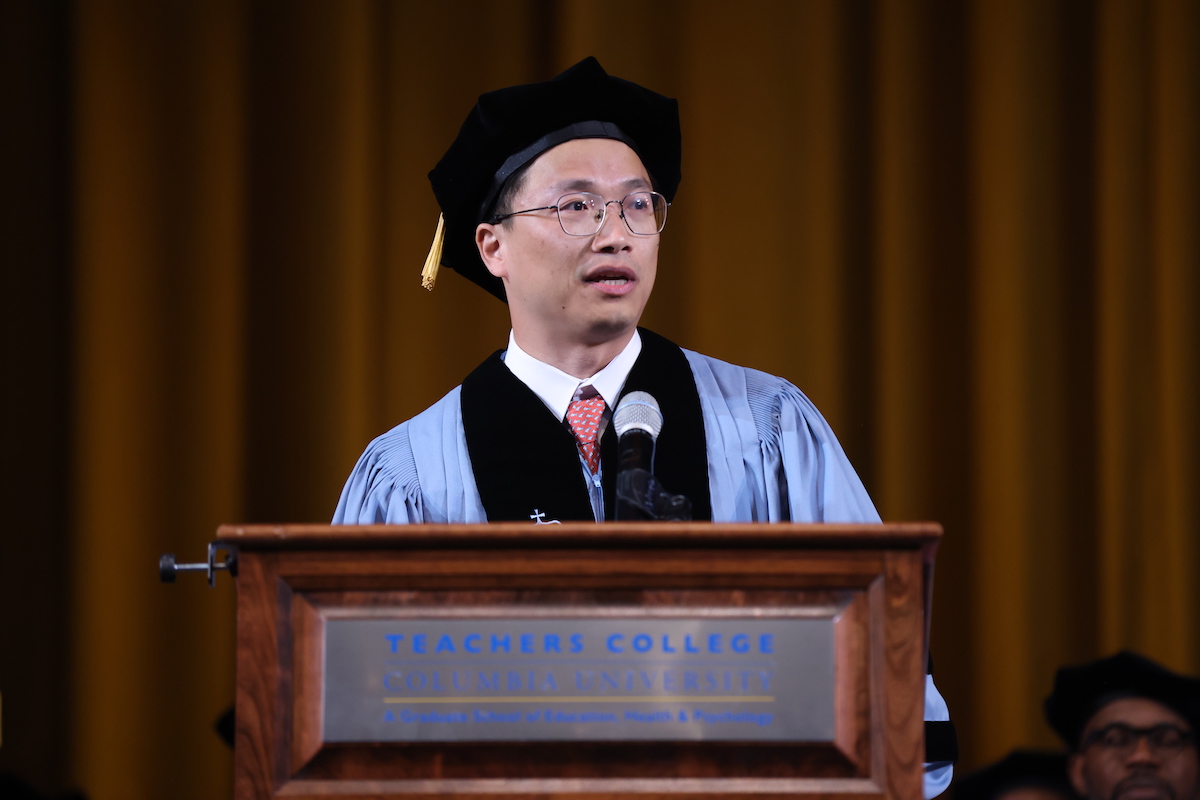 From classrooms to the halls of TC, one of those individuals is Dennis Chambers (Ed.D.'10, M.A. '02, M.A. '99), a public safety officer at the College, who taught Chen this: "A leader doesn't have to be someone appointed in that role. Effective leadership, he states, is achieved through navigating and negotiating relationships."
Chen also discussed how he was inspired to attend TC by alum Tao Xingzhi, who advanced education in China over 100 years ago. "Inspired by Tao Xingzhi and all the remarkable people I've met at TC, this is the message I have for you, graduates of 2023: start small, but dream big and begin with kindness."
In her address, Srishti Sardana (Ph.D. '23 Clinical Psychology, M.A. '16) recounted her journey from New Delhi, where she worked as a psychologist and corrections officer, to TC — where she aimed to gain the tools to foster "affordable, evidence-based, quality mental healthcare" — a "social justice mission that calls for collective action." Sardana's ultimate aspiration, she explains, was to do good.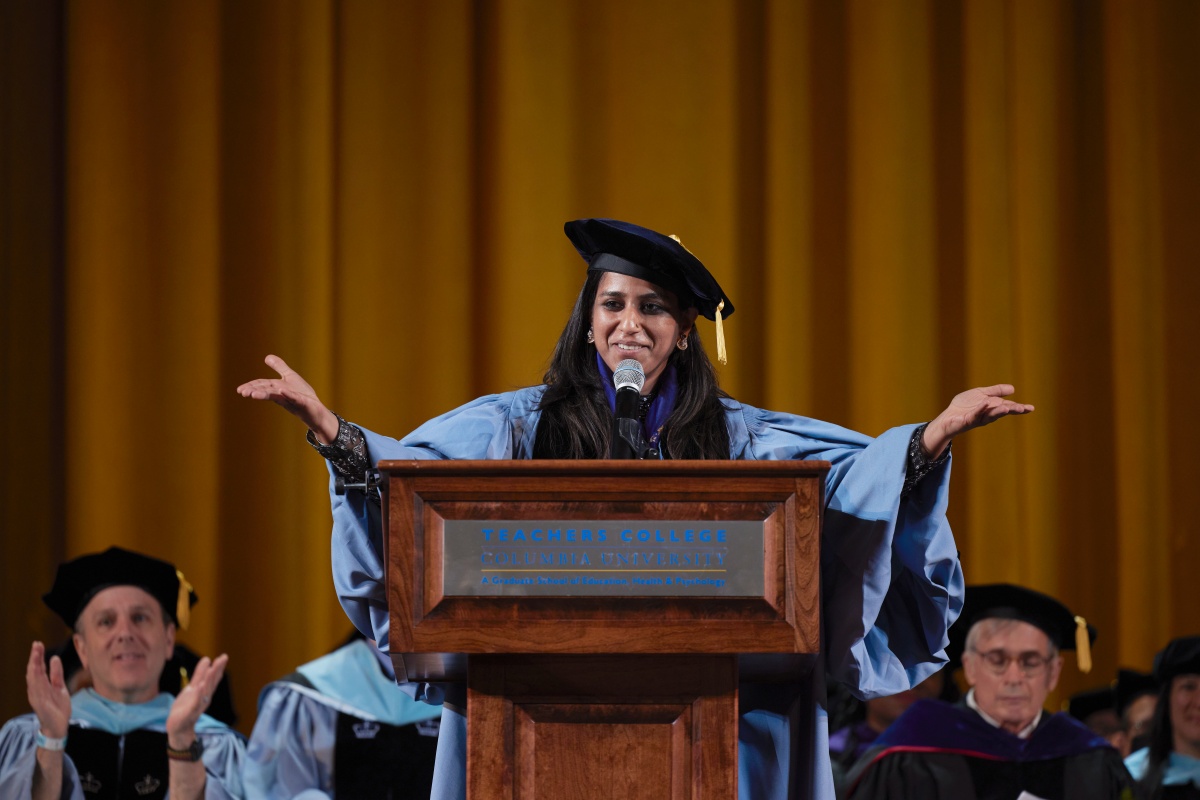 "I realized that being good is difficult. It doesn't mean saving people — it means learning to lead with and for people, with humility and humanity," said Sardana, who now works at Johns Hopkins Bloomberg School of Public Health. "Continuing this journey is the only way I can express my gratitude and izzat (Urdu for respect) towards TC for all it has helped me become. I believe I am not alone."
In her address, Kella Merlain-Moffatt (M.A. '23, International Education Development) challenged audience members to be an ear instead of a "voice for the voiceless." To hear and deeply listen to the needs of communities before taking action. As she asked listeners to imagine their future, she encouraged them to always consider "do your goals align with liberation or do they further perpetuate the oppression of others…?"
While her inspiring calls to action emphasized the need to "center the voices that are oftentimes disregarded," Merlain-Moffatt cautioned against going beyond our limits and honored the small moments that often go ignored. "Remember the small things are worth celebrating. They always will be."
In the final ceremony of the milestone, Malack Al-Haraizeh (M.A. '23, Politics and Education) prompted her fellow classmates with just one question: "What about the need for change we can't see?" She encouraged them to uplift and empower disenfranchised voices while seeking critical, unaddressed issues.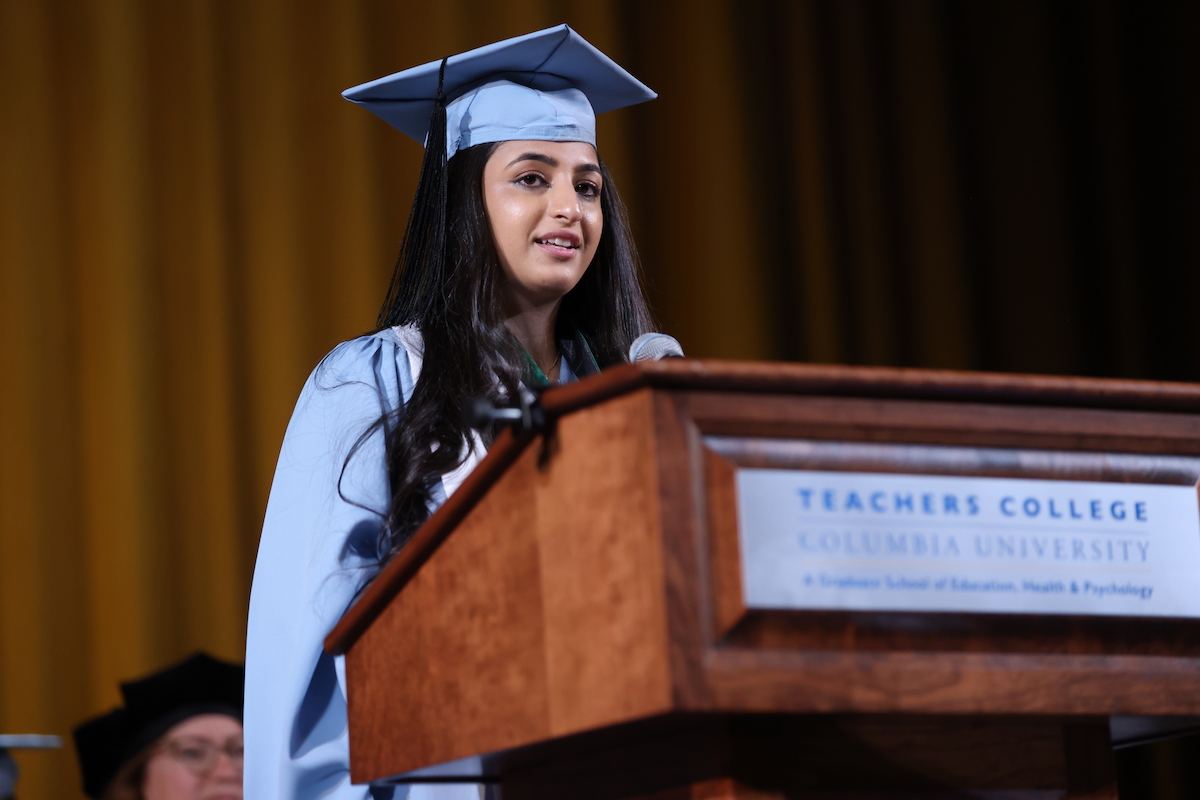 Recalling her parents' struggles in their brave pursuit of America, she challenged the audience to "embrace uncertainty" and venture outside their perspectives. "As we embark on our journey beyond TC, I encourage us to tackle these complex challenges, to seek out the crevices where our voices are overlooked, and change awaits us. Although we can give so much to the world, we can learn from it too," she shared. "Be the change you want to see, but also, seek the knowledge you don't understand and strive to understand what you haven't experienced."
Watch the Full Ceremonies