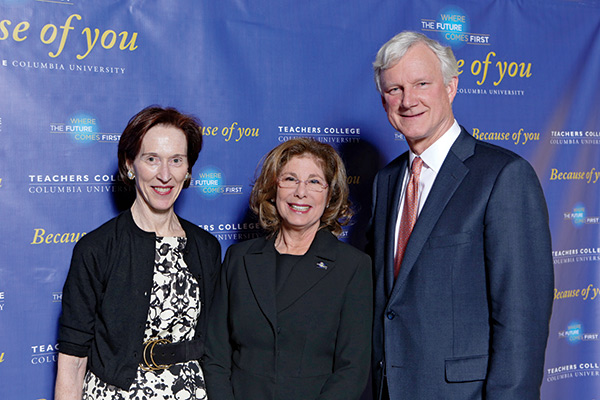 Led by campaign chair and trustee Marla Schaefer (M.A. '03) and Vice Chairs Bill Rueckert (TC Board Chair) and Leslie Nelson (TC Board Vice Chair), TC's Campaign Committee has worked to capitalize on opportunities and bolster fundraising from alumni who had not yet participated in the cam­paign. Its forte has been the creation of fund­raising initiatives focused on parents, interna­tional families, crowd-funded scholarships and select academic programs.
For example, Helen Pennoyer, whose daughter, Margaret, earned a dual degree in Early Childhood Education and Special Edu­cation in 2013, led the creation of the Smarter Parenting Series, in which TC faculty and alumni have provided evidence-based advice to help parents and grandparents navigate challenges that arise during the critical years of child development.
"In a world where there is so much information on parenting, it can be difficult for parents to distinguish fact from fiction," Pen­noyer says. Since the series began in 2016, TC has hosted seven parenting seminars that are open to the TC Community. Podcasts of the sessions are available online at tc.edu/smarterparenting.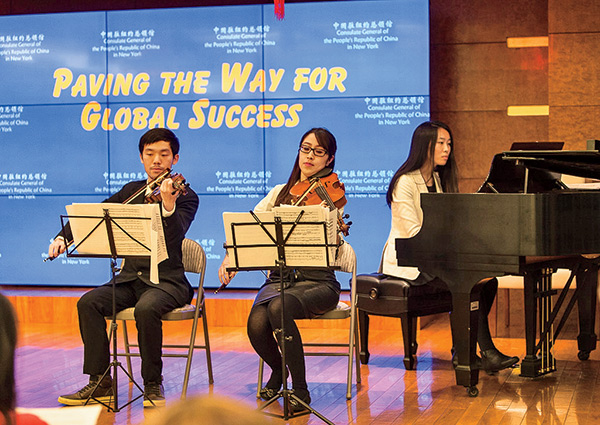 Nelson kicked off the first-ever TC Parents Dinner. Thanks to her efforts, TC Parents have significantly advanced the College's scholarship efforts.
More broadly, the committee's members have hosted more than 40 events around the world, meeting with more than 1,600 TC alum­ni and friends encouraging them to reconnect with TC.
Maryalice Mazzara (Ed.D. '84) hosted a reception at the Chinese consulate in New York City, highlighting the longstanding relationship between TC and China.
Californians Camilla Smith (M.A. '72) and Reveta Bowers, each of whom is also a TC Trustee, hosted multiple events in the Bay Area and Los Angeles respectively. Joshua Solomon (Ed.D. '10), also a Trustee, kicked off a new alumni chapter for TC's Education Leadership program, hosting alumni at the CORE Club last fall. Rebecca Binder (M.A. '00) helped with regional fundraising in both Boston and Pennsylvania.
Efforts by Lin Lougheed (Ed.D. '77) and Marla Schaefer resulted in a new alumni chap­ter in South Florida and the re-engagement of more than 250 local alumni.
And a series of faculty-focused salons were inspired and hosted by Binder, Schaefer, Dailey Pattee (Ph.D. '04), who is also a Trustee, and Julie Ratner (Ed.D. '96).
"This group is so talented and so commit­ted to TC," says Schaefer. "Their efforts have made a powerful direct impact — and they have inspired so many others. We couldn't have done it without them."