Braving a snowstorm, activists from across the region descended on Teachers College on the first Saturday in March for expert advice on advancing a range of agendas, including educational equity, affordable housing, reparations and environmental justice.
The gathering, titled Advocacy: Finding Your Voice in Noisy Times, marks the third year that TC's Office of Government Relations has supported the College's commitment to civic engagement by inviting champions of social change to campus for a day of workshops, brainstorming and reflection.
This year's event, co-sponsored by Union Theological Seminary (UTS), addressed a wide range of strategies to help participants navigate the networks of social justice and change. Benjamin Perry, UTS Deputy Director of Communications, led a session that touched on methodologies to developing a digital voice. In another workshop, Kairos Center Communications Director Nic Lacetti provided insight into the role played by social media in comprehensive social campaigns. And New York State Senator Brian Benjamin offered tips on getting public officials to listen to activist voices.
In opening remarks to the 200 conference-goers, TC Director of Government Relations Matthew Camp paraphrased the ancient Greek statesman Pericles' assertion that "Just because you do not take an interest in politics doesn't mean politics won't take an interest in you."
"That's why we're here," Camp said. "We're gonna advocate!"
The attendees included students and faculty from TC, Columbia and other higher education institutions; private and public K-12 teachers and administrators, community organizers and political junkies.
I wanted to be in a space where I can find people to collaborate with and who hold similar values about dignity of harnessing communal power."

—TC doctoral student Shanae Burch
The turnout on a snowy morning did not surprise Perry. "People have a desire to make a difference in their communities. They are depressed about what they read in the news and what they see in the world but often don't know how to take the first step. This gave them a handful of tools to take them from desire to execution."
TC second-year doctoral candidate Shanae Burch said she attended the conference out of a conviction that the arts can act as a "powerful tool" to bridge social and economic divides.
"I wanted to be in a space where I can find people to collaborate with and who hold similar values about dignity of harnessing communal power," said Burch, a Robert Wood Johnson Research Fellow pursuing her Ph.D through the Arts & Humanities Department.
The workshops offered Burch and fellow conference-goers snapshots and in-depth forays into topics such as crafting clear messages, publishing those messages in persuasive op-ed pages and online forums, gaining the ear of public officials and overcoming the internal and external obstacles that stand in the path of effective advocacy.
Manhattan Borough President Gale Brewer set the tone in a keynote that urged conference-goers to align with public officials and policymakers who are "honest, transparent and inspirational."
Brewer added that "public service means doing your homework so you can be informed and educated."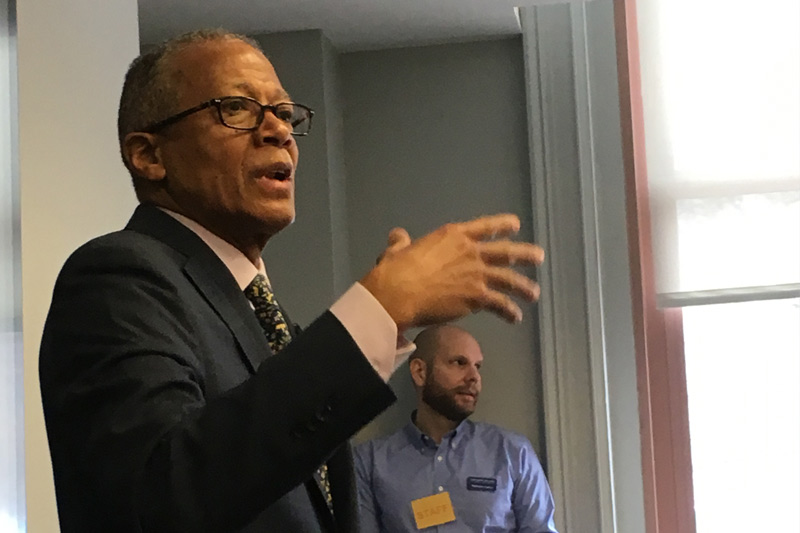 State Senator Robert Jackson led a workshop titled "Run for Office or Organize a Movement," which offered guidance on how to listen and learn from the local community and then take steps to run for office.
"You need to decide if you are really committed to serving others," Jackson cautioned. "Don't run for office on a whim." Perseverance, he added, is the corollary to commitment.
The door is not closed. And if it is closed, push it open."

—State Senator Robert Jackson
"The door is not closed. And if it is closed, push it open. Who did that in Congress?" Jackson asked rhetorically. "AOC [Alexandria Ocasio-Cortez]! Push it open, especially if you are a black woman."
Brittany Chambers (Ed.D. '18) led a workshop titled "How to Overcome Hurdles Impeding Organizational, Institutional and Greater Community Change," in which she elaborated on what to expect once that door opens.
Brittany Chambers
Chambers, who serves as the Director of Entrepreneurialism Curriculum at GenFKD, a New York-based peer-to-peer educational platform that promotes skill-based training and higher education reform, said that the "secret sauce" for successful advocacy includes strategic planning, flexibility and time management. She also warned that advocates will fail to achieve meaningful change if they don't "act with intentionality."
"Each year, the program has gotten bigger and better," said Camp. "This year, we partnered with amazing people at Union Theological Seminary, our neighbor across the street, to think about advocacy in education, religious, arts, health, and other spaces. There's such a huge demand to know more about how politics really works."