Chances are that any random assortment of 10 TC alumni would prove worthy of recognition. But by any standard, the honorees at this year's Academic Festival were an especially impressive group.
The first person to receive accolades was actually not the recipient of a formal award. Marion Boultbee (Ed.D. '96), who is concluding her term as President of TC's Alumni Council, was saluted by TC President Thomas Bailey for "doing a phenomenal job in enriching and expanding the TC alumni community." Boultbee's roots at TC run "30 years deep," Bailey said, including stints as a doctoral student and work study, an adjunct faculty member, and longtime Director of International Services.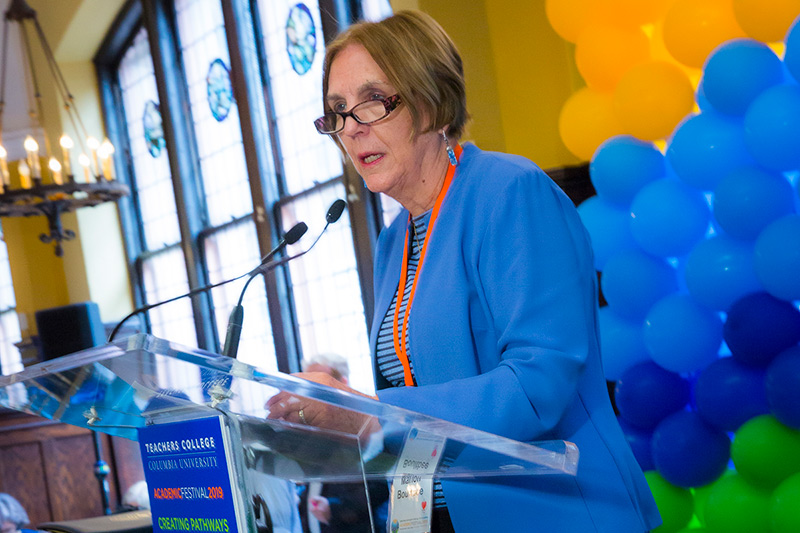 "Marion is so much a part of the TC fabric that she even held her wedding reception in 179 Grace Dodge Hall," Bailey said.
The 2019 Distinguished Alumni Award recipients were:
Bruce Ballard (Ed.D. '94), a master literacy teacher and coach, TESOL and second-language acquisition expert, and silver and bronze medalist swimmer at the International Gay Games in Paris, who is now an official blogger for the World Parkinson Congress. Ballard, who was praised by JoAnn Kleifgen, Professor Emerita of Linguistics & Education, for "a mindful and courageous approach to living with Parkinson's," read a poem he wrote marking the sixth anniversary of his diagnosis, which describes what it's like to live with the disease. Some excerpts:
…I'm coughing almost nightly. I'm not young,
I'm over-worked and over-stressed. And yet,
I still try to get all I can get…
How long I still can function,
Accept invites to some neighbor's luncheon.
Climb the stairs at home while holding still
A brimming cup of coffee I don't spill…
…I'm delighted
When I ride the train, ideas ignited
In my brain. What joy! And then there's this:
I work out at the gym and feel bliss…
…But don't forget that bladder urgency
Can be a five-alarm emergency!
Fanshen Cox (M.A. '97), actress, playwright and teacher, who assumes the personas of 16 different characters in her one-woman show, One Drop of Blood, about her family's search for roots, identity and justice. Cox is also a script executive with Pearl Street Films, run by Matt Damon and Ben Affleck, and co-crafted Hollywood's inclusion rider, which promotes diversity and inclusion of actors and crew in media projects that are produced, financed, and distributed by its signatories.
"In Hollywood, everyone dreams of winning an Oscar – well, this is mine," Cox said. "Being honored by colleagues so committed to equity and inclusion tells me I must be doing something right."
Cox, who was praised by Hansun Waring, Associate Professor of Applied Linguistics & TESOL, for "subverting race's centrality in human relationships" admitted she became a teacher because "I needed a day job," but said she immediately fell in love with the job because it enabled her to use all the same skills she employs as an actress. "I thought, this is the best profession in the world, why don't more people do it?" she said, adding wryly, "then I saw my first paycheck, and I knew."
In her subsequent work, Cox said, she has tried to stay true to the idea that creative enterprise must "bring value to the world, compel people to bring about change, and not perpetuate the lies of Hollywood, that white cisgender male is the default for human."
Denny Taylor (Ed.D. '81), creator of the field of family literacy, which holds hat children learn to read through their families – "the primary institution that endows meaning and value to human life" – and that literacy is "not a package of predetermined skills," but rather "an integral part of children's daily lives." The concept of family literacy has been taken up by the United Nations and countries around the world.
The British-born Taylor, whom her mentor and former adviser Hervé Varenne, Professor of Education, hailed for championing literacy as "a foundation for democratic life, a lens onto the diversity of human strength, and a key to protecting the natural environment," said that, as a first-generation college student, she has been fascinated by the arguments about Brexit in Parliament "and what they reveal about class in our society."
"A conservative MP said the working class lack aspirations, but I'd argue it's a lack of opportunity," she said. "TC gave me that opportunity and I'm grateful. It wasn't till I came here that I felt able to do the research I wanted to do."
Taylor, who is Professor Emerita of Specialized Programs in Education at Hofstra University, lamented the dissipation since the 1970s of energy at academic institutions for equity and social justice, but said she senses a resurgence, particularly at TC, "where ideals are located in the thinking of John Dewey and Maxine Greene."
The 2019 Early Career Award recipients were:
Tony Alleyne (M.A. '10), founder and Executive Director of Delaware College Scholars (DCS), a program that supports promising students from underserved backgrounds from their sophomore year of high school through graduation from a four-year institution. In Delaware, for example, just 8 percent of low-income students enter four-year colleges – and, of those, less than a quarter complete their sophomore year. In contrast, all DCS students finish high school; all matriculate at four-year colleges; and 92 percent persist past sophomore year.
Alleyne, whose own trajectory changed when a prep program took him from a Brooklyn public school to Delaware's prestigious St. Andrews School, was praised by Mark Gooden, TC's Christian Johnson Endeavor Professor of Education Leadership, for "your inspiration in breaking cycles of poverty; for your dedication to helping others do the same; and for your innovation in modeling how we can all help young people succeed."
Alleyne, who earned a master's degree from TC's Klingenstein Center for Independent School Leadership, said that "TC and the Klingenstein Center were the impetus for my thinking beyond what I see today to what's needed tomorrow, and beyond a personal paycheck to what I'm passionate about." He thanked the late Pearl Rock Kane, who directed the Klingenstein Center for 37 years, for "challenging this young black boy from Brooklyn to use his voice proudly." He also thanked his wife for "being my balance and giving me peace through all life brings us," and told his two daughters that "this moment means so much to me because you are here to see it."
Kim Baranowski (Ph.D. '14), Associate Director of the Mount Sinai Human Rights Program and a lecturer in TC's Department of Counseling & Clinical Psychology. Baranowski was hailed by Lena Verdeli, Associate Professor of Psychology & Education, as one of the world's "great beacons of hope for those who lack even the protections of refugee status." The forensic psychological evaluations of people seeking asylum in the United States conducted by Baranowski and her staff "can mean the difference between winning safe haven in the United States and being deported back to danger," Verdeli said, adding that U.S. courts accept these evaluations as legitimate evidence – and that Physicians for Human Rights estimates that 90 percent of people who work with a forensic evaluator are ultimately granted asylum.
Baranowski said it was her "great fortune" to have been mentored by Laura Smith, TC Professor of Psychology & Education, who also exposed her to other experts, such as Verdeli.
"We're now in the midst of the greatest human rights crisis since World War II and we have an opportunity to lend our voice to those in need of international protection," Baranowski said. "These are some of the most remarkable and resourceful people on the planet, and their presence makes our country stronger. Through the cooperation of dedicated professionals and with the help of everyone in the room, we can uphold values of equity and social justice that have serve as a foundation of TC for 130 years."
Hakim Mohandas Amani Williams (Ed.D. '12), Associate Professor of Africana Studies and Director of Peace & Justice Studies at Gettysburg College. In his groundbreaking analysis of violence in schools in his home country of Trinidad and Tobago, Williams has focused chiefly on the schools' structural role rather than on students, addressing an omission that he argues has reinforced the country's highly stratified class structure and perpetuated educational inequity.
Williams was praised by Mary Mendenhall, Associate Professor of Practice in the Department of International & Transcultural Studies, for championing a new "critical peace education" and serving "as a bridge between those in your field who argue for more rigorous critical evaluation of peace education's accomplishments and others who fear that a focus on short-term results will hinder what is fundamentally an iterative, aspirational process."
In a moving tribute, Williams thanked his mother, who was in attendance, calling her a "lioness who toiled in the U.S. and sent pennies to Trinidad so that I could stand here – this accolade must be hers."
He also credited Teachers College as the place where "I received vocabulary to name and decode the violence in which I grew up."
The 2019 Shirley Chisholm Dissertation Award recipient was Lisa Edstrom, (Ed.D. '18) a Lecturer at Barnard College and supervisor for student teachers in Barnard's Education Program. Edstrom's TC dissertation, dissertation, "Taking Action: African-American Mother Activists Working for Change in City Schools," describes the contributions of seven African-American mothers to school change in New York City, applying a black feminist framework to show how the oppression faced by these women defines and strengthens their efforts.
"Shirley Chisholm was an early childhood educator and a lifelong defender of civil rights, as well as the first major party African American candidate for president," said Provost Thomas James. "This award honors the work of those who embody the essence of Shirley Chisholm's work and life."
Edstrom's adviser, Felicia Mensah, Professor of Science & Education and Associate Dean, praised Edstrom for "describing activism beyond existing structures of parent involvement; for debunking the myth of the disengaged African-American parent; and for showing how teachers and parents can work toward better schools for all children."
Academic Festival 2019
The day included an extensive lineup of presentations, panels and other events featuring TC faculty, students, alumni and staff.
Edstrom said that that the women in her dissertation are "activists like Shirley Chisholm" who have "devoted their lives to creating better public schools for all children – including children of color, who make up the majority of the student population in those schools." She invoked Chisholm's call to "reject not only the stereotypes that others hold of us, but also the stereotypes we hold of ourselves." And she thanked a wide cast of mentors and supporters, including Mensah and her own mother.
"There's an African saying that it takes a village to raise a child," she said. "The same can be said for a dissertation. To all in my village – including all of you here at TC – thank you."
This year TC also introduced the new Alumni Award for Outstanding Service, which went to Joohee Son (Ed.D. '13), Founding Director of the Center for Education and Technology in Seoul, South Korea, and President of the Teachers College Korean Alumni Association.
Son's TC Adviser, Ellen Meier, Professor of Practice in the Department of Mathematics, Science & Technology and Director of TC's Center for Technology & School Change, said that Son's center has created "self-regulated learning environments that develop the English fluency and computational thinking skills of students at the K-12 level." She also praised Son for her role in recruiting Korean alumni to participate in a crowd-funded 125th Anniversary Scholarship Fund, which has raised more than $176,000 that has supported five students to date, and for hosting many successful events, including bringing then-TC President Susan Fuhrman and Professor Harold Abeles to Seoul for Global TC Day.
Son said that her award honors "all the other Korean alumni, whose contributions to TC came from the heart." And she thanked Meier, whom she called "my guardian angel," and who, "encouraged me not to give up."