In late October, Teachers College presented its Elaine Brantley Award for Community and Civility to Karen Kelly, Administrative Associate in the Office of the Vice Provost for Student Affairs; Marie Volpe, Adjunct Assistant Professor of Adult Learning and Leadership; and Joe Levine, Executive Director, External Affairs.
Now in its 16th year, the Brantley Award is the College's highest recognition of community and civility. It recognizes TC employees who exemplify the civility, camaraderie and willingness to listen that the late Elaine Brantley, a cashier in the College's cafeteria, brought to her work and community for 24 years.
"Civility makes Teachers College a warmer, better place for students to learn," said President Thomas Bailey at the ceremony in Milbank Chapel. Hailing Kelly, Volpe and Levine as "busy colleagues who cheerfully take on more work and go out of their way to do a favor for a colleague," Bailey said that the Brantley Award winners "ask us to be the best versions of ourselves in the way we go about our work and our lives each day, and by doing that, they make TC a better community and a stronger institution."
Carousel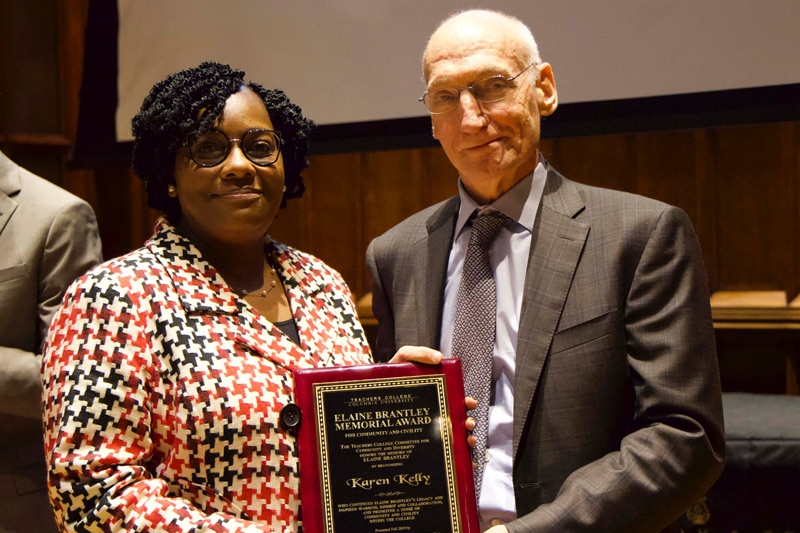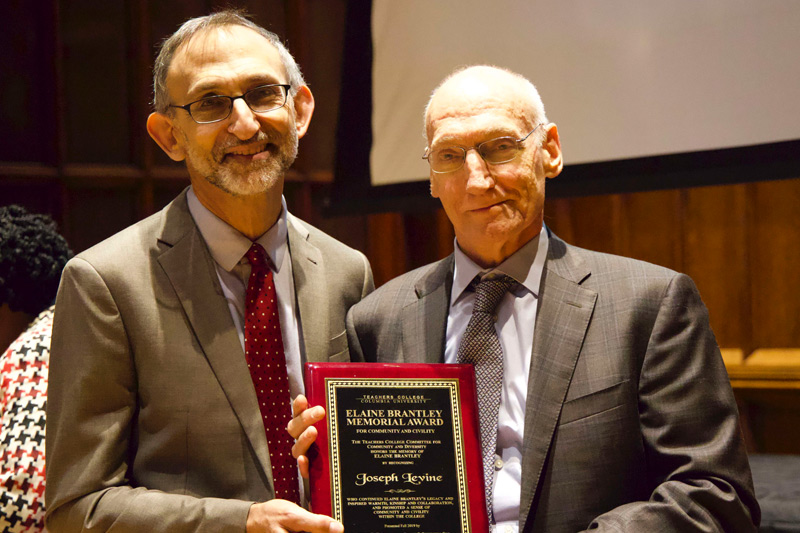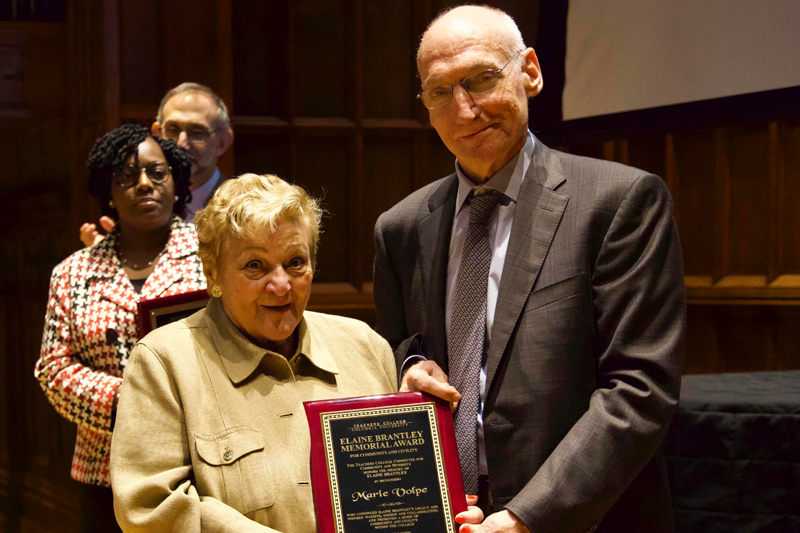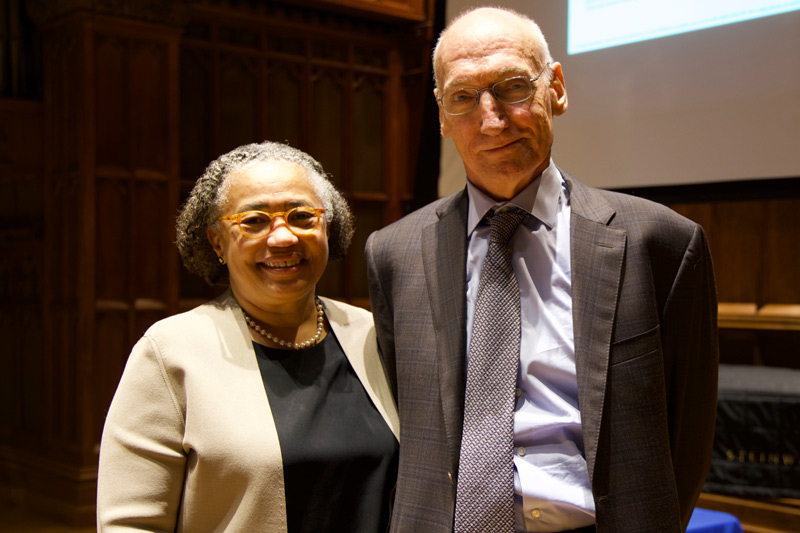 The Brantley Award recipients are selected in a process that begins with co-workers submitting written nominations to TC's Office of Diversity & Community Affairs.
The nominators then present the case on behalf of their colleagues to a panel that includes Vice President for Diversity & Community Affairs Janice Robinson, and a subcommittee of the President's Committee for Community and Diversity (CCD).
Kelly's co-workers described her as a colleague stands who "listens closely, truly cares about what we are doing and provides grounded advice." Whether in her official capacity or through the extracurricular support she provides to students and staff during orientation and Convocation weeks, Kelly never fails to "make people feel welcomed and included," Robinson said.
Volpe, an Assistant Adjunct Professor in the Adult Learning & Leadership Program, is the co-founder of an endowed scholarship to support student success. She has mentored countless doctoral students through the dissertation-writing process and helped create an alumni learning network that connects graduates to her program.
"Dr. Volpe always sees the best potential in people," said Robinson. "She further encourages people to reach within themselves to fulfill that potential. Simply put, she is an ambassador for civility."
Robinson called Levine, who produces and edits content for TC Today magazine as well as for TC's homepage and Annual Report, "the voice of the College," adding that he "doesn't simply tell stories but shows a genuine interest in what is going on at the College and, in addition, genuinely celebrates all TC students, faculty, staff and alumni."