"As a professor who studies this issue, I think about gun violence and children's safety every single day, and I'm also a mom to a five-year-old child. So there's really not a moment in my day-to-day where I'm not in some way preoccupied with the wellbeing and safety of children. And your book really took my breath away. You humanized this issue in such a powerful and needed way."
That was how gun violence expert Sonali Rajan, Associate Professor of Health Education, began her interview with Washington Post reporter John Woodrow Cox, author of Children Under Fire: An American Crisis (HarperCollins 2021). Their hour-long conversation was a recent installment in the "After Words" series on C-SPAN2 Book TV.
Children Under Fire is a wrenching collection of often-connected stories about survivors of violence such as seven-year-old Ava in South Carolina, whose best friend was killed in a school shooting, and eight-year-old Tyshaun, in Washington, DC., whose father was shot to death a block from his school, who became pen pals. The narratives thread an investigation of how many of these children there are (Cox's conservative estimate is about a quarter of a million), the effectiveness of gun safety reforms and efforts to manage children's trauma.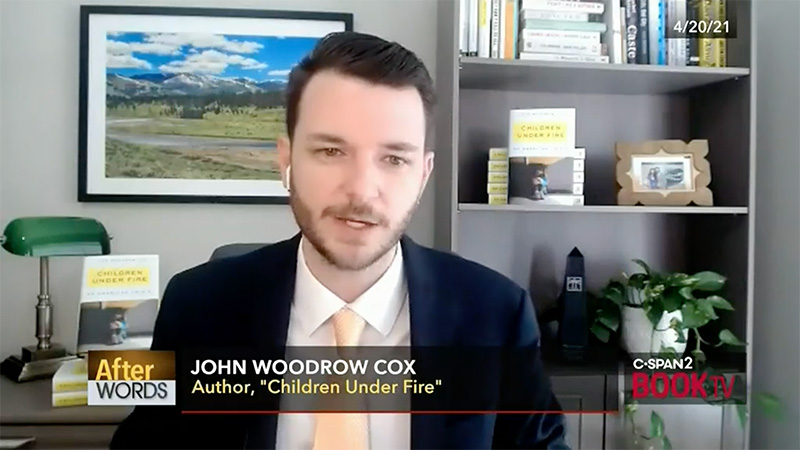 Cox, a finalist for the Pulitzer Prize, said that Children Under Fire marked "the first time in my career that I felt an obligation to write a book," and that part of his goal was to harness "the power of telling stories through kids' eyes, which is pretty rare in journalism.
"I realized that we didn't understand the scope of this crisis," he told Rajan. "Our view was so limited to just the kids who got shot, and even among that group, the kids who die. We weren't considering the ripple — the massive population" who witness or are affected by shootings, and the related "layers of trauma" among "witnesses, friends, families."
I realized that we didn't understand the scope of this crisis. Our view was so limited to just the kids who got shot, and even among that group, the kids who die.

— John Woodrow Cox, author of Children Under Fire: An American Crisis, in conversation with TC faculty member Sonali Rajan
Cox added that there is a population of children — mostly Black and Brown — who are repeatedly exposed to gun violence, and whom "in this country, we simply do not, societally, care about as much" as children in wealthy districts who experience the one-time trauma of a school shooting: "By the time I met Tyshaun, he was in second grade, and he knew four people personally who had been shot to death. And he himself had twice come very close to being shot."
Rajan concluded by asking Cox what he would say to people in communities devastated by shootings who might say, "We lost 20 children and nothing has changed, so nothing will change." He replied that in fact much has changed — particularly at the state level, thanks to the efforts of groups such as Moms Demand Gun Sense Action and Giffords. At the federal level, he conceded, "meaningful change is just going down to come to a handful of people." Nevertheless, "we can make a huge difference" that could say the lives of many children — "and maybe one of those kids will be President someday."
[Also read about — and watch a video of — Rajan's interview with Shannon Watts, Founder of Moms Demand Action for Gun Sense, conducted earlier this week as part of TC's Convocation Week.]