Teachers College Associate Professor Sonali Rajan has been named the Principal Investigator of a nationwide study on K-12 school firearm violence prevention, along with Charles Branas, the Gelman Professor and Chair of Epidemiology at the Mailman School of Public Health.
A multi-million dollar National Institute of Child Health and Development (NICHD) grant at the National Institutes of Health (NIH) is funding the project. This funding allocation is among the first to address the wide-ranging repercussions of gun deaths and injuries since lawmakers curtailed federal spending on firearms research in the 1990s.
"The funding is especially historic because for over two decades there has been virtually no federal funding for gun violence prevention research in the U.S.," said Rajan.
A joint undertaking, this NIH-funded study will summon the talents of research faculty as well as student-researchers at TC and Mailman. Researchers at the University of Michigan, Michigan State University, Children's National Hospital and connections to the American Association of School Administrators will also be a part of the effort.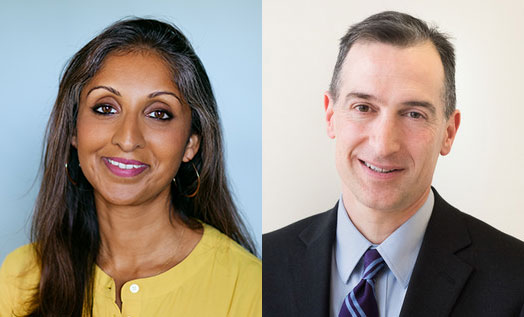 Rajan and Branas are the Multiple Principal Investigators on this project.
Professor Branas was clear in terms of the value that this project could have — "With little if any research in this space, schools across the nation have at times implemented unproven practices, like arming their teachers, and we want this new study to be a first step to making the best decisions on school safety in the future."
Bridging public health and education research, the study will seek to identify the impact of over two dozen safety tactics and policies on gun violence in schools across the U.S., both in cities and non-cities alike. As part of this multidisciplinary effort, the study team will be collecting novel data from 600+ K-12 public schools.
Metal detectors, policies that permit school personnel to carry arms and active shooter drills will be among the measures studied by the research team. And the impact of these safety strategies on student disciplinary actions will also be examined.
"Through this work, our hope is to create safer learning environments and promote healthy experiences for all children across a variety of school communities," said Rajan, a faculty member in the College's Health Education program.
The Columbia grant was one of ten awarded by the NIH as part of a historic $12.5 million effort to support "scientific research to develop, evaluate, and implement effective public health interventions to understand and prevent violence, including firearm violence, and the resulting trauma, injuries, and mortality."
The NIH, the world's largest biomedical public research agency, announced the funding opportunities in response to over 100,000 shootings and roughly 40,000 deaths due to firearms that continue to persist each year in the U.S, yet have received very little research funding compared with other public health crises.
This NIH study reflects an ongoing collaboration between Branas and Rajan, and scholars across Columbia that includes the recent establishment of the Columbia SURGE (Scientific Union for the Reduction of Gun Violence).
In addition to Rajan, Research Professor Louis Klarevas will represent TC on this project as a Co-Investigator. Klarevas is the author of Rampage Nation: Securing America from Mass Shootings, among other significant publications on gun violence prevention.
Three Mailman faculty — Assistant Professor of Epidemiology Kara Rudolph, Assistant Professor of Epidemiology and Sociomedical Sciences Seth Prins and Professor of Biostatistics Ken Cheung — are joining Klarevas from Columbia University as Co-Investigators.
The NIH grant complements another multi-year study that Professors Rajan and Branas are also launching this fall on school gun violence. This second study is funded by the Centers for Disease Control and Prevention (CDC) through the Columbia Center for Injury Science and Prevention.
This study will allow Professors Rajan, Branas, and their research team to evaluate the impact of K-12 school gun violence and other adverse childhood experiences on youth health and educational outcomes. Professor John Allegrante at TC joins as a Co-Investigator along with students from both TC and Mailman.