Dear Members of the TC Community,
Please remember that the Daily Health Screening became the Health Screening form on August 18, 2022. As of this date, you must complete the form upon your next visit to campus. After this, you do not need to complete the form again UNLESS you test positive for COVID-19 at a future date.
Visitors no longer need to complete a daily health screening either, however, all visitors to campus MUST be vaccinated and show proof of vaccine, along with a government-issued photo ID, to the Public Safety Officer(s) at the Zankel Hall entrance.
Isolating potential cases of COVID-19 and identifying positive cases remains critical to our health and safety plan for Fall 2022, and we must all do our part to protect our entire community.
If you experience symptoms of COVID-19 at any future date, DO NOT COME TO CAMPUS. Get tested 3-5 days after symptom onset, and stay home until you test negative and your symptoms resolve.
If you test positive for COVID-19, you must REPORT YOUR RESULT and STAY HOME. Complete the Health Screening form to report and upload your positive result. You may upload results from a rapid or PCR test (if you use a rapid test, you may upload a photo of the test as part of your submission). A member of the Environmental Health and Safety team will then contact you to explain current isolation guidelines and when you may return to campus.
If you are exposed to someone who tests positive for COVID-19, you do not need to report your exposure but you must:

Wear a high-quality mask around others for 10 days.
Monitor yourself for symptoms and get tested 5 days after your exposure.
If you test positive, complete the Health Screening form to report your positive test result to TC's Environmental Health and Safety team.
COVID-19 Dashboard
View the latest COVID-19 Dashboard update below or on the Preparedness home page.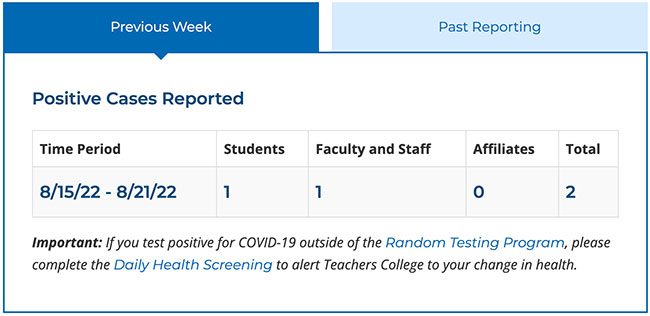 Thank you for your compliance and diligence as we prepare for another successful semester of in-person operations at TC! If you have any questions, feel free to email returntocampus@tc.edu.
Sincerely,
Lisa Seales
Vice President for Administration
Co-Chair, COVID-19 Working Group

Hank Perkowski
Vice President for Finance and Operations
Co-Chair, COVID-19 Working Group