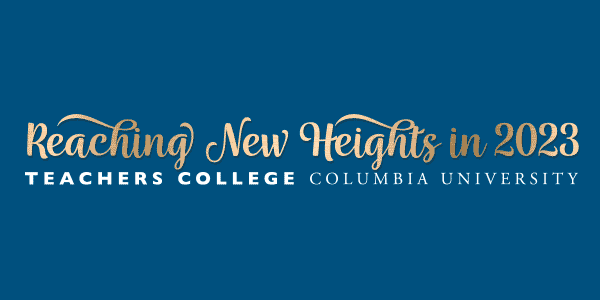 Season's Greetings to the TC Community!
As we head off to winter break, I want to reiterate how grateful I am to have been fully in person with you during Fall 2022—to see your smiling faces in the hallways, to join in thought-provoking discussions and to feel the excitement of learning in the air.
We made incredible progress advancing our strategic priorities in 2022, as I noted in my State of the College Address, and I thank each of you for the role you played in supporting this work and making an impact. What remarkable momentum we have to carry us into 2023! However you plan to spend winter break, I hope you will make time for rest. Our efforts to combat society's education, health and economic disparities remain critical. Let us return to campus in January feeling refreshed and ready to make even greater strides in our research, advocacy and community partnerships across our different fields.
I hope all those who are celebrating Hanukkah, Christmas and Kwanzaa have joyful holidays, and I wish you all a very happy and healthy New Year!


Thomas Bailey
President, Teachers College