After reaching an agreement that Rhode Island officials, students and education experts believe will strengthen civic education in the state, new details on the state's civic education improvements have been released to the public.
Announced on June 15, the pact's details offer student plaintiffs the case - Cook v. McKee - a prominent role in reshaping the way Rhode Island public schools prepare young people for responsible civic engagement and activities guaranteed by the Constitution, such as exercising their free-speech rights and voting.
"This agreement sets the stage for significant improvement in civic education in Rhode Island," said the plaintiff's lead counsel Michael Rebell, executive director of the Center for Educational Equity and Professor of Law and Educational Practice in the Department of Education Policy and Social Analysis. "We are pleased that the Rhode Island Commissioner and Department of Education are taking these actions and we hope that other states will be inspired to take similar steps to prioritize civic education."
As a result of the accord, Rebell said the plaintiffs will not proceed with filing a petition for a review of the case by the U.S. Supreme Court – a new chapter in the legal battle that began in 2018 when Rebell and Providence co-counsel filed the suit on behalf of 14 public school students, following a year-long practicum that Rebell led for students studying policy at TC and law at Columbia.
Key provisions of the agreement announced by Rebell, Rhode Island Education Commissioner Commissioner Angélica Infante-Green and the plaintiffs include:
A Civic Readiness Task Force to oversee strategies aimed at improving the delivery of civic education to students in public schools across Rhode Island. Appointed by Infante-Green and staffed by the Board of Education, the 15-member Task Force will be composed of educators, parents, community members, students and advocacy organizations along with lawsuit plaintiffs and their attorneys.
The awarding of a Diploma Seal of Civic Readiness to graduating high school seniors upon completion of a capstone project that furthers civics proficiency through research and community involvement.
The establishment of a program to recognize civic readiness by Rhode Island students in the middle school grades.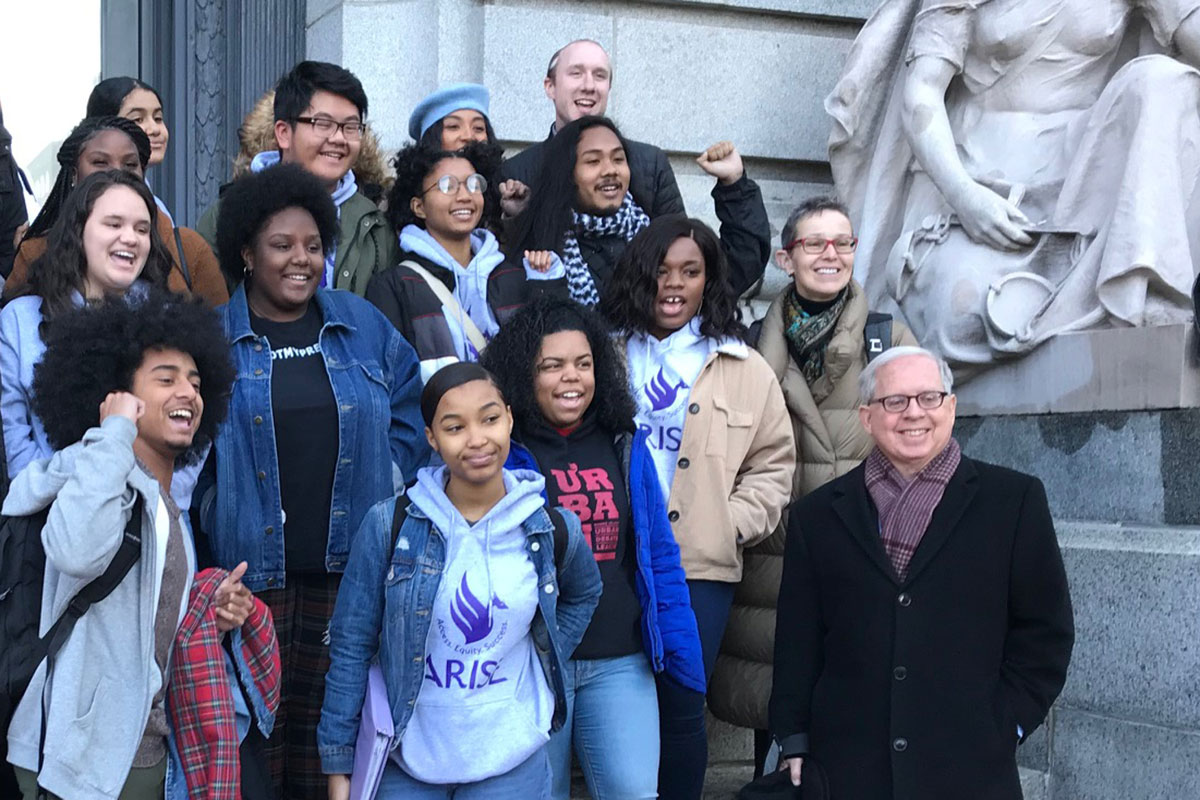 The Task Force is being asked to offer guidance on issues such as:
Credit-bearing media literacy courses to help middle and high school students navigate civic engagement content on the internet and social media.
Methods and resources to support respectful student interaction with individuals with differing political, social and religious viewpoints.
Providing local education agencies (LEAs) with hands-on voter registration instructions.
Development of a specific definition of "civic readiness" – to include civic knowledge, civic skills (including media literacy skills), civic experiences, and civic mindsets – and the manner in which this definition should be officially prescribed by the Rhode Island Department of Education.
Implementation of the 2021 Civic Literacy Act requirement that every school district provide one student-led civics project for students during either middle or high school.
The development of methods for LEAs to assess the proficiency and progress of students in civic readiness.
The agreement calls for the Task Force appointments to be in place by Sept. 21, 2022, with a projected March 31, 2023, deadline for the delivery of an initial report and recommendations to the education commissioner.
"Youth are not only the leaders of the future, but also the leaders of today. Investing in youth and equitable access to education, is to also invest and optimize the possibilities of tomorrow. This starts with students being at the decision-making table," said Mealaktey Sok, a Cook v. McKee plaintiff who was in high school when the case began.
"I am excited to see the changes and conversations that will take place through the Task Force. I am honored to play a part in bringing this lawsuit and improving education in Rhode Island for generations to come."
Infante-Green concurred, saying, "Civic education is vital for our students and for the maintenance of our American democracy. I thank these students for keeping their elders focused on the importance of civic education, especially in these times."
Rebell's legal achievements also include his work as co-counsel for New Yorkers for Students' Educational Rights, which secured an agreement from New York State to fulfill $4.2 billion in promised funding to schools; and co-founding the Campaign for Fiscal Equity with State Senator Robert Jackson to help address inequitable school funding across New York.