Teachers College celebrated the Class of 2022 on Monday, May 23, for the successful completion of degree requirements in the fields of education, health and psychology.
From morning and into the evening, graduates in the traditional Columbia blue gowns filtered aboard Queens-bound 7 trains for a trio of ceremonies at the USTA Billie Jean King National Tennis Center in Flushing.
Monday also signaled the return of proud families marking the occasion with photos, radiant congratulatory bouquets and the bittersweet parting of classmates, who over the past two years grew and learned under unprecedented circumstances.
Carousel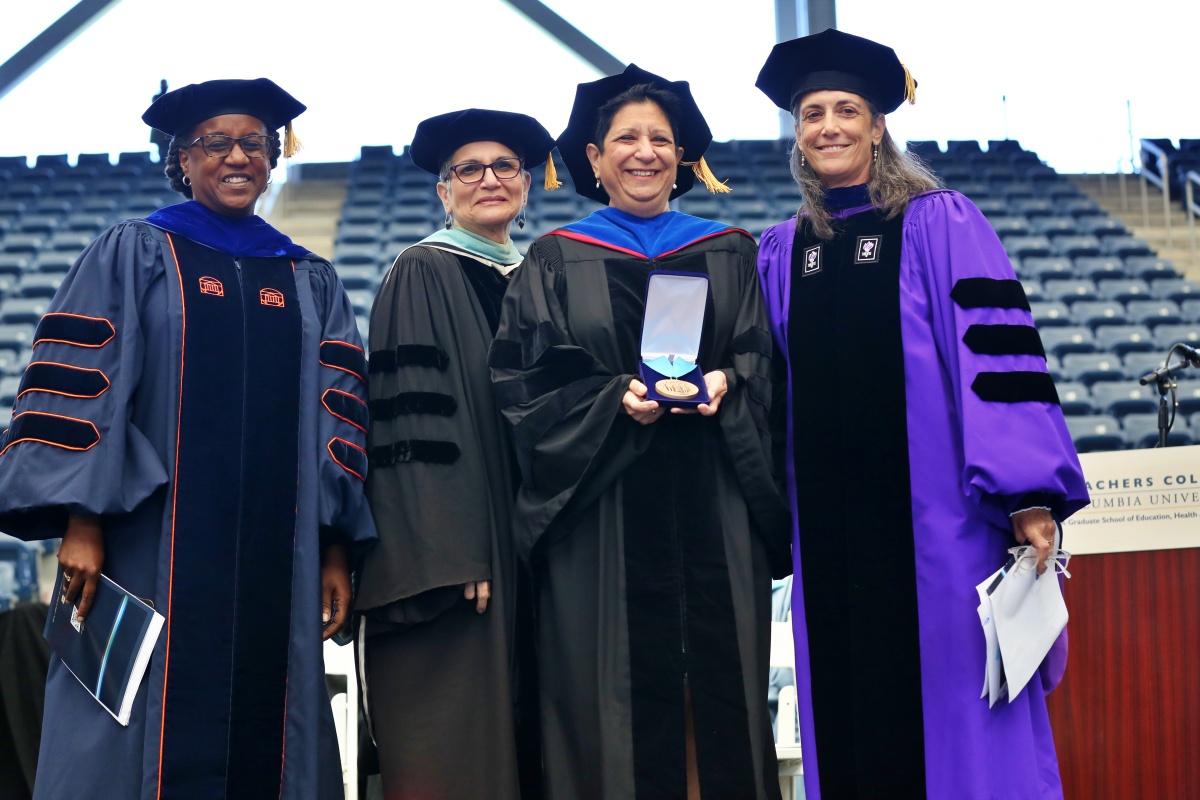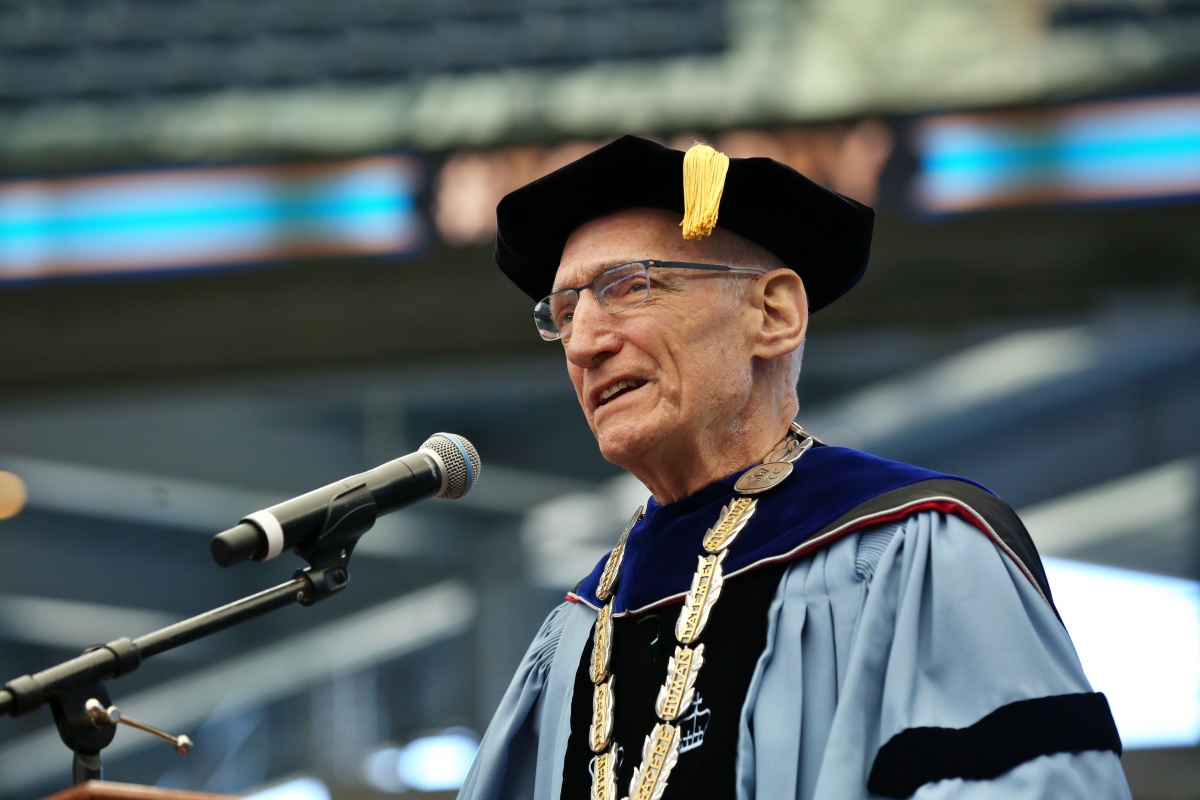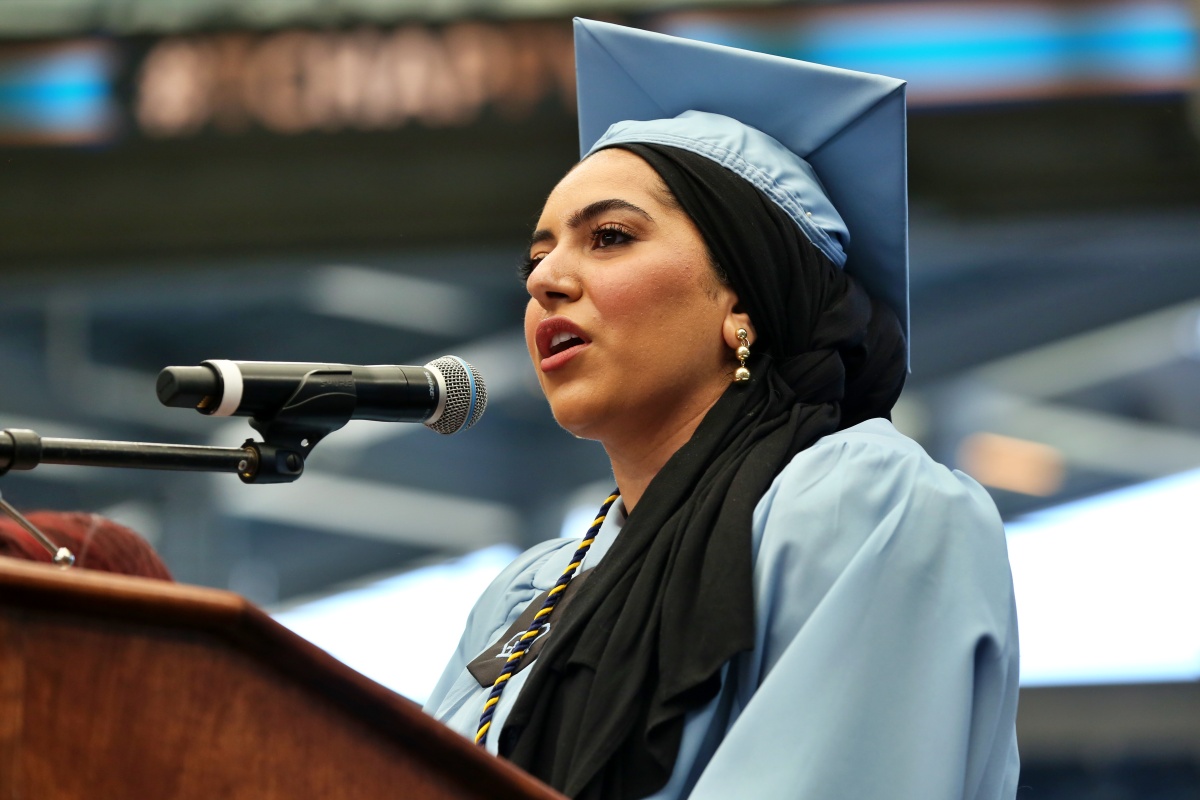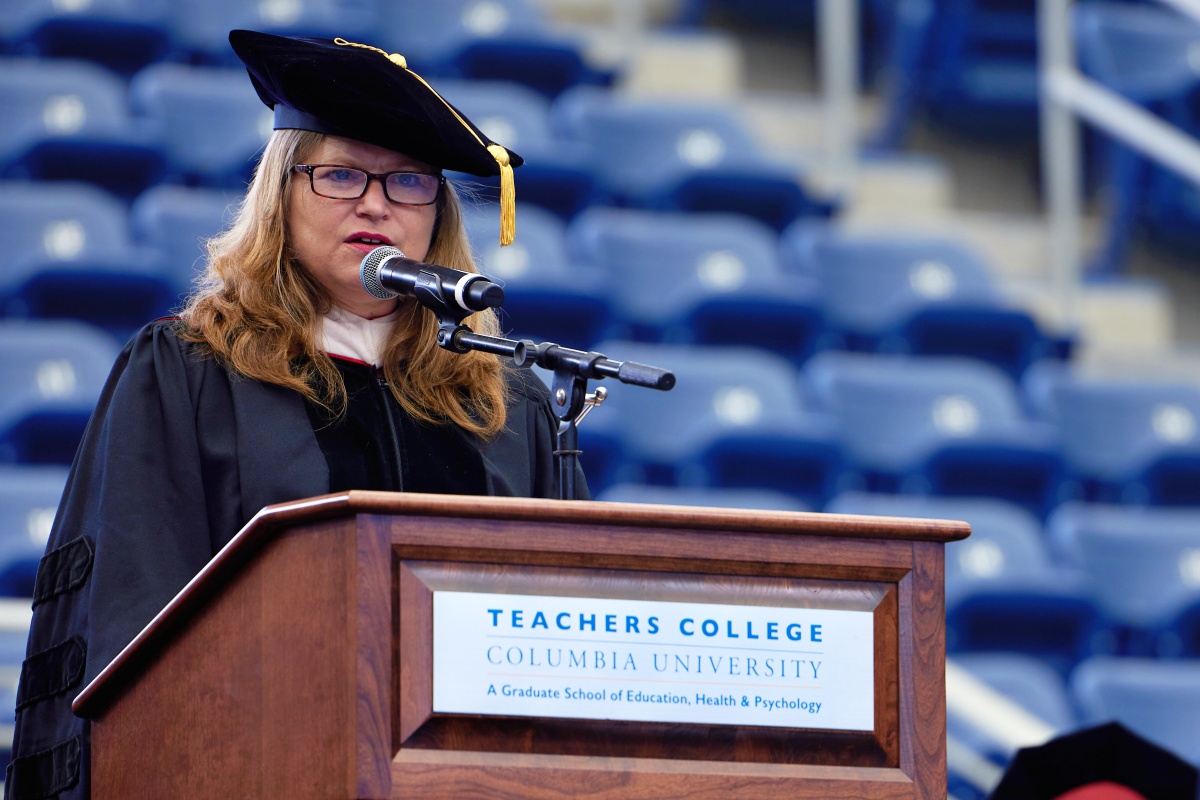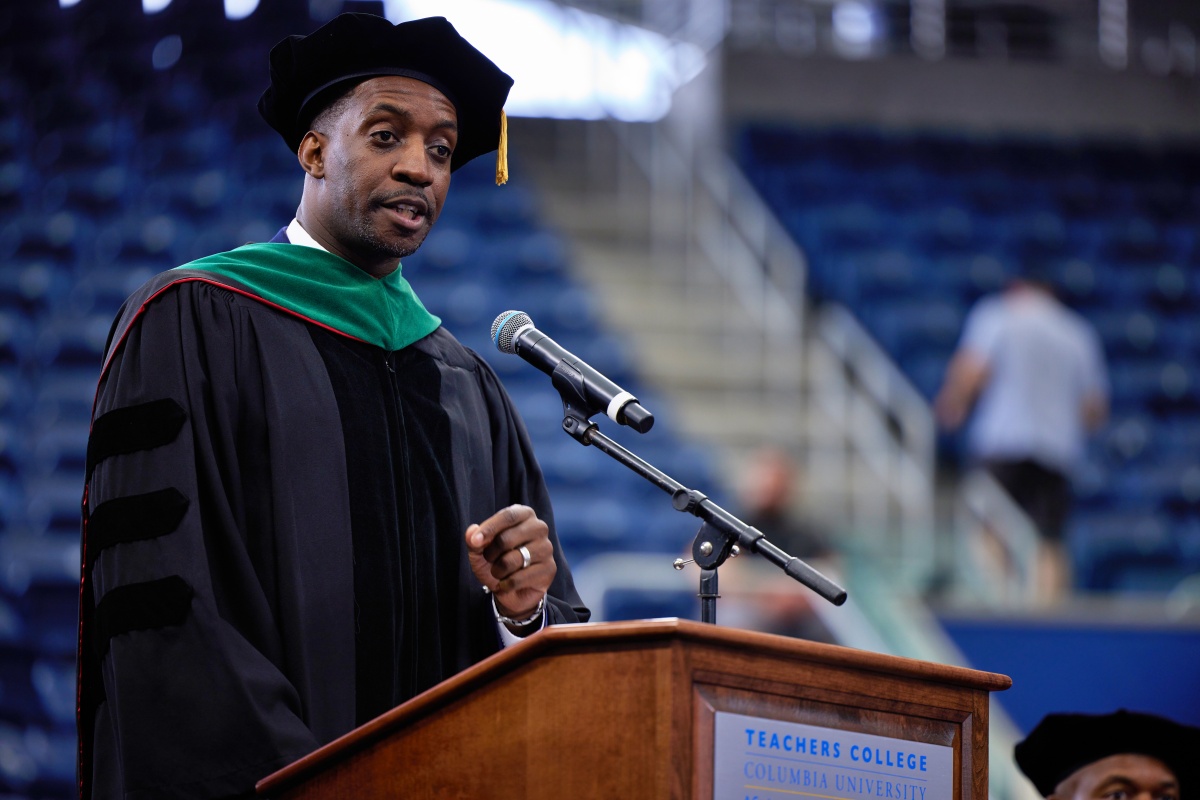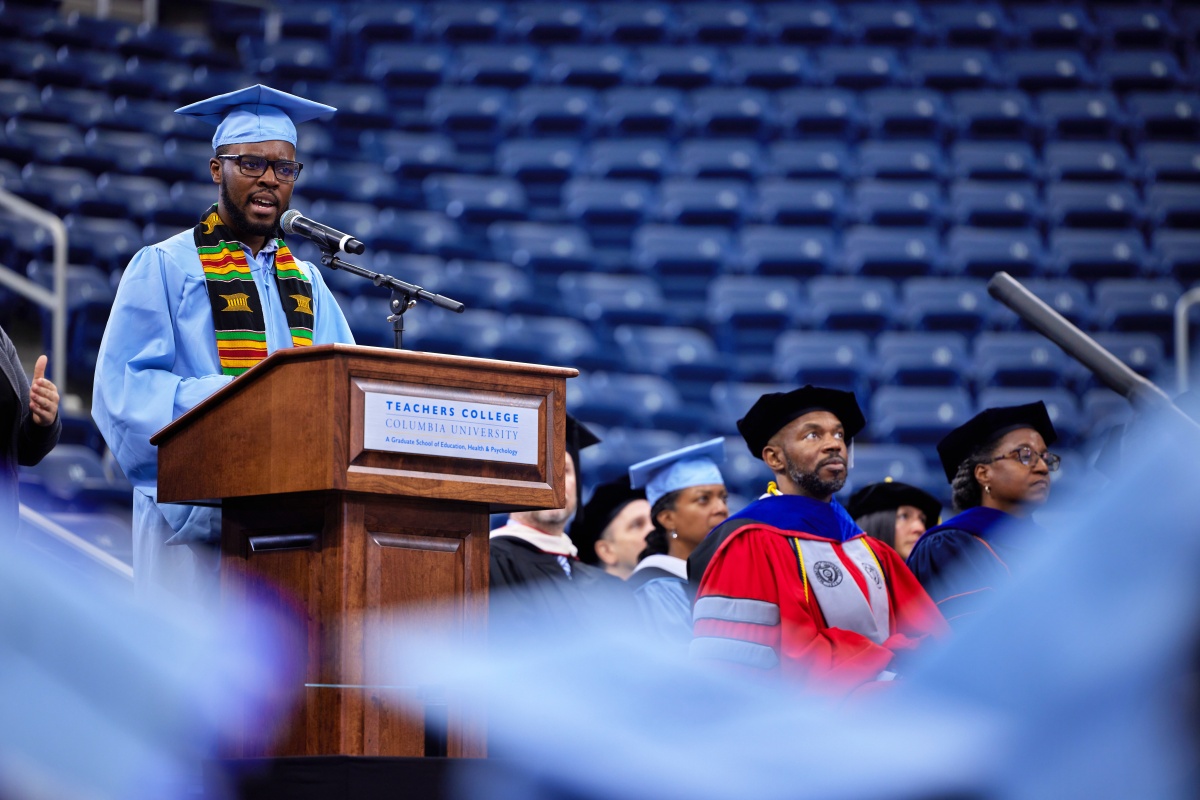 "Each of you had a journey marked by unexpected challenges and hardship," said William D. Rueckert, Chair of the College's Board of Trustees. "And that is what makes today all the sweeter."
Throughout the ceremonies that commended change and resilience, President Thomas Bailey praised graduates for stepping up during the pandemic to support those in need by serving as tutors, counselors, mentors, activists and acolytes for diversity, equity and social justice.
"And then, when you returned to our buildings, you worked together with energy and enthusiasm to rebuild a vibrant campus culture," said Bailey, pointing to "more than 100 events and outings to forge community and build knowledge, organized and participated in roundtables and conferences, and met regularly with me and the Provost to share insights and advocate for peers."
Find highlights from each of our ceremonies below.
Masters I Ceremony
Honoring graduates from Arts & Humanities, Biobehavioral Sciences, Counseling & Clinical Psychology, Curriculum & Teaching, Health & Behavioral Sciences.
Distinguished Service Medalist Rosemarie Truglio cited an unanticipated detour in her own career that emphasized the role resilience and determination will play in the lives of graduates in the years ahead.
The Senior Vice President of Curriculum & Content for the Sesame Workshop, Truglio recounted a path into children's programming and development after her career in academia didn't proceed as planned, which parlayed in her advice for TC's graduates with references to characters on Sesame Street.
"Each of you has the individual power to create a smarter, healthier and more equitable world. And you will take the world. It just probably won't happen the way you think it will," Truglio said. "But like Cookie Monster, and like me, you will have a change mindset that will serve you well."
Remarks from Rosemarie Truglio
That change mindset guided Truglio through her planned career in academia to building critical early education content that has influenced millions of kids throughout the world. In sharing reflections with graduates, Truglio quoted another scholar who forged new ground despite obstacles:
"As Maya Angelou said in a letter to her daughter: 'You may not control all the events that happen to you. But you can decide not to be reduced by them,'" Truglio remarked. "In other words, it is what you do afterwards that counts. And you are prepared. You have been trained at the greatest educational institution in the world – so you are ready to take it by storm."
Student Speaker Yomna Bendary (Ed.M. '22, School Psychology) celebrated transition of the Class of '22 from grad school students to professionals in all walks of life while encouraging the community to "show up authentically," as she has as a Muslim scholar.
Remarks from Student Speaker Yomna Bendary (M.Ed. '22)
"Through being vulnerable with one another, learning when to take up space and when to step back and listen, and learn from one another, we used these connections to shift from feeling impassioned to creating a sense of collective purpose," Bendary told her classmates. "As we will move into our respective careers, we must honor our community with our practice. We are interdependent. We cannot have an impact alone. But honoring our collective goals through practice will normalize our ethical and moral guidelines, welcoming others to join us in caring for the most vulnerable members of our community."
Masters II
Honoring graduates from Education Policy, Social Analysis & Human Development, International & Transcultural Studies, Mathematics, Science & Leadership, Organization & Leadership.
"If anyone is asking, 'Who is this young man?' Let me jog your memory," Torian Easterling cleared his throat, dropped his voice a register and continued by way of introduction: "This is Dr. Easterling here again, with a Covid-19 public service announcement."
The public service voice of the New York Department of Health during the pandemic on Monday became, also, the recipient of a the College's Medal for Distinguished Service.
As the First Deputy Commissioner and Chief Equity Officer, Easterling has helped coordinate the Health Department outreach in response to a virus that to date has claimed the lives of over 40,000 New Yorkers.
"The public facing part of my job the past two years has been to change people's minds about vaccines," Easterling said in remarks to graduates, their loved ones and friends.
"But a more long-standing part of my work is to change minds, both inside and outside the agency, around public health itself and around equity and why it matters, around notions like equality, inclusivity and diversity."
Remarks from Dr. Torian Easterling
The good intentions of public and private sectors notwithstanding, Easterling pointed to a disproportionate percentage of minority New Yorkers, who during the health crisis, endured illness, hospitalization and death and outcomes such as unemployment, housing and food insecurity.
The challenge for the Class of '22, he added, is to apply the theories, principles and knowledge of a TC education to the monumental task of addressing endemic racism and inequality.
"Speaking out will not be enough and, I hate to say it as necessary as it is, voting is not going to be enough. Even changing minds and lives will not be enough," Easterling said. "As graduates of a school with a mission to –[quoting] President Bailey – 'fight against racism and inequity,' I will be turning to you for your help. We will need everything we have. The leadership advice I can offer in this moment is also the best leadership advice I ever received – always be prepared to take the next challenge even when you are not prepared."
Student Speaker Deborrius "DJ" Jeffries (M.A. '22, Adult Learning & Leadership) reflected on a path to TC that began with his upbringing in a working-class Memphis family headed by a grandmother who held down three jobs.
Remarks from Deborrius "DJ" Jeffries (M.A. '22)
"My grandmother worked every day with no complaints so we could have a chance," said Jeffries, who ran with that chance and arrived at TC a few months after "everything changed" with the pandemic.
"It was against this backdrop that we as TC students did something remarkable. We rose! Day after day, with change all around us we created a way," Jeffries said. "And as we go forward from the privilege, and yes, the chance, of attaining an education from one of the most prestigious institutions in the history of the world let us not forget our collective responsibility to turn around and give that chance to someone else."
Doctoral Hooding
Hailing from all departments, graduates who earned their doctoral degrees participated in the ceremonial presentation of their doctoral hoods from Stephanie J. Rowley, Provost, Dean and Vice President for Academic Affairs.
Monday also marked an opportunity for 2022 Distinguished Service Medalist Kathryn Garcia to address a graduate cohort that followed the footsteps of her mother, a TC alumna and teacher.
"She spent her entire life living the values that are part of Teachers College," said Garcia, the 2021 New York City mayoral candidate and former Department of Sanitation Commissioner currently serving as Director of State Operations in the administration of Gov. Kathy Hochul.
Garcia reminded the doctoral graduates of their "potential to have true impact, the kind of public service that is a tremendous privilege and a tremendous responsibility."
Saluting their perseverance, Garcia told the doctoral class: "It is safe to say there have been few times in history with as much rapid change as you have experienced over the course of your time at Teachers College. Finishing a degree during the time of Covid is, in and of itself, a tremendous accomplishment."
"It would have been easier to put your world on hold. But you instead pushed forward in order to push the rest of our world forward."
Remarks from Kathryn Garcia
Garcia recalled how the early morning rumbling of sanitation trucks – an urban annoyance – provided a measure of solace for New Yorkers clinging to a measure of normalcy as the onset of the pandemic ravaged the city.
"I didn't have the power to make the virus go away or spur the federal government to action," she said. "But I did have the power to keep the garbage trucks running – and that is what we did. It may have typically felt small and ordinary but to New Yorkers it meant much more. Sanitation workers were on the job, life would go on."
The anecdote imparted what Garcia called an overarching message to the Class of '22:
"Change is the product of very big vision and small, consistent execution. Your impact will be felt by people you may never meet. Work hard for those people every day. And remember this: The normal and the everyday is actually heroic."
Visit TC's Convocation website for more coverage and full ceremony videos.