From the hot dogs on the corner to the best dim sum in Chinatown, New York is often defined by its food. But in a city with nearly 8.4 million people and devastating economic gaps, policymakers play a critical role in expanding access to nutritious options for everyone.
"Making our city's food system healthier, more sustainable, and more equitable is a key priority of my administration,'" Mayor Eric Adams recently said, when announcing that he had reappointed TC alumna and food policy changemaker, Kate MacKenzie (M.S. '02), as the Executive Director of the Mayor's Office of Food Policy.
MacKenzie, the Mayor says, "has been a critical partner in our efforts to envision and implement these transformative changes." With over two decades of experience addressing food insecurity, health, and food systems, MacKenzie — a graduate of TC's Nutrition and Public Health program, and a recipient of TC's 2022 Distinguished Alumni Awards — has served as the Office of Food Policy's Executive Director since 2019. She's participated in the office's many notable projects, including creating the city's first-ever Food and Climate Dashboard.
"Under the Mayor's leadership, we will continue to promote health, sustainability, and equity in our food system, working toward the goals outlined in the city's Food Forward NYC plan," says MacKenzie.
As MacKenzie embarks on a second term, here are just some of her priority areas for impact:
Expanding Food Policy and Access in NYC Communities
Hailing from Brooklyn, MacKenzie says that the notion of "community" is something she holds close to her heart. She considers community-wide access to nutritious foods an instrumental building block in her work, something she says TC's Nutrition Education program taught her from the very beginning.
"You can have all of the education in the world to know what the best and healthiest food choices are, but if you live in a neighborhood that doesn't have access to healthy food, you won't be able to put those educational practices into use," she says.
MacKenzie and Mayor Adams are currently advancing the development of Food Forward NYC, a comprehensive 10-year food policy plan. The plan hopes to reach a more equitable, sustainable, and healthy food system by 2031. "We must ensure that food is about knowledge and policy change. Everyone should have equal access to affordable, healthy food," she explains.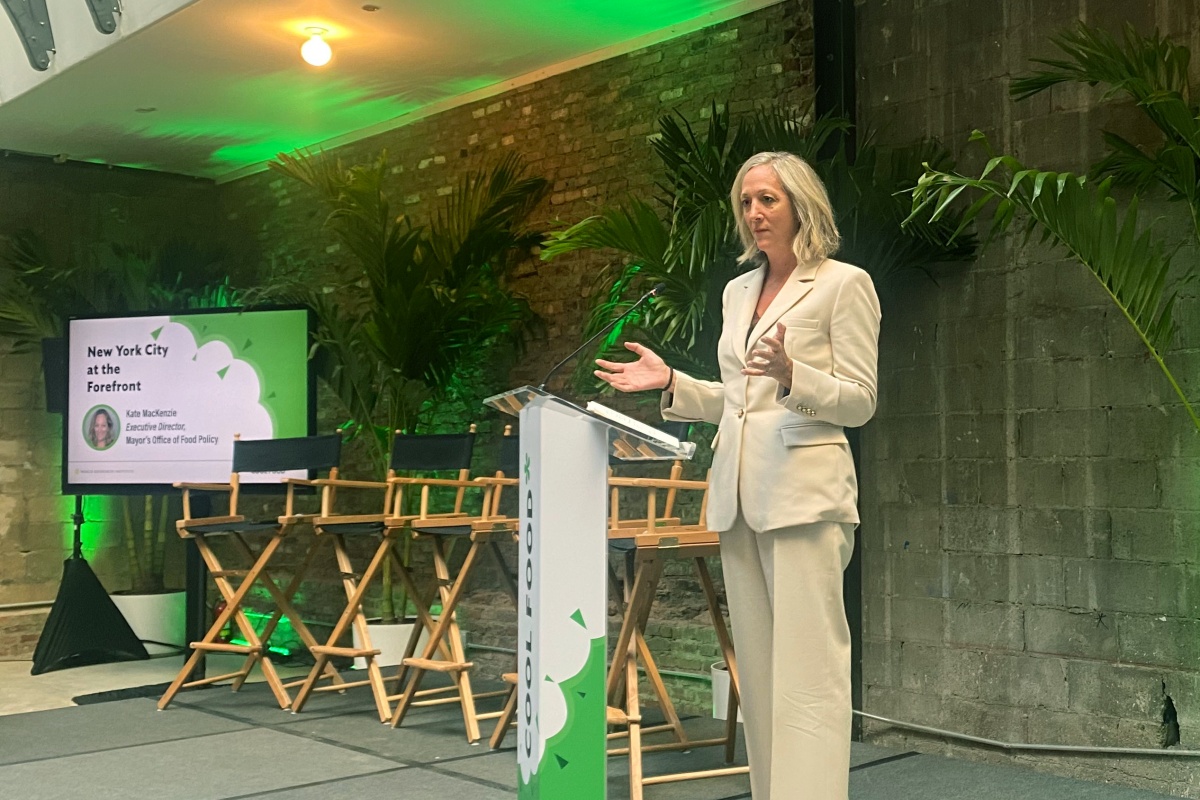 Strengthening the City's Emergency Food System
Over 1.5 million New Yorkers are currently struggling with food insecurity and feeding their families — a 36 percent increase compared to pre-pandemic statistics.
During the pandemic, MacKenzie and her team worked to navigate food insecurity which she says influences the trajectory of her work to this very day. "Having the opportunity to sit at the table and make emergency plans during the pandemic and then put those plans into place just 48 hours later was humbling, to say the least," she explains.
MacKenzie oversaw the city's Covid-19 food response, ensuring that New Yorkers who could not leave their homes, had no one to get meals for them, and couldn't afford private deliveries had their needs met.
The TC alum also ensured that the city's permanent emergency food distribution program, now known as Community Food Connection, was required to source fresh produce, an extensive variety of beans and grains, and culturally appropriate proteins including Kosher and Halal. Previously the program only supported canned or shelf stable foods.
---
Millions of people around the world cannot afford healthy food, putting them at risk of food insecurity and malnutrition. Access to nutritious food is increasingly impeded by myriad challenges, impacting people in our very own neighborhoods and communities around the world. Today, on World Food Day, you can help through your gift to Teachers College by supporting one of the following areas:
Tisch Food Center: The Tisch Food Center works to create a healthy, just, and sustainable food system through research, advocacy, and community building, therefore supporting our most vulnerable populations.
Nutrition Ecology Scholarship: This scholarship fund supports master's or doctoral students in the Nutrition Program with a demonstrated interest in studying the links between food, nutrition, and ecology.
Department of Health & Behavior Studies: Support the future educators, advocates and health professionals dedicated to improving the well-being of our communities through a gift to the Department of Health & Behavior Studies.
---
Integrating Nutrition Education and Access in NYC Schools
In New York State, food insecurity is more prevalent in households with children, as startling numbers show that one in seven children face hunger. A mom of two and a registered dietitian, MacKenzie advocates for children's food security citywide. She's partnering with No Kid Hungry New York to ensure children across the five boroughs receive three meals daily. But mealtime doesn't have to be unhealthy. Thanks to her work with Mayor Adams, cafeterias now offer Plant Powered Fridays, a fun way to better incorporate fresh produce on the menu.
Yet her work spans beyond the cafeteria. On any given day, you might find K-12 students gardening or cooking in the classroom, a result of MacKenzie's push for experiential learning in public school curriculum.
"In schools, we are reimagining food and nutrition education with experiential learning and adding more plant-based options to school meals," says TC's Pam Koch, Mary Swartz Rose Associate Professor of Nutrition & Education. "Bravo that Mayor Eric Adams has reappointed Kate MacKenzie. Onto another year of positive changes for nourishing food for all New Yorkers."
Supporting Local Farmers and Food Sustainability
To support local, sustainable agriculture and transparency, MacKenzie leads the development of the city's Good Food Purchasing Program — which tracks and disseminates detailed information about the origin, volume and carbon footprint of the city's food supply. The program's data also empowers future improvement.
Reflecting on her journey so far, MacKenzie says she notices an overlap in her TC roots and her role today. "There are so many facets of my role, my career, that bring me back to Teachers College," she shares, adding that faculty like Pamela Koch, Randi Wolf, Joan Gussow and Isobel Contento greatly impacted her studies.
For MacKenzie, who also serves on the board of directors of the nonprofit GrowNYC, there is still work to be done. "My legacy, what I hope to accomplish, is that we think about the whole person, the whole community, and the whole city when it comes to food equity and access."