TC Medal for Distinguished Service recipient Madame Ke-Ming Hao — the founding president of China's National Center of Educational Development Research, as well as the Chinese Society of Educational Development Strategy — passed away on January 13, 2023.
A renowned educational expert, Madame Hao also served as a Professor of Educational Policy at Peking University. She is credited for her pivotal role in China's establishment of no-cost public education for students in first through ninth grades. Long prior to Madame Hao's receipt of the Medal for Distinguished Service, her father studied at Teachers College for one year in 1925.
Madame Hao's own relationship with TC began in 2004, when then-TC President Arthur Levine traveled over 8,000 miles to Beijing to present Hao with TC's honorary Medal for Distinguished Service. She was recognized for her critical research and policy recommendations to the nation's president and Minister of Education on curriculum standards, teacher education, and fund allocation — all efforts towards promoting educational equity in China. Madame Hao also fervently advocated for compulsory education for all children, especially those in historically neglected areas.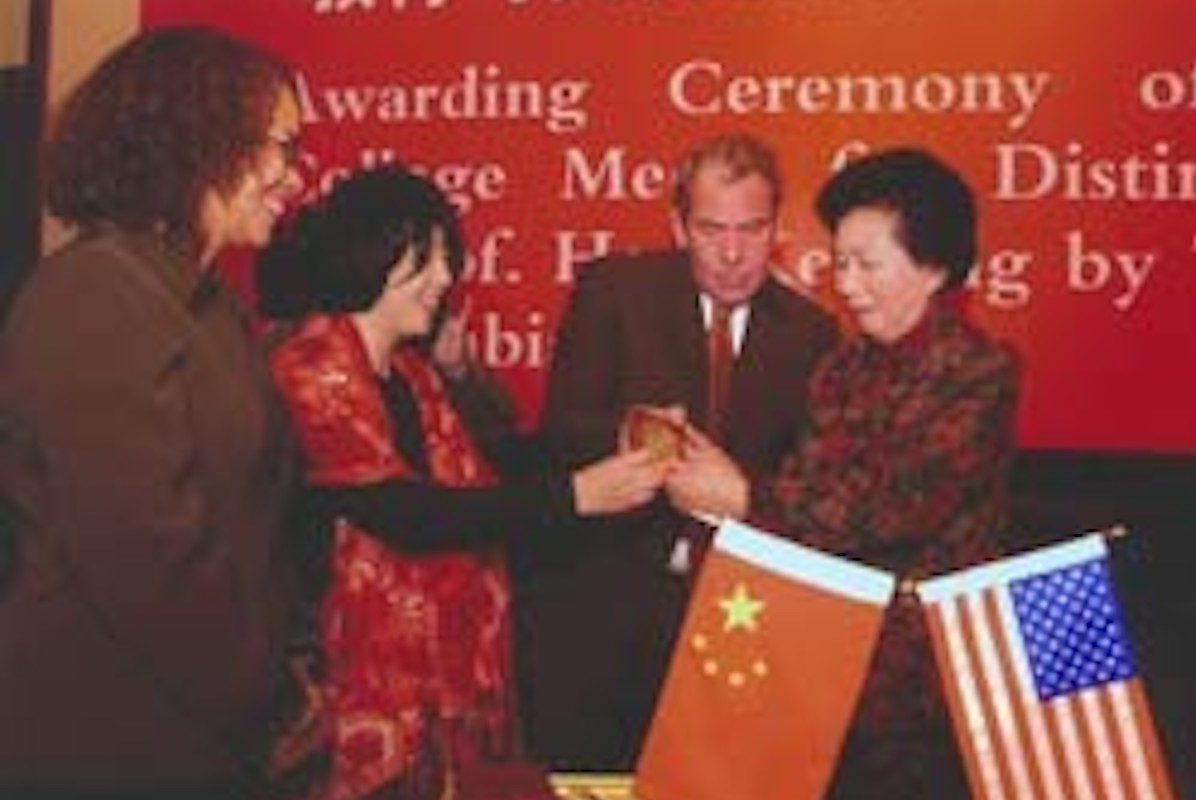 In reflection of Madame Hao's impact at the time, TC's Xiaodong Lin shared: "This is the first time in many years that a president from Teachers College has been in China. By giving this medal to Madame Hao, we are telling the world that we support this line of value and policy."
With China holding the largest educational population in the world, some of Madame Hao's most notable work includes her scholar around macro-education policy research and reform, which was often described as "systematic, holistic and synergistic."
"We will meet many unforgettable friends in our life, but it is very difficult to meet someone who will accompany you and influence your philosophy and career," shared the former Deputy Director of the Ministry of Education, Kang Ning. "She was the spiritual mentor who I admired, respected and loved during my work in the Ministry of Education."
Madame Hao was committed to providing equitable education for younger generations in China through her scientific research and responsible strategic thinking. She once shared, "The waves behind the Yangtze River push the waves ahead, and the new generation is better than the old. I fully believe that young comrades will be able to carry forward the past and forge ahead in advancing research on education development."
In recent years, Professor Lin spoke with Madam Hao about her research on persistence after failure.
Lin recalls Madame Hao's "profound" reflections at that time: "Children's ability to handle failure is like our immune system. If our immune system is strong, we would be able to overcome all kinds of diseases. Failure education should be considered as part of national policies to strengthen a country because when the citizens of a country have greater abilities to handle hardships, the country will become stronger."