The Center for Professional Education of Teachers (CPET) Workshops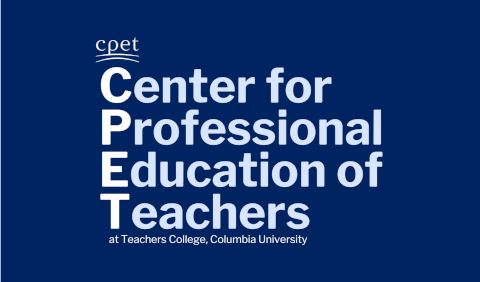 Fall 2017 Workshops
November 15, 2017 - January 25, 2018
Registration Fee: Each series costs $600 per participant.
Teachers College is a state-approved provider of Continuing Teacher and Leader Education (CTLE) hours. Participants can earn up to 18 CTLE hours for each series.
Workshop Hours: All sessions run from 8:30am-3:30pm on the dates listed below.
Location: Workshops take place at Teachers College, Columbia University.
For more information, please:
Email cpet_admin@tc.columbia.edu or call 212-678-3161
ENL in Gen Ed
Strategies to support emerging bilingual students
DEC. 7th | JAN. 11th | FEB 8th
---
LED BY: Andrea Wiley
Customized for ELL teachers
Fighting Math Phobia
Any person can become a math person
NOV. 15th | DEC. 6th | JAN. 10th
---
LED BY: Greg Benoit
Customized for Math teachers, grades 6-12
Keep the Kids Talking
Shifting from Q&A to Q&D
NOV. 29th | DEC. 13th | JAN. 24th
---
LED BY: Denise Daniels
Customized for Danielson 3b
Reading & Writing Arguments
Supporting students to take a stand
NOV. 29th | DEC. 13th | JAN. 24th
---
LED BY: Dr. Cristina Compton
Customized for Literacy, grades K-5
School Structures for
Social Emotional Support
Cultivating care in the classroom
NOV. 30th | DEC. 14th | JAN. 25th
---
LED BY: G. Faith Little & Marian Mogulescu
Customized for social-emotional pedagogy
Special Teams
Models for co-teaching and collaboration
NOV. 30th | DEC. 14th | JAN. 25th
---
LED BY: Dr. Laura Rigolosi & Jacqui Stolzer
Customized for ELL, SpEd, and co-teachers
Supporting Struggling Readers
Reading complex texts in secondary schools
NOV. 16th | DEC. 7th | JAN. 11th
---
LED BY: Dr. Laura Rigolosi
Customized for Literacy, grades 6-12
Surviving the Semester
Meeting the needs of early career teachers
NOV. 15th | DEC. 6th | JAN. 10th
---
LED BY: Brian Veprek
Customized for new teachers