Global Mental Health Summer Institute
May 15 - 20, 2020
May 15, 2020 - May 20, 2020
Hosted by: The Global Mental Health Lab
Times: 9:00 AM - 5:00 PM EST each day
Location: Online Format (Zoom)
Our team will support you to participate each day using Zoom audio/video technology, interactive whiteboards and chat features to ensure real-time discussion, Q&A and active participation. You will only need a stable internet connection to participate.
Overview:
The Summer Institute in Global Mental Health (GMH) is a 6-day training program in the Group Interpersonal Psychotherapy and the World Health Organization (WHO) Mental Health Gap (mhGap) Humanitarian Intervention Guide (HIG). This training is designed for mental health and allied specialists, non-specialists, and students working with populations exposed to severe adversities and trauma.
Group IPT training is provided by:
Dr. Lena Verdeli, Ph.D., M.Sc.
Ms. Kathy Clougherty, L.C.S.W.
WHO mhGap Humanitarian Intervention Guide training is provided by:
Dr. Peter Ventevogel, M.D., Ph.D.
More information on the faculty and course objectives is located below.
Registration Fee: $775.00
Continuing Education:
42 Professional Development Hours
42 contact hours from the American Psychological Association
37.25 contact hours from Columbia University School of Social Work - $35 CE fee
Please visit the Continuing Iinformation tab for more information.
Academic Credit:
TC Students can now register for credit, for more information please contact gmh.institute@tc.columbia.edu
Global Mental Health Lab:
For more information about the TC Global Mental Health Lab, directed by Dr. Lena Verdeli, check out our website: www.tc.columbia.edu/gmhlab
Through a combination of hands-on training, didactic presentations, case studies, live demonstrations, and experiential exercises, trainees will gain knowledge on four essential mental health care elements:
WHO Mental Health Gap Humanitarian Intervention Guide (mhGap-HIG)
May 15-16th
The mhGAP-HIG provides non-specialists with first-line assessment and management recommendations in the face of humanitarian emergencies where treatment options are limited. It covers acute stress, grief, depression, post-traumatic stress disorder, psychosis, epilepsy, harmful substance use and risk of suicide.
Group Interpersonal Therapy (IPT-G)
May 17-19th
IPT-G is an evidence-based treatment widely used for adolescents and adults struggling to adapt in the aftermath of adversity. IPT has been tested for feasibility, acceptability, effectiveness, and sustainability in a number of landmark randomized controlled trials. Both the WHO mhGAP and UNHCR guidelines recommend the manual as an effective first line of treatment for depression delivered by non-mental health specialists in low- and middle-income countries. On the World Mental Health Day (October 10th, 2016), the WHO launched a global dissemination of the Group IPT Manual. This document will serve as the guide for the current training: http://apps.who.int/iris/bitstream/10665/250219/1/WHO-MSD-MER-16.4-eng.pdf
Family Engagement Strategies
May 20th
Family support during episodes of mental illness is critical for recovery. In many regions the stigma of mental illness results in withdrawal of family support during episodes, when the person needs it most. We will train on family engagement strategies, which families have found helpful in our work around the globe.
Management of Suicide Risk
May 20th
Risk assessment and evidence-based brief psychosocial interventions to mitigate suicidal risk in emergency settings will be covered, with an emphasis on the Safety Planning Intervention (SPI). SPI is an evidence-based, stand-alone intervention that has its roots in a brief cognitive therapy (CT). It is designed to manage and mitigate the risk for suicide, especially in acute care settings, such as trauma centers, crisis hotlines, psychiatric inpatient units and emergency departments.
* Certificate of attendance and in Group (Level A) Training in Group Interpersonal Psychotherapy will be provided upon completion of the course.
Learning Objectives
The workshop aims to:
Offer hands-on, interactive learning of the WHO Group Interpersonal Psychotherapy manual focused on the basic principles, strategies, and techniques of Group IPT for treatment of depression and post-traumatic symptoms
Build knowledge on how Group IPT is adapted and implemented in low-resource settings for persons affected by extreme adversities.
Offer hands-on knowledge of the WHO/UNHCR mhGAP-HIG manual with emphasis on case identification and basic management of priority mental health conditions in humanitarian settings
Build understanding of basic facts about suicide, acquire skills to adequately assess suicide risk, and develop effective plans to mitigate risk in low-resource regions.
Emphasize the crucial role of family participation in the process of treatment and provide effective strategies for family engagement
Faculty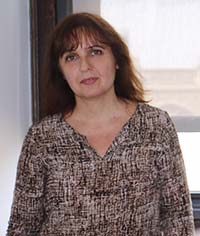 Lena Verdeli, Ph.D., M.Sc., Teachers College, Columbia University
Associate Professor in Clinical Psychology and Director of the Global Mental Health Lab, Teachers College, Columbia University.
Lena Verdeli has been teaching graduate psychology students, psychiatry residents and fellows on research and practice of empirically-supported treatments at Teachers College, Columbia University. Dr. Verdeli's research focuses on prevention and treatment of mood disorders in adolescents and adults and has received numerous federal and foundation grants for her work. She played a key role in the adaptation, training, and evaluation of psychotherapy protocols used by non-specialists in low-resource areas and has collaborated with academic and humanitarian groups in the US and abroad in treatment studies with depressed adults in southern Uganda and war-affected adolescents in IDP camps in northern Uganda; distressed primary care patients in Goa, India; depressed and anxious persons in Haiti; and traumatized internally displaced women in Bogota, Colombia. She has served as a Technical Advisor for the WHO, Division of Mental Health and Substance Use; Chair of the Research Working group for the Family Committee at the UN; Advisory Board member of the American Foundation for Suicide Research and the Depression and Bipolar Support Alliance; and Member of the Mental Health Advisory Board of the Millennium Villages Project of the Earth Institute.
Kathleen F. Clougherty, LCSW, New York State Psychiatric Institute
Instructor in Clinical Psychiatric Social Work (In Psychiatry) at Columbia University
Kathleen F. Clougherty is a senior Interpersonal Psychotherapy (IPT) trainer and supervisor at the New York State Psychiatric Institute, Instructor in Clinical Psychiatric Social Work (In Psychiatry) at Columbia University, an instructor at the Columbia University School of Social Work, and a private practitioner specializing in the treatment of depression in adolescents and adults. She is the co-author, along with Gregory Henrichsen, of Interpersonal Psychotherapy for Older Adults. Ms. Clougherty has been a co-developer, on-site trainer and supervisor in several major international IPT studies including an adaptation of individual IPT for adults in rural India, an adaptation of group IPT for depressed men and women in southwest Uganda, and an adaptation of group IPT for depressed adolescents in internally displaced persons' camps in northern Uganda. She currently is trainer and supervisor for a randomized controlled trial of IPT for older adults with traumatic grief, and she is developing adaptations of IPT for the World Health Organization and the Millennium Villages Project. Ms. Clougherty has done extensive training and supervision both nationally and internationally for social workers, psychiatrists, and psychologists. She was trained in IPT by Dr. Gerald Klerman, the co-developer of IPT. Ms. Clougherty received her MSW from Columbia University School of Social Work.
Peter Ventevogel, M.D., United Nations High Commissioner for Refugees (UNHCR)
Senior Mental Health Officer with the UNHCR
Peter Ventevogel is a psychiatrist and a medical anthropologist. Since October of 2013 he is the Senior Mental Health Expert with UNHCR, the refugee agency of the United Nations. From 2008-2013 he was the editor-in-chief of Intervention, Journal for Mental Health and Psychosocial Support in Conflict Affected Areas, published by the War Trauma Foundation. He worked with the NGO HealthNet TPO in mental health projects in Afghanistan (2002-2005) and Burundi (2005-2008) and as their Technical Advisor Mental Health in the head office in Amsterdam (2008-2011). In 2011 and 2012 he also worked as psychiatrist with Arq Foundation, the national trauma expert center in the Netherlands. Peter regularly did consultancies for the World Health Organization and the UNHCR in Egypt, Jordan, Libya, Pakistan, Sudan and Syria. He has been course director of several academic short courses such as the course 'Culture, Psychology and Psychiatry' (Amsterdam Masters of Medical Anthropology), and the 'Practice Oriented Course Mental Health & Psychosocial Support in Post Conflict Setting' (HealthNet TPO, the Netherlands).
Continuing Education Information for Social Workers & Mental Health Counselors
Please note that in order to receive your continuing education certificate, you must attend the full day of each day during the 2020 GMHSI and complete the evaluation in accordance to NYSED regulations. Please plan accordingly to arrive/log-in on time. Participants must sign in by 9:15am and are unable to sign out earlier than 4:45pm*. There are no refunds for missed attendance that forfeits CE credits.
* Participants who have missed no more than 1 hour and 45 minutes have the option of taking the knowledge test on the final day. Test may only be taken once and has to be passed with 80% or higher.
The same guidelines will apply to professionals from other states or disciplines unless verification is provided indicating more flexible attendance requirements.
37.25 Live, online contact hours will be awarded for NYS, NJ and CT licensed social workers and NYS licensed mental health counselors. Licensed social workers and mental health counselors from other states should contact their licensing board to confirm acceptance of CE credits through the Columbia School of Social Work. Columbia University School of Social Work is a CSWE accredited institution.
CSSW is recognized by the New York State Education Department's State Board for Social Work as an approved provider of continuing education for licensed social workers. Provider #SW‐0021
CSSW is recognized by the New York State Education Department's State Board for Mental Health Practitioners as an approved provider of continuing education for licensed mental health counselors. Provider #MHC-0137
NYSED does not limit the number of live, online credits earned due to the ability to engage with instructor(s) and other attendees. Please see #29 under FAQ for Social Workers and Mental Health Counselors.
CE Certificates: Certificates will be distributed via email within 3-4 weeks of the course ending to thosemeeting the attendance requirements above. Please contact SWOPE@columbia.edu with any questions.