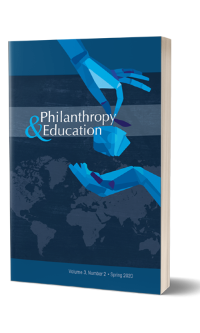 Philanthropy & Education, which published its first issue in November 2017, emerged from discussions among the growing number of scholars and students who study philanthropy and fundraising within education. While we publish in different venues, both in the field of education and within the disciplines, we noticed a significant gap exists. Publishing semiannually each May and November, Philanthropy & Education is sponsored by TC and published by Indiana University Press. The journal publishes interdisciplinary works that examine prosocial voluntary actions benefitting education.
The journal's mission is to advance scholarship in and inform practice around philanthropy, broadly defined, including but not limited to fundraising, volunteerism, civic engagement, alumni relations, corporate social responsibility, and prosocial behavior development. As such, Philanthropy & Education will publish empirical and scholarly studies that are written in a way that is accessible to practitioners across the spectrum of disciplinary perspectives with a clear implication for practice.
Philanthropy & Education encourages articles from all aspects of education (K-20+), both domestically and internationally, from a variety of disciplinary perspectives, including but not limited to: anthropology, economics, history, law, management, political science, psychology, public administration, religious studies, social work, and sociology. To further the journal's mission, Philanthropy & Education welcomes submissions from scholar-practitioners, particularly those who have recently completed their dissertations.
Mentorship program. To encourage the dissemination of newly written dissertations and the work of young scholars and scholar-practitioners, I established a mentoring program at Philanthropy & Education. The journal's editorial board is committed to mentoring "newly minted doctors" through the publication process. Recent graduates' submissions undergo the standard review process. However, after the double-blind peer-review process is complete, those articles that are determined to be revise-and-resubmits are assigned a publication mentor. This mentor helps the author respond to the reviewers' requests and provide developmental editing to prepare the manuscript for its second review.
Submit to Philanthropy & Education
Subscribe to Philanthropy & Education