During the 1940s, the psychologists Kenneth and Mamie Clark conducted their famous "doll test," in which they asked black youngsters to choose among four dolls that were identical except for color. The children overwhelmingly preferred the white doll and assigned positive characteristics to it — and negative ones to themselves — prompting the Clarks to conclude that "prejudice, discrimination, and segregation" were making them feel inferior and damaging their self-esteem.
The doll test was cited in the U.S. Supreme Court's 1954 ruling in Brown v. Board of Education, which declared school segregation unconstitutional. The work has since been critiqued on scientific grounds — the sample size was small; there was no control group; the results could be truer for black youngsters who are in frequent contact with whites than for those attending segregated schools. Yet the findings remain a touchstone for multicultural education, a striking illustration of a simple but powerful idea: Children need to see themselves — their likenesses, their experiences, their knowledge and beliefs — reflected in the culture around them, both to develop a healthy sense of self and to feel the kind of connection and engagement that is essential to learning. Ultimately, self-affirmation at this fundamental level can empower them to advocate for themselves and help create a more egalitarian society.
The good news over the past few decades is that in, children's literature in the United States, the number of non-white authors, diversified story lines and characters of color has ticked steadily upward.
Characters from under-represented backgrounds represent just under half of the characters in books written for young adults and pre-readers, according to a 2018 audit by the Cooperative Children's Book Center (CCBC), a library within the University Wisconsin-Madison School of Education. The 708 books authored by African American, Pacific Asian, Native American and Latinx writers accounted for 21.7 percent of the literature reviewed by the CCBC. Those percentages represent a sharp increase from the numbers compiled by the CCBC in the mid-1990s.
The less positive news is that despite the growing wealth of culturally relevant children's literature, teachers don't always use these books in their classrooms, and even when they do, may feel constrained about leading discussions of race, power, equity and other issues raised by the story lines.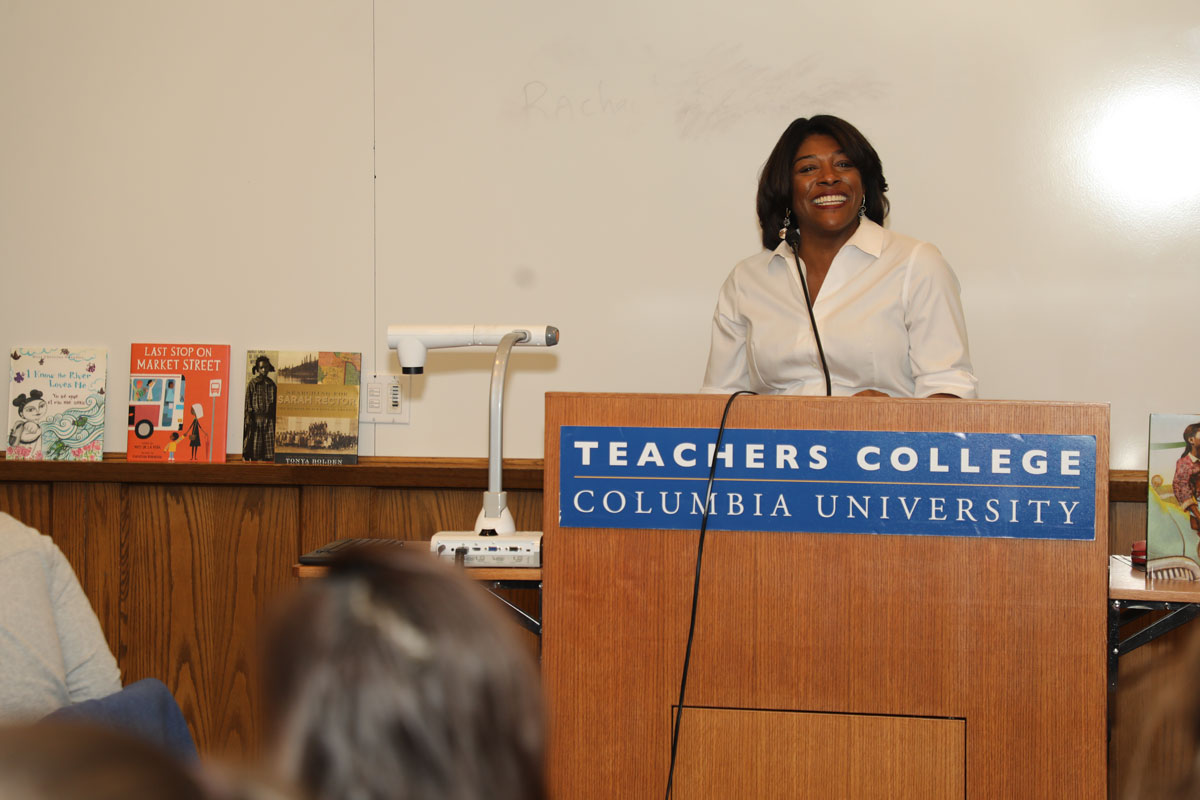 To help address that problem, TC's Detra Price-Dennis, Associate Professor of Education, is leading workshops for teachers on how to use culturally relevant literature with their students. The effort — called "JustLit: Fostering Racial Literacy with Children" — is funded by the Rowland and Sylvia Schaefer Family Foundation, co-directed by Teachers College Trustee Marla Schaefer.
"We talk about multicultural education, culturally-sustaining education, critical race theory and critical race education," Price-Dennis told attendees at the introductory workshop held in late January. "Racial literacy creates an opportunity for students to ask questions about race, social justice and equity as they pertain to content. It presents an opportunity for kids to think about these things together. And it can prompt them to take action."
[Price-Dennis received the 2014 Janet Emig Award for Exemplary Scholarship for her article, "Urban Fiction and Multicultural Literature as Transformative Tools for Preparing English Teachers for Diverse Classrooms," co-authored with Marcelle Haddix, of Syracuse University. She has regularly led workshops for teachers at TC's Reimagining Education Summer Institute, which equips teachers with strategies for connecting with a diverse range of students.]
The objective of the workshops is to guide educators toward literature such as Prairie Lotus, Little House on the Prairie written from an African American perspective, The Girl from the Tar Paper School a true story about Jim Crow education and The Book Itch: Freedom, Truth and Harlem's Greatest Bookstore — books that explicitly aim to help young people "unpack" racial and ethnic stereotypes, institutional racism and privilege. Price-Dennis was assisted at the January event by four other instructors: Rachel Knight, a TC doctoral student and research assistant; Noelle Mapes (M.A. '15), a New York City elementary school teacher; Katie Eller, a TC adjunct instructor in English Education; and Jenice Mateo-Toledo, a TC doctoral student in Curriculum & Teaching who teaches English as a second language in the public schools in Hastings-on-Hudson, New York.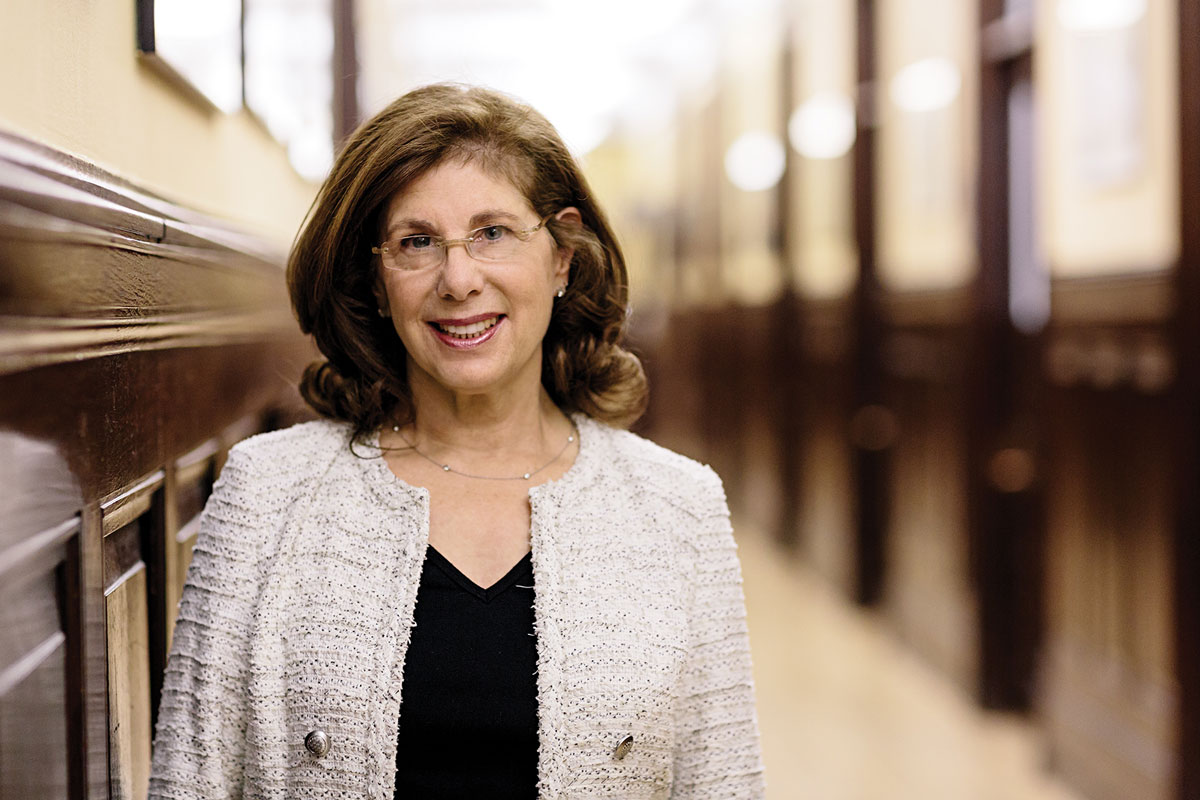 The participants at that workshop confirmed that conversations about privilege and race consciousness are a staple of professional development and leadership meetings at their schools.
"But it's something we never talk about in class," one teacher said. She and other teachers are afraid, she said, of recrimination from parents and school leaders and feel that, with all the ground they must cover, they lack the time to conduct meaningful contextual discussions.
Books that cast racial literacy in the context of a story open the windows to those conversations, Price-Dennis pointed out.
"Sometimes we think this work is going to be heavy," she said. "But, really, it's the reading that matters."
Schaefer, whose foundation also funded "Raise Your Voice," a weekend-long event in fall 2018 at which the Teachers College Reading and Writing Project helped children burnish their prowess in using writing and the spoken word to address social justice issues, also sees literature as a powerful medium for change.
"This is really a project whose time has come," she says. "We seem to be so divided as a country, and we really need to start embracing our so-called differences. The written word is especially powerful, because when people read something, it really sticks with them. Of course, it's wonderful that we're doing these workshops in New York City, where there's so much diversity, but it may be more challenging to get schools in other parts of the country to pick up on this model. But you start with drops of water to wear down a stone. I'm thrilled that this is happening."