Serving homemade BBQ chicken as part of school lunch sounds simple enough – but in New York City, where there are 1,800 public schools, "there's an incredible level of complexity behind it – think of the old-time visual of turning around the air craft carrier," says Raynika Trent, Project Director at TC Program in Nutrition's Laurie M. Tisch Center for Food, Education & Policy.
Trent knows what she's talking about. For the past year, the Tisch Food Center has been evaluating a scratch-cooking pilot led by New York City Department of Education's Office of Food and Nutrition Services (OFNS), in partnership with Dan Giusti, the former chef de cuisine at Noma in Cophenhagen (repeatedly named the world's best restaurant). Ultimately, OFNS envisions transforming cafeterias in all New York City schools from facilities that make heat-and-serve meals to preparing real fresh food from scratch. The work is funded by OFNS, the Joyce and Irving Goldman Family Foundation, The New York Community Trust, the New York State Health Foundation and a generous anonymous TC donor.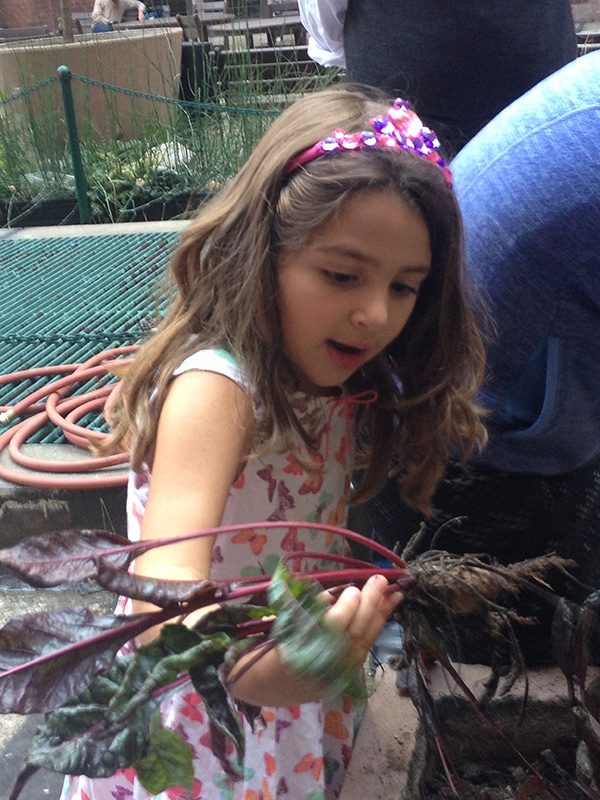 The Center's study, led by Trent and the Center's Executive Director, Pamela Koch, has "unparalleled access" on the inside to see what it takes for the largest school district in the country – and the second largest institutional food producer in the country behind the U.S. Department of Defense – to serve real food, says Koch.
The "scratch cooking" initiative, as it's known, is just one example of how the Tisch Food Center is working to improve food and nutrition in the United States on all three levels that its name implies.
Among the other highlights:
This summer, thanks to a collaboration with the office of Steven Goss, Vice Provost for Digital Learning, Koch, will launch an online course for public school teachers called "Teaching Food and Nutrition for All." The course "distills the expertise of our nutrition program so that teachers will feel confident about integrating food and nutrition education into their classrooms," says Claire Raffel, Tisch Food Center Deputy Director. Teachers will earn continuing education credits through the course.
Program in Nutrition doctoral student Deborah Olarte used TC's Smith Learning Theater to conduct the Teachers' Perceptions of their Roles in School Lunch workshop that collected data to understand how teachers can be supported to play a larger and more positive role in supporting school lunch.
On the policy front, The Tisch Food Center is playing a key role in campaigns at the local and state levels.
In January, the Center delivered testimony in support of Int. 1283, a bill that would require the New York City Department of Education to annually report to the New York City Council on food and nutrition education in the city's public schools. The report would include information about whether food and nutrition education is being combined with other health-related education and, if it is being delivered by classroom teachers or external organizations, with data broken down by students' race, gender and poverty or non-poverty status. The bill builds on the Tisch Food Center's own extensive reporting on the status of nutrition education in the city's schools.
[Read an opinion piece in The Gotham Gazette, coauthored by Koch, on Int. 1283.]
The Tisch Food Center is also leading the WELL Campaign (Wellness, Equity and Learning Legislation), a statewide advocacy campaign to ensure that all New York State students have schools that support their health and well-being. Currently the state, with one in three students classified as overweight or obese, one in six struggling with hunger, and one in 10 NYC students coping with homelessness, ranks near the bottom in policies that comprehensively address students' physical, mental, and emotional well-being. This work is being funded by the New York State Health Foundation, and the WELL Campaign also receives support from Voices for Healthy Kids, a joint initiative of the Robert Wood Johnson Foundation and the American Heart Association.
"The goal is to get legislation passed that would really put New York in the forefront of school wellness policy," Raffel says. "It's easy to check off a box and go back to business usual – so we want something that says, 'Here's what it means for our kids to be really learning and succeeding in health- and wellness-promoting environments.'"