Dolphins frolicking in the once murky and overcrowded canals of Venice? The unexpected note of cheer from a city emptied of tourists by the coronavirus pandemic seemed almost too good to be true.
Alas, it was.
Images of the playful visitors — a happy vision of nature reasserting itself in a suddenly quieted modern world — were widely shared, talked about and even celebrated on popular social media sites such as Twitter, even after professional journalists from National Geographic magazine reported that, no, this new urban legend was nothing more than that. Like so many bogus stories, the Venice posts took a small kernel of truth – canals in the Italian city are indeed much cleaner without gondolas stirring up sediment – and went wild, using photos of dolphins that were actually taken far away, in the Mediterranean port city of Sardinia.
Americans have been much preoccupied with fake news since the 2016 presidential election, and according to a June 2019 study by the Pew Research Center, consider its proliferation a larger problem than racism, climate change, or terrorism. But during the past few months, the concept of "viral misinformation" has posed an entirely new level of risk. The phony dolphin rumor may have been relatively harmless, but as COVID-19 continues to hop from country to country, understanding what information about the pandemic is real and what is fake has become a life-and-death matter. For example, less-discerning users of the internet could have disregarded the advisories issued by Anthony Fauci, the government's top expert on infectious diseases, convinced he was part of a coup against President Donald Trump (he's not). Others could have adhered to a national quarantine purportedly launched by the World Health Organization and the White House's National Security Council (it wasn't). And, as the Pew survey suggests, many others may have simply concluded that all news is now suspect.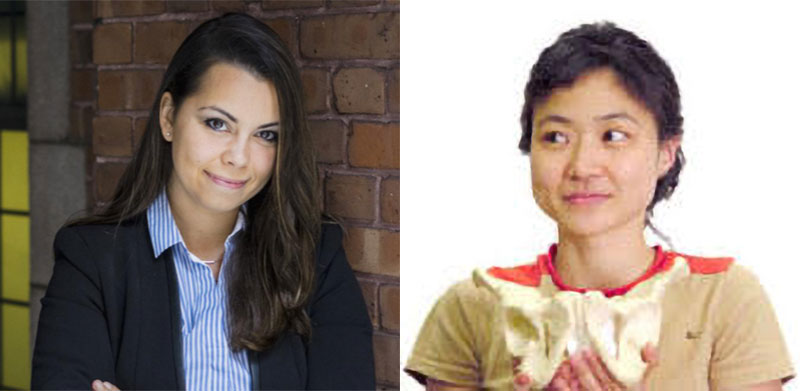 "This is a period of extraordinary uncertainty, when people are fearful and feeling deep anxiety, and they will seek out information that will make them feel at ease," says Ioana Literat, Assistant Professor in the Communication, Media and Learning Technologies Design program at Teachers College. "Now they're seeking news that they feel like they can use — and unfortunately a lot of that news is wrong."
But the good news is that thanks to Literat and others, the academic field know as media literacy is pushing back. Well before the first sketchy news reports about a lethal new virus started to filter out of Wuhan, China, Literat and some of her faculty colleagues and students at Teachers College were pondering the problem of digital misinformation. She and her collaborator, Neta Kligler-Vilenchik, Assistant Professor of Communication & Journalism at the Hebrew University of Jerusalem, have published their research on how young people express themselves politically in their often hidden-to-adults online communities.
This is a period of extraordinary uncertainty, when people are fearful and feeling deep anxiety, and they will seek out information that will make them feel at ease...Unfortunately a lot of that news is wrong.

— Ioana Literat
Meanwhile, Literat also has sharpened her focus on misinformation.
She and a team from TC's Media & Social Change Lab (MASCLab) College are poised to begin more widely circulating the educational project they've been honing for roughly three years: LAMBOOZLED!, a card-based game that aims to make learning about media literacy fun for middle- and high-schoolers, by challenging them to investigate the truth of articles about a fictional town of sheep. [LAMBOOZLED! will be published this coming fall by Teachers College Press. See the accompanying story]
Yoo Kyung Chang, Lecturer in Communication, Media & Learning Technologies Design and a key member of the LAMBOOZLED! team, says that surveys taken since the start of the coronavirus crisis show readers are now craving trustworthy news more than ever before, but still don't always know the best way to find it. The problem in 2020, Chang says, is an "inundation" of information so overwhelming that consumers are left to ponder "what information do you take in and trust and rely on?"
In many ways, the timing for the LAMBOOZLED! project could not have been better. The size, ubiquity and sheer speed of online communications have ended the monopoly of more trusted mainstream news sources like network TV news or the New York Times and opened the floodgates to disguised advertising, political propaganda and out-and-out fakery. The mainstream news industry has been in economic free fall. Meanwhile, Photoshop and other technologies have made it possible to doctor images beyond detection. Small wonder, then, that young people — and frequently older folks as well — aren't well prepared to distinguish between faction and fiction.
For example, a 2017 survey by the Stanford Graduate School of Education, which interviewed 7,800 students on all levels, found that 82 percent of middle schoolers couldn't tell the difference between a real news story and a sponsored one. More than 30 percent of high school students thought a fake news story purporting to be from Fox News was more reliable than an actual Fox News story.
As Literat can personally attest, one upside to dark times such as the present is that they can rapidly turn people into savvier media critics.
A native of Romania whose family watched the revolution that overthrew longtime dictator Nicolae Ceaușescu when she was young, Literat says she grew up with a gut-level appreciation for truthful journalism and civic engagement. She came to North America to study at the United World College on Vancouver Island, Canada, and stayed to earn a degree from Middlebury College in film studies. But while many of her classmates looked toward Hollywood, she says, "I was a little different — I was more interested in how media can be used for positive social change."
The problem in 2020, is an "inundation" of information so overwhelming that consumers are left to ponder "what information do you take in and trust and rely on?"

—Yoo Kyung Chang
Since arriving at Teachers College and MASCLab, Literat has focused on understanding how politics seeps into the online worlds that appeal primarily to teenagers — venues such as the videogame Fortnite, as well as meme-making sites or platforms where young people post fan fiction. Not one to hide her own political leanings, she says her work took on even more urgency the night Trump became president — "How can I contribute to getting ourselves out of this mess?" she recalls asking herself — amid a growing sense that a blizzard of bogus information had swung the election.
Literat's earlier research had shown that young people were starting to get political information from unconventional online places not being monitored by adults. Many teens shared "the sense that I'm not an active stakeholder when it comes to news, that news is not relevant to me." Developing a game such as LAMBOOZLED! seemed a fun way to get young news consumers thinking about accuracy and trust in news, instead of turning them off with a didactic lecture.
Jonathan Gardner, a TC master's degree student in the Design and Development of Digital Games program, who has worked on LAMBOOZLED! believes the 2016 election, and the wave of false stories that surrounded it, amounted to "a wakeup call."
Literat is more skeptical. But with the global pandemic altering life in America, "news – and local news – are very relevant," she says. "I think young people are seeing that."