Charmagne (Cha Cha) Jones always knew what she wanted to do in life. She served as a student athletic trainer at her San Diego high school and majored in Kinesiology & Physical Therapy at San Diego State University. The only question then was where she would earn her master's degree in applied physiology — and she settled that pretty quickly.
"Once I visited TC, that was the end of the story," says Jones.
Actually, it was just the beginning — and the plot has kept serving up surprises.
Charmagne Jones: M.A., Applied Physiology
On one level, all went as planned. In TC's Applied Exercise Physiology program, Jones immersed herself in the EXerT Clinic, the lab led by Professor of Movement Sciences Carol Ewing Garber that does cutting-edge work studying elite athletes – including Columbia University men's and women's crew teams — to measure the metabolic and physiological impact of extreme exercise.
"It really was the greatest opportunity ever," she says.
But Jones also found herself getting involved in fitness and wellness programs that serve the Morningside Heights and Harlem communities. After serving as Health and Well-being Senator her first year, she ran for Student Senate Vice President, leading a campaign to increase student participation in the organization and championing diversity initiatives such as Campus Cousins and International Dance Day Celebration. Last summer, back home in San Diego, she worked with local youth to help them navigate the college admissions process. Increasingly, she began to suspect that, as much as she loved the work of physical therapy, her heart lay elsewhere — and that maybe it always had.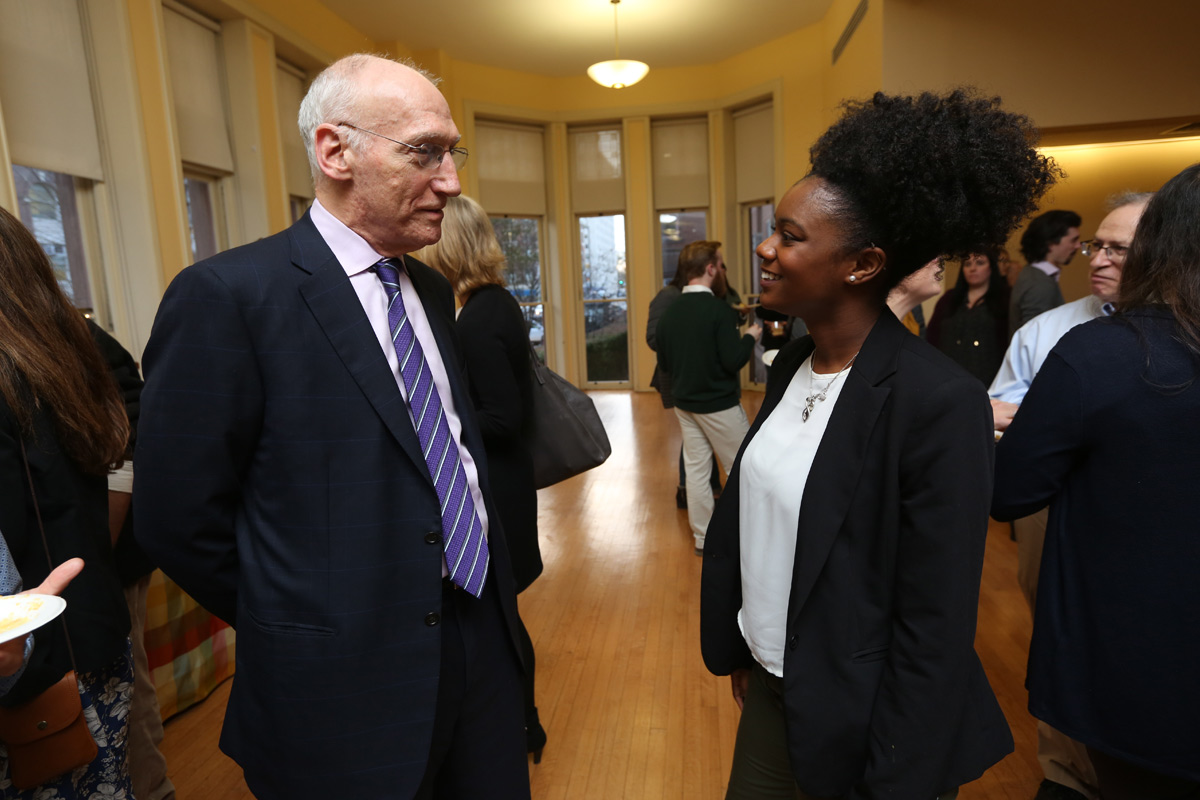 In San Diego, Jones recalls, her family attended Bayview Baptist Church where "giving back meant putting words into action." Coming from a background of poverty and homelessness herself, she was involved in community service projects to assist the homeless. At San Diego State, she helped under-represented students with time management, career development and finding employment opportunities, and even arranged a kickball tournament for students with and without disabilities to Midnight Study Breaks during final exams.
Once I visited TC, that was the end of the story," says Jones — but actually, it was just the beginning — and the plot has kept serving up surprises.

-Charmagne Jones
Pausing to take stock at TC, she says, "I realized that I had been so focused on the dream of becoming a physical therapist that I kind of ignored the fact that other forces were pushing me in a different direction."
Eventually she shared her epiphany in an emotional meeting with Tom Rock, TC's Vice Provost for Student Affairs. Rock offered his observation that career trajectories seldom follow a straight line. Maybe, he suggested, Jones's future was in education and student services.
Graduates Gallery 2020
Meet some more of the amazing students who earned degrees from Teachers College this year.
It was, as they say, an "Aha" moment. Jones did some hard thinking and eventually secured a position for this coming summer as a health coordinator with an educational non-profit in Harlem. With New York City in the grips of the COVID pandemic, the job is now on hold. But that hasn't stopped Jones. From the confines of her New Jersey apartment, she recently coordinated Spring Student Senate elections. She's helped re-direct Student Senate funds previously earmarked for now-cancelled spring campus events into the Wendy M. Dressel Student Emergency Fund, providing $7,000 in assistance to TC students who have encountered financial hardship as a result of the COVID crisis, and another $2,000 to The Food Pantry at Columbia. And for her efforts, Jones was recently named to receive the prestigious Campbell Award, given annually by the Columbia University Alumni Association to a graduating student at each Columbia school in recognition of "exceptional leadership and Columbia spirit." The award honors the memory of the late Bill Campbell (M.A. '64), University Trustee Chair Emeritus and Columbia Alumni Association co-founder.
A grateful Jones deflects the credit to TC, which she calls a "nurturing place that did a great job of helping me to grow academically and personally." No, her two years here didn't turn out as expected. Instead, she says, the College did her one better by helping her discover who she is meant to be.