A veteran decorated with a Purple Heart and a Bronze Star Medal for heroic achievement, TC doctoral student Peter Kim says leading in the classroom is far more similar to military service than one may initially think. "Much of military training as an officer was about instructing, teaching, counseling and guiding junior enlisted soldiers for a common goal albeit for a different purpose than in education," says Kim, who served as an Army officer in the 1st Cavalry Division stationed in Fort Hood, Texas. His four years of service also included a stint in Iraq as a Mechanized Infantry Platoon Leader.
Those years taught him the power — in life as well as on the battlefield — of conducting thorough research, problem-solving and maintaining discipline. Now Kim, who as a child immigrated to the United States "not knowing a single word of English," is applying those skills to his study of Applied Linguistics.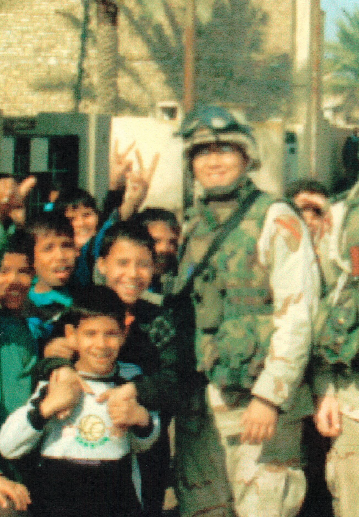 "Naturally, it was a struggle to adjust in a brand-new country trying to master a foreign language I had no clue about," reflects Kim, noting the all-consuming role language can sometimes play in the lives of immigrants trying to adapt to a new country. "I think there is something powerful and deeply mysterious about language and also the depth of communication language allows."
Before venturing to Teachers College, Kim taught English as a second language for several years. He was vividly reminded of his own journey by his young students — including one who worked two jobs to support his family and still managed to attend Kim's class three times a week, often on little sleep. "It made me realize the reality of the struggles and the hard work ESL learners in America go through and face every day."
For Kim, who earned his bachelor's degree at the University of Michigan and his master's at Farleigh Dickinson University, the shift from teaching to earning his doctorate at Teachers College was connected to the College's role as an "epicenter of pedagogical research and practice" — and its place in New York City, "where millions of non-native speakers come to learn English."
"TC has been the perfect intersection where theory meets practice, a place to truly learn the latest and the most exciting state-of-the art trends in education and applied linguistics," says Kim. He is particularly grateful for the opportunity to work with his doctoral advisor ZhaoHong Han, Professor of Language and Education, and Director of TC's Center for International Foreign Language Teacher Education.
"I see Professor Han as a consummate scholar in the field of applied linguistics, someone who exemplifies what it means to be a scholar," says Kim, who describes the TC community as one of the most rewarding components of his time at the College. "She has shown me what it means to pursue intellectual discussions, be able to think critically with a keen sense of awareness, and most importantly, to learn by constantly pushing the boundaries of understanding in the field."
In addition to his studies at TC, Kim serves as Editor of the Columbia journal Studies in Applied Linguistics & TESOL, and recently published a paper examining the effects of listening while reading on comprehension. He plans to pursue a position in academia after completing his doctorate. Yet even as he finding comrades in research circles and classrooms, Kim carries his service with him daily — and perhaps even more vividly since the COVID pandemic began.
"You experience so much during your service and the values you learn stay with you throughout your life. It has shaped me into who I am today," he says. "My service has taught me the value of sacrifice, serving others and being able to muster strength in difficult times."