For those working in the field of communications disorders, the phrase "speech path" is shorthand for "speech pathologist."
For Brooke Hayman, it also describes her evolving journey in a field she discovered by chance.
"Everyone in speech and language seems to have some sort of back story, such as watching a grandparent relearning language after a stroke," says Hayman, who is receiving her master's degree from Teachers College's program in Communications Sciences & Disorders. "I don't have one of those stories. I just kind of found it myself on Google."
Never one to put off major life decisions, Hayman was a seventh grader contemplating a career in psychology when she decided the time had arrived to assemble a game plan.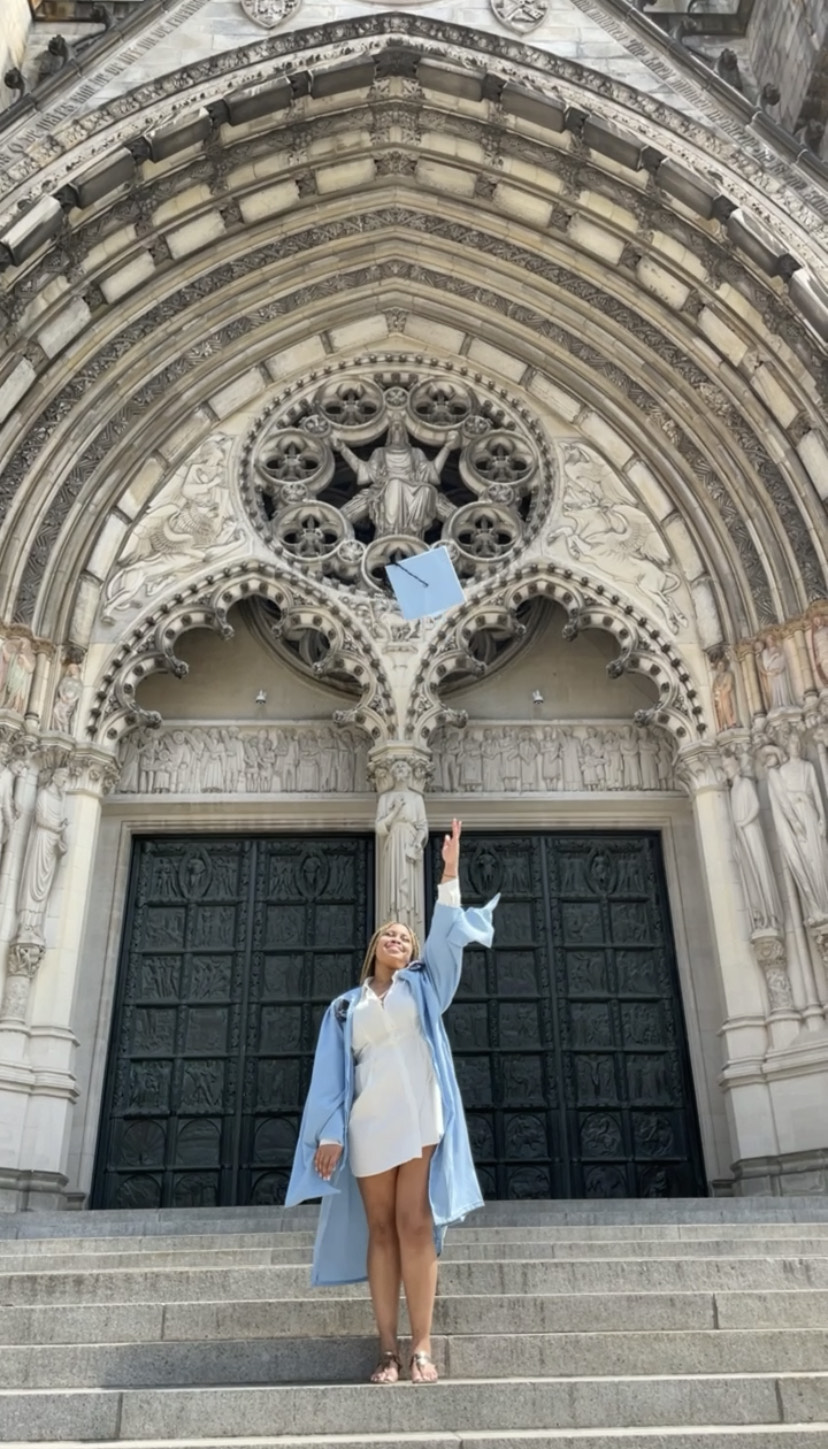 Not exactly sure what it took to become a professional psychologist, Hayman did what comes naturally to every kid born into the digital age: She checked it out on the web.
"As I looked at different kinds of therapy I kind of found speech and language," she recalls. "I thought, 'Oh, that's pretty fun, I've never known anyone who has done this.'"
Graduates Gallery 2021
Meet some more of the amazing students who earned degrees from Teachers College this year.
As a high school student in Delaware, she spent time shadowing some speech pathologists and liked what she saw. She subsequently attended Boston University and graduated, Cum Laude, with a Bachelor's in Speech, Language and Hearing Sciences and a minor in Deaf Studies.
As she searched for graduate schools, TC's Communication Sciences & Disorders program drew her attention because of its focus on bilingual and bidialectal populations. A recruitment event in Boston sealed the deal.
"I could see a small community there," Hayman recalls. "And I wanted to be a part of it."
Her time on West 120th Street has only deepened her interest in her field — but, as often happens, being at TC also has broadened her horizons.
For the first time in her 18 years of formal education, Hayman took a course taught by a woman of color — Associate Professor of English Education Yolanda Sealey-Ruiz — an experience that has prompted her to think even harder about equity issues in education and her own thinking about race and how race is and isn't addressed within academia.
She also worked as a residence hall assistant during the onset of the COVID pandemic, staying put with a small number of occupants while most students, faculty and staff scattered to across the country and around the field.
I want to take this further now that TC has helped structure my goals and given me the tools to ask research questions. I want to get a Ph.D. And while I never thought about it before, I now can't imagine not being a professor.

—Brooke Hayman (M.S. '21, Communications Sciences & Disorders)
"Watching everyone leave was weird," she says. "It's been strange seeing an empty campus where we went to class and walked the halls."
In the silence of an academic campus frozen in time, Hayman thought about the courses that had introduced her to evidence-based research on interventions for speech and language disorders. In the short term, she still wants to work as a speech pathologist, but, she says, "I want to take this further now that TC has helped structure my goals and given me the tools to ask research questions. I want to get a Ph.D. And while I never thought about it before, I now can't imagine not being a professor."
Which just goes to show that, as Hayman laughingly puts it, "Once you start on a speech path you really get pulled into it."