In-person research is back!
Dear TC Research Community:
The TC Institutional Review Board (TC IRB) office, in consultation with the Research Compliance & Safety Committee (RCSC), has moved to Phase 4 for in-person data collection (resumption of in-person research on and off-campus). Visit this link for a list of contacts participating on the RCSC.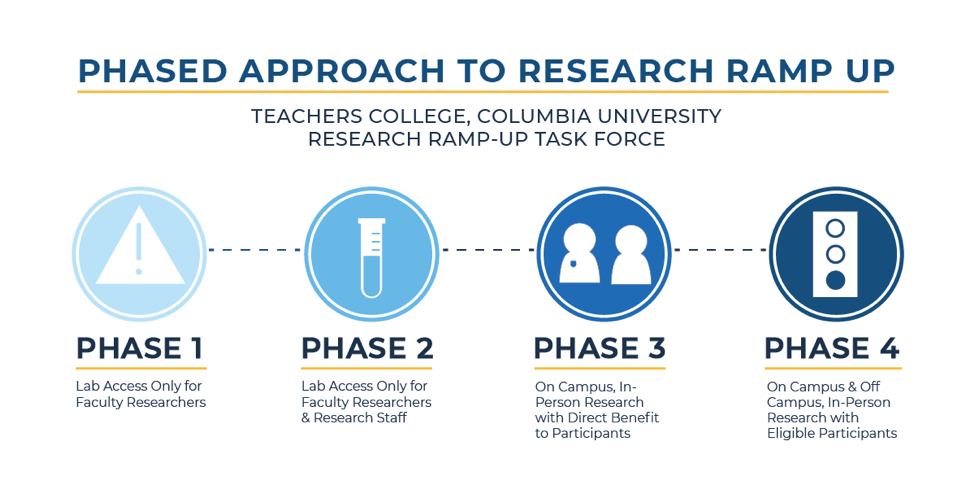 In an effort to support researchers who plan to pursue in-person research, the RCSC and TC IRB office have developed the "Preparing Researchers for In-Person Engagement" Information Packet and accompanying IRB & In-Person Research website. The files are accessible to the entire TC Research Community, and are intended to be downloaded and adapted to suit the needs of each researcher. Individuals wishing to access the information packet must be logged in to myTC.

For COVID-19 research-related questions, please review Ethics Amid Uncertainty FAQs, or "Adapting Research in an Emergency" before contacting the IRB office (IRB@tc.edu). If you have questions about whether proposed safety/hygiene standards are compliant with the Americans with Disabilities (ADA) Act, contact OASID via email (oasid@tc.edu).
Best wishes —
Professor Karen Froud, Ph.D., IRB Chair
Dr. Myra Luna-Lucero, Ed.D., Research Compliance Director