It began, as it has for a fair number of kids, with a childhood fascination with Mister Rogers Neighborhood that stretched, undiminished, into adolescence.
"I wanted to understand how the show worked, everything about who Mister Rogers was and what he wanted to accomplish," says Angela Santomero (M.A. '95).
The curiosity inspired a deeply researched 8th grade book report on Mister Rogers and his neighborhood along with furtive observations of a younger brother's scrutiny of the show.
"Child development 101," she laughs.
Santomero's interest in the thread linking children's television to cognitive and social-emotional development didn't stop there. It has in fact manifested in Blue's Clues, the award-winning programming Santomero co-created with Traci Paige Johnson following graduation from TC and returned to the airways as Blue's Clues and You! two years ago.
The 21st century iteration of Blue's Clues remains the embodiment of – as fellow alumna and former show executive Alice Wilder (Ed.D. '98) once told Santomero – "everything we ever learned at TC."
The premise of a quiz show aimed at the pre-kindergarten set was simple: The show's host, assisted by an animated dog named Blue, a "handy-dandy notebook" and other props, provides three clues to help young viewers solve a puzzle introduced at the beginning of each episode.
But the development of a telecast the Washington Post characterized as "a carefully researched and designed television program with a mission" reflected the meticulous planning of Santomero and a team of young producers holed up for months in a Times Square conference room.
"We wanted something very simple and graphic and slow that emphasized social and emotional skills, treated children like they were smart, and helped them feel empowered," Santomero told the New York Times in a 2019 interview.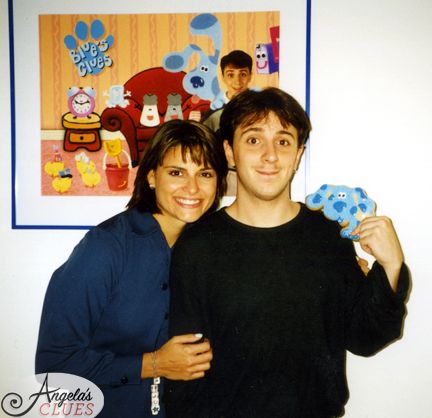 Drawing on a Nickelodeon internship and her graduate work, which now aligns with the Communication, Media and Learning Technologies Design Program at TC, Santomero brought a critical perspective to the conversation.
"I was very invested in research," she recalls. "But I also knew the importance of listening to consultants who knew television better than I did. We knew we needed something academic, but not so academic that it would turn kids away. It was my job to thread the needle."
The hours put in by the production team paid off handsomely with the release of a prototype to test audiences.
"Kids were screaming at the TV," says Santomero. "They were watching the episodes 15 times, 20 times in two days; parents didn't want to send back the demo tapes."
The response demonstrated the promise of what lay ahead. "We knew we had something. But we also recognized the importance of continuing to make research part of our creative investment," says Santomero. "Everything we did had to be real, authentic and grounded in applied psychology."
Wilder joined the team as head of research and development shortly before Blue's Clues became must-see TV for three-to-five year-olds – and their parents. (She now heads Children's Educational Development for Apple TV.)
Blue's Clues in its second broadcast year, 1997, topped the ratings among pre-school viewers. At its peak it was viewed each week on 13.7 million televisions in as many as 60 nations.
"The idea that we could put educational and curriculum development into a television show and make it a hit – that was the dream," says Santomero.
CELEBRATING IN LIGHTS Santomero (right) joins the show's co-creator Traci Paige Johnson (left) and original Blues Clues host Steve Burns and current lead Josh Dela Cruz at the Empire State Building, which was illuminated in blue in honor of the show's 25th anniversary. (Photo courtesy of Santomero)
Blue's Clues ran successfully for eight years, persevering through the departure of original host Steve Burns. It was displaced for two years in 2006, and for the next 13 years existed in reruns, digital recordings and in the critical thinking skills of children who tuned in during its heyday.
Santomero in the interim started her own production company, Out of the Blue, creating, among others, a critically acclaimed preschool show, Super Why! focused on reading for PBS, and the Emmy-winning Daniel Tiger's Neighborhood, a tribute to Fred Rogers following his 2003 death.
Then, in 2018, came word of a possible Blue's Clues reboot. Santomero as executive producer returned to the fold with an edict: "Don't mess with it."
She and Johnson at the same time embraced the imperative for Blue and the crew to evolve.
A "handy-dandy notebook" to 21st-century children who have never known a world without laptops, tablets and smartphones is, after all, what the horse-and-buggy was to kids brought into the world after the introduction of the internal combustion engine.
It took two years for Santomero and Johnson to formulate the "right amount of change" and find just the perfect person (out of 5,000) to become part of the family, Broadway actor Josh Dela Cruz. Safe to say that the new iteration, Blue's Clues and You! has again found its groove (and perhaps second instance of magic-in-a-bottle) with the pre-kindergarten crowd, albeit with updates in technology, curricula and pedagogies that reflect 21st-century learning.
"It's truly a family run show," says Santomero. Steve Burns and Donovan Patton, the first and second hosts of Blue's Clues, are on board to act, and behind-the-scenes serve as part of the writing and directing team. The new show received another jolt of recognition when a video message from Burns on the 25th anniversary went viral, triggering waves of nostalgia from original Blue's Clues kids, now in their mid-to-late 20s.
Another project has meanwhile diverted some of Santomero's attention from the little screen to the big screen: Look for Blue's Clues: The Movie next year at a neighborhood theater. Today, the influence of TC on the learning imparted by Blue's Clues is no less than it was a quarter century ago.
TC alumni populate the production and creative teams. The TC legacy tradition is moreover destined to carry into the future: Santomero's executive assistant is pursuing a Master's from the Cognitive Science in Education program.
To Santomero, it adds up as logically as a Blue's Clue.
"The people who study at TC get it," she says. "They are critical thinkers."
– Steve Giegerich