Equitable Advisors | Coaching Certification Program CCP
Skip to content
Skip to main navigation
Printer-friendly Version
Columbia Coaching Certification Program
Department of Organization
&

Leadership
Equitable Advisors, LLC
Equitable Advisors – Credentialed Holistic Financial Coach
Columbia partnered with Equitable Advisors to offer a customized Holistic Financial Coaching Program for the firm's Financial Professionals and Leaders, resulting in the "Credentialed Holistic Financial Coach" designation upon the successful completion of a rigorous assessment and certification process.
The Coaching Foundations applied specifically for the program and related certification process include:
Foundation 1: Guiding Principles
Six client promises, combined with two enabling principles that contribute to coaching effectiveness
Each client promise is defined and enacted via 2 enabling principles with 3 related practices (see graphic below):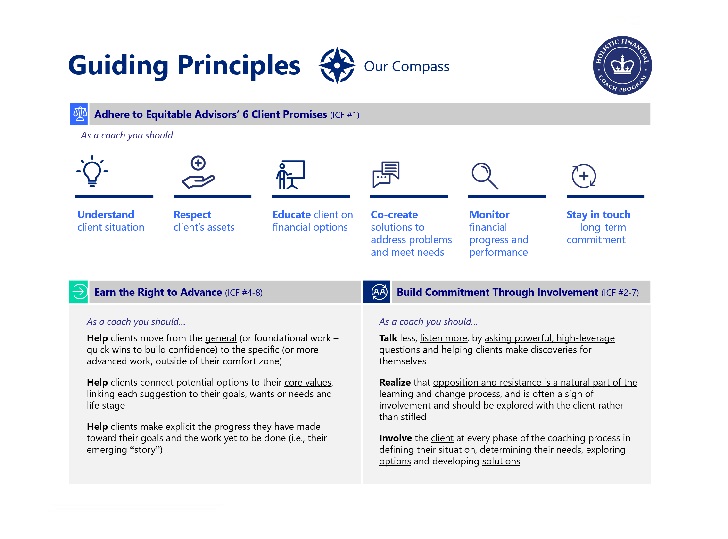 Foundation 2: Competencies
The Holistic Financial Coaching Program focuses on 4 success pyramid competencies (see graphic below).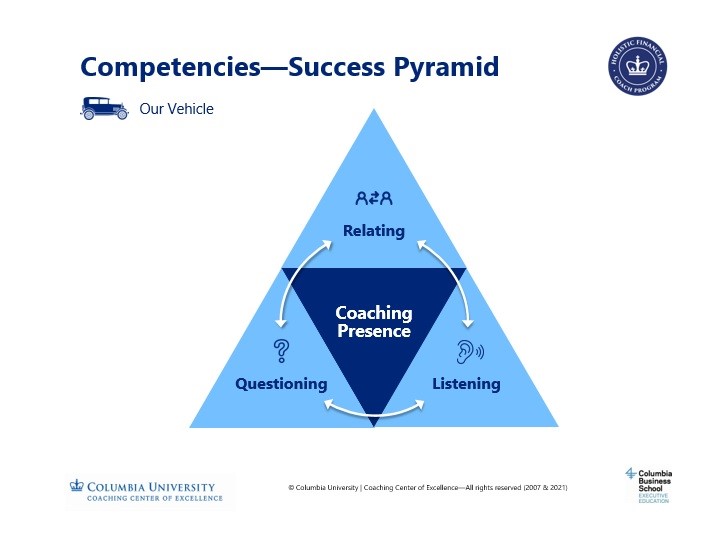 The descriptions and related behavioral examples for each fundamental competency were adapted to integrate the specific requirements of the financial Client Process with a select set of Columbia's proven coaching competencies
Foundation 3: Process
Finally, the coaching process for the Holistic Financial Coaching Program integrates the 3Cs from the science of human performance with Equitable Advisors' 5-step Client Process and a modified version of the GROW coaching model.
The integrated Client and Coaching Process is operationalized via 3 coaching tasks (specific work the Financial Professional collaborates with Clients to complete in route to realizing their financial and life aims).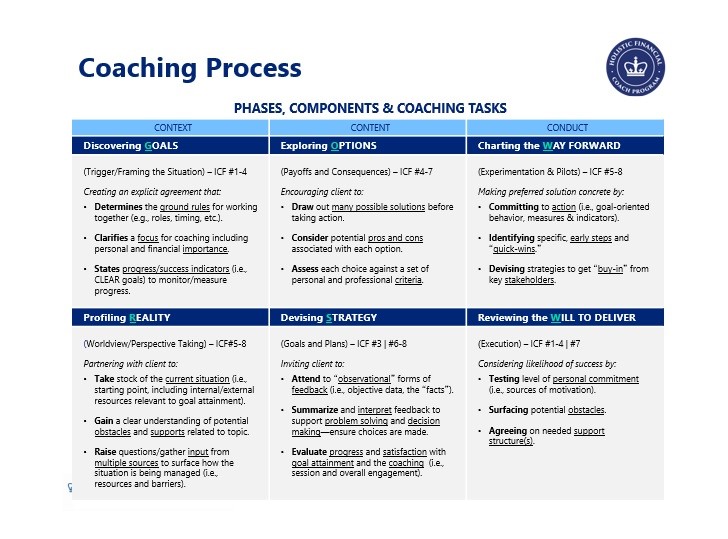 At the end of the program, each participant's capability to know and apply the 3 coaching foundations are assessed via a written knowledge exam (passing rate of 80% of higher) and an oral coaching exam (that is rated by a trained evaluator).
Equitable is the brand name of the retirement and protection subsidiaries of Equitable Holdings, Inc. Equitable is also used in this presentation to refer to Equitable Advisors, the brand name of Equitable Advisors, LLC (member FINRA, SIPC) (Equitable Financial Advisors in MI and TN).