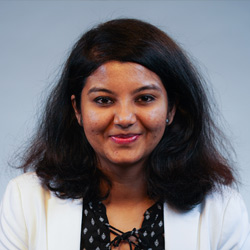 Dimple Bangalore has always exceled in school, from first grade on up through Sri Bhagawan Mahaveer Jain College in Karnataka, India, where she earned a bronze medal for academic merit.
Still, coming to the United States – and particularly to Teachers College – has been an eye-opening experience, from discovering that she was something called a first-generation college student ("I'd never heard of that before") to adjusting to a style of learning that encourages dialogue and debate.
"Corporate is fine without me. But the education sector can use organizational skills."
– Dimple Bangalore
"In India, it was all about exams," says Bangalore, who received her M.A. in Social-Organizational Psychology in May. "We didn't have a chance to engage in theories. I didn't have the chance to say I didn't believe in this theory of management or that theory of management."
Bangalore majored in business management as an undergraduate, finishing in three years, and worked as a university admissions and outreach manager. A subsequent course she took in group dynamics through the Young India Fellowship Programme for recent college graduates inspired her to apply to TC.
"I knew that education was where I wanted to be," she says. "Corporate is fine without me. But the education sector can use organizational skills."
Bangalore was drawn to TC for another reason, as well: The sizeable influence of John Dewey on the 1915 Columbia University doctoral thesis of B.R. Ambedkar, the author of the Constitution of India.
"Somebody came to this university and created the Constitution for our country," she marvels. "That really inspired me to come here and learn here from the best."
At TC, Bangalore also discovered that formal learning can blend with learning that extends beyond campus. She spent part of last summer conducting interviews and research to help a District of Columbia charter school determine the feasibility of opening a second school in a nearby neighborhood.
"It was difficult to talk to the parents," Bangalore says. "Many didn't know about charter schools nor did they care about different pedagogies. Their biggest concern was how close the school would be to their home."
Bangalore came away determined to help families who were – as she once was – unaware of the larger possibilities of education. She's also convinced that charter schools possess the potential to complement and improve public education in India.
But regardless of the specific means, Bangalore is determined – like B.R. Ambedkar before her – to use the leadership skills she honed on Morningside Heights as a game changer for her country.
"It is why I came here," she says. – Steve Giegerich
Read about TC's 2018 Convocation ceremonies.