As a member of the Kin ichíi'nii (Redhouse) clan, Shannon Allison spent seven years teaching at Shonto Preparatory Technology High School on the Navajo Nation. However, Allison's desire for change in her school and community lead her to Teachers College to pursue her master's degree in Education and Curriculum.
"There is a Navajo saying, "T'áá shí ánísht'éego t'éiyá íhwiideesh'áál." Translated it means, "It's all up to me to learn," Allison says. She has committed herself to those words and to working toward a brighter future for the schools and students in her community. "I'm studying at TC because it is the best institution for critical engagement and reflective practices, as well as a leader for curriculum design research."
Allison believes that schools need to take the lead in restructuring curriculum and determining their own approach to teaching "so that any change is actually a viable and self-sustaining option" she says.
Shannon Allison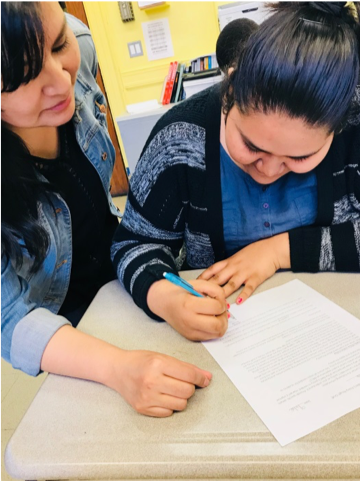 Through her work at TC, Allison is exploring inclusive curriculum for minority groups. Her research focuses on curriculum development that ensures content is relevant to specific student groups. "The voices of American Indian students, in particular, tend to be left out. When we incorporate cultural knowledge, class, language and identity to create tailored curriculum, we provide students with the opportunity to connect with what they see, hear, and study in the classroom."
During 2017-18 Allison received an Arthur Zankel Urban Fellowship, awarded through the program established by the late TC Trustee Arthur Zankel in 2005. Hundreds of TC Zankel Fellows have worked with schools and teachers in underserved communities.
As a Zankel Fellow, Allison has worked alongside teachers at inner-city schools to design and implement projects to improve literacy. "We used publication as a vehicle to help teachers plan, create, and celebrate student writing and show students that everyone has a story to tell." Being a Zankel Fellow has enabled her "to apply instructional strategies, collaborate on curriculum design and implementation, as well as spearhead innovative learning connected to student interest."
Allison plans to return to the Navajo Nation to teach at Shonto Preparatory Technology High School. "When I reenter the classroom, I look forward to helping lead a shift in school culture that sets the foundation for students to say, 'T'áá shí ánísht'éego t'éiyá íhwiideesh'áál,' and continue the cycle of learning."
TC endowed scholarships provide for TC students in perpetuity. If you are interested in supporting students like Shannon by establishing or contributing to a scholarship, please click here to find out more.