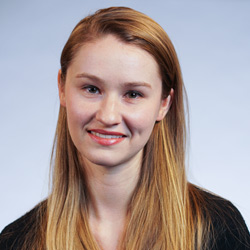 You gotta feel it to perform it. It's the message of countless stories about musicians, but for Jacquelyn Briggs, it holds deeper meaning.
Nine years ago, Briggs was a talented high school junior with a dream of becoming a professional vocalist, when a car accident left her deaf in her right ear. The initial prognosis was dire. "At that time doctors told me music was probably not an option for me," she recalls. "I decided I was going to try anyway."
"I came in with a pretty big passion and TC has blown the walls of it. Pursuing anything is possible here, it has given me an outlet to grow my passion to twice what it was when I came here."
– Jacquelyn Briggs, M.A., Music and Music Education
Her quest to figure out what "trying" really meant took Briggs first to the Louis Armstrong Center for Music and Medicine at Mount Sinai Beth Israel teaching hospital in New York City, which creates intensive, highly personalized music therapy regimens to address issues ranging from cancer to attention deficit disorder. Briggs was assigned a demanding protocol that employed guitars and percussive rain sticks and retraining her voice by feeling vibrations through her feet (the sensations are processed by the brain's neural cortex, which governs vocal expression).
Eventually, by dint of muscle memory and sheer resolve, Briggs picked up where she'd left off, completing music programs at both the County College of Morris and The College of New Jersey, where she earned a bachelor's degree. Along the way, however, her dream changed from being a professional vocalist to bringing the joy of music to the hearing-disabled.
"We learn by the way things feel," she says, noting that, while in utero, every human being, even those born deaf, can feel the vibrations that are the foundation of sound and song. "It proves that we can all exist within music. It's just the experience is different for everybody."
Briggs quickly found that TC was the one place that offered programs in both music education and education for the deaf/hard of hearing. But even she was surprised by what that turned out to mean in practice. For example, when she told Associate Professor of Music & Music Education Kelly Parkes about her desire to meld music and deaf education, Parkes responded by walking her from Horace Mann to Thorndike Hall and introducing her to staff and faculty in the Deaf & Hard of Hearing program. Briggs has since worked with a New York-based composer to develop a music curriculum that combines concepts of time, movement, tempo and rhythm with American Sign Language and story-telling.
"It's just a framework right now and has a way to go," Briggs says. "But the amazing thing is that this is stuff I told people I wanted to do three years ago, and now I'm actually doing it."
"I came in with a pretty big passion and TC has blown the walls of it," she says. "My professors never said, 'You can't do this,'" adds Briggs, who will begin teaching this fall. "They've essentially allowed me to push through the boundaries and barriers and showed what I can do. Pursuing anything is possible here, and it's given me an outlet to grow my passion to twice what it was when I came."
Read about TC's 2018 Convocation ceremonies.