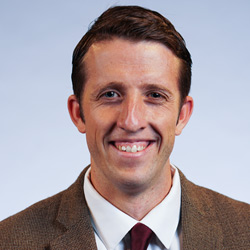 As a Student Ambassador leading tours of TC's campus, Nathan Mullen always made a point of bringing prospective students and their families to Milbank Chapel, "the most sacred place on campus."
Mullen's reverence extends beyond an appreciation for architecture. His paternal grandfather, David John Mullen, received his Ph.D. from TC in 1954. His mother and paternal grandmother were teachers as well. And Mullen himself has wanted to be a school superintendent since fifth grade. "I don't know how many fifth-graders even know what a superintendent is, let alone want to be one," he says, grinning. "But we need leaders who have been in the trenches and who understand how to manage structure with human relations. Leaders who truly understand what teachers need."
Mullen fits that description. Prior to coming to TC, he worked in the Peace Corps and then spent five years as a classroom teacher. At TC, Mullen was part of a research team that developed a technology model to enhance curriculum and improve learning. The research spun off the unique "Teachers for Teachers" project led by Associate Professor of Practice Mary Mendenhall to guide refugees pressed into service at Kakuma Refugee Camp in Kenya.
"We need leaders who have been in the trenches and who understand how to manage structure with human relations. Leaders who truly understand what teachers need."

– Nathan Mullen, M.A., International Development
Following a meeting over coffee in Grace Dodge Dining Hall, Mullen and a group of classmates created a phone app that has enabled the Kakuma teachers to receive continuing mentoring from experts who fly into the camp to give them face-to-face training.
For Mullen, the hands-on problem solving, which included a visit to Kakuma ("Nothing can prepare you for what you see in a refugee camp; my two years in the Peace Corps can't even compare") is what separates TC from other schools.
"We could have just submitted a curriculum and let it go," he says. "But we wanted to do something to change the lives of the refugees in Kakuma, so we ran with it."
The responsibility and trust that Mendenhall invests in her students, he adds, is far from an anomaly at TC.
"I've seen it with a lot of professors here. It's more than the research they do, more than their ability to stand in front of a class. It's the way they recognize the potential of their students and ask as them to summon their own genius and their own strength."
Mullen's first step post-TC toward realizing his childhood dream will be landing a position as an assistant principal. Meanwhile, for inspiration, he has the Christmas gift his parents gave him last year: the 64-year-old TC dissertation submitted by his grandfather (and typed by his grandmother).
"I haven't finished reading it yet," he admits. "It's a dissertation, and I've had enough reading to do in graduate school. But it's a really special opportunity for me to carry on the family legacy."
Read about TC's 2018 Convocation ceremonies.