As it does each fall, Teachers College set aside a moment this past week to honor colleagues who have furthered the legacy of Elaine Brantley, the late TC cafeteria cashier whose "warmth, kinship and collaboration" inspired the bestowing of an annual award in her name.
"We know we can be more effective as an institution if we are more collegial," said TC President Thomas Bailey in opening remarks to faculty, professional staff and students at the Milbank Chapel ceremony marking the 15th annual Elaine Brantley Memorial Awards for Community and Civility.
The award, said Vice President for Diversity and Community Affairs Janice Robinson, recognizes the value of good will and kindness as it keeps "alive and vibrant the memory" of Brantley, a TC icon who provided comfort, counsel and "sage advice to staff and students" for 24 years prior to her death in 2003.
We know we can be more effective as an institution if we are more collegial."

—President Tom Bailey
Nominated by co-workers, the Brantley Award winners are chosen by a selection committee headed by Robinson under the auspices of the President's Committee for Community and Diversity.
The recipients of the 2018 Brantley Award are:
Chief Information Officer Daniel Aracena. In their nomination, his Office of Computing and Information Services (CIS) colleagues expressed their appreciation for the breakfasts that Aracena uses as an opportunity to "reaffirm his support."
Aracena also received praise for making the "greater purpose" of the TC mission central to what CIS employees focus on each day.
"His caring demeanor, exemplifying respect for others and his commitment to the TC community make TC a better place to work and learn," the selection committee statement said.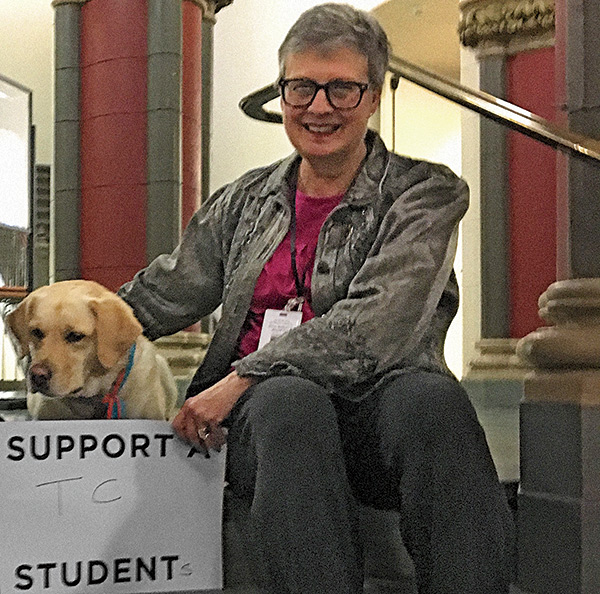 Karen Baldwin (Ed.D '03), an Adjunct Professor in the Department of Health & Behavioral Studies who died in April. Her husband, Bill Baldwin, Professor of Practice and Chair of the Department of Organization & Leadership, accepted the Award on her behalf, joined by Abby, golden Labrador retriever, therapy dog and unofficial TC mascot, whom Karen Baldwin instilled as a source of comfort for scores of stressed TC students in crunch time prior to mid-term and final exams.
Karen Baldwin "loved TC and sought new and innovative ways to build the community," said the selection committee statement. She and Abby "brought joy to our students and to anyone lucky enough to be touched by them."
Abby was similarly honored, receiving a dog trophy from Bailey and a bag of biscuits from Robinson.
Jasmine Ortiz, Media Services Administrator. Her co-workers in the Office of Computing & Information Services singled out Ortiz, who has served in her post since 2010, for her "selfless manner, friendly demeanor and community-minded ways." Ortiz has also earned a reputation as a friend and colleague quick with a kind word in moments of distress. Calling her "a living personification of Elaine Brantley's wonderful legacy," the committee saluted Ortiz for inspiring the TC community "by simply being herself."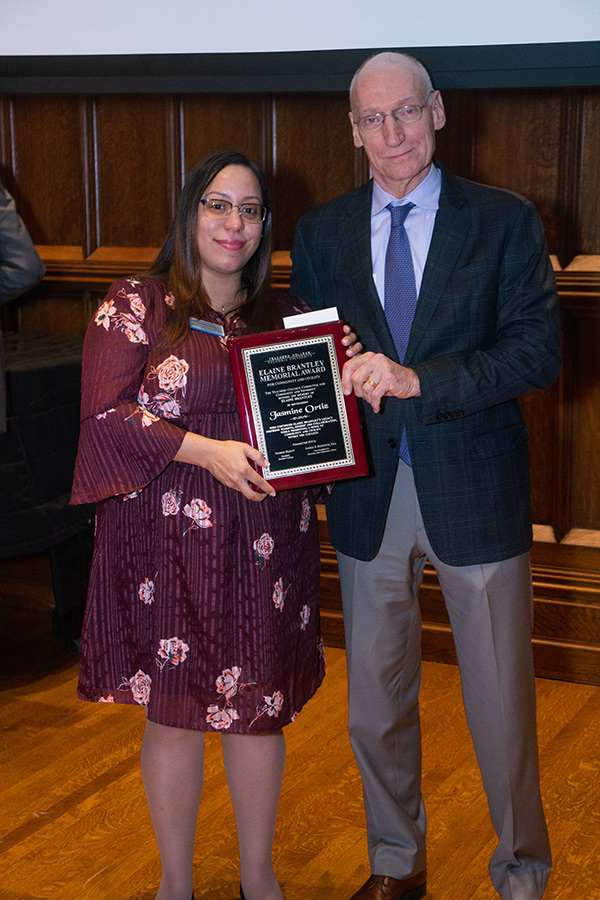 Lucy Tam, Academic Secretary in the Higher & Postsecondary Education Program. Tam is known for guiding students through course selection and other challenges and helping them stay on track to graduation, while still managing to juggle the administrative duties of a key academic department.
"She is never afraid to go an extra mile – you can always count on Lucy," the committee said.
A co-worker took that assessment one step further, comparing Tam to the human heart, which "connects all the organs and pumps oxygen needed to survive. Every once in a while, we stop to admire how hard the heart works. But mostly it does this critical job without our noticing."