Look to your left, then to your right: a world full of endless, immersive virtual possibilities surrounds you. A window into the reimagination of curriculum. A metaverse for social impact. You are now experiencing DREAMS (Design and Research of Educational Applications of the Metaverse for Social impact), a unique project created by TC faculty and students within the Digital Futures Institute.
Since its launch earlier this fall after earning a Level 2 Collaboration Grant from the Office of the Vice Dean for Research, DREAMS aims to explore the opportunities and risks of immersive technology and metaverse-based education through work at TC and in the community.
The new initiative is led by an interdisciplinary group of faculty, including Senior Lecturer Joey Lee as the Principal Investigator; Haeny Yoon, Associate Professor of Early Childhood Education; Richard Jochum, Associate Professor of Art & Education; and supported by Minh Le, Principal Instructional Designer at Digital Futures Institute (DFI). Both Lee and Yoon are DFI affiliated researchers and lend their expertise to ongoing research and public engagement projects, as well.
"Our goal is twofold," says Lee, who is also the Director of TC's Games Research Lab, housed within the Communication, Media, and Learning Technologies Design Program. "One: leverage the power of immersive learning to promote career readiness and spark student interest in STEAM (science, technology, engineering, arts, and mathematics); Two: support educators with lesson plans and implementation guides with research-based resources for effective learning."
More specifically, DREAMS hopes to address the barriers educators face when adopting VR-based curriculum. To date, the project has developed concrete classroom guidelines, research-driven resources, and sample lesson plans to support educators in integrating VR into their teaching.
"I strongly believe we need to embrace virtual reality and what it can offer to our students," says Jochum, who oversees the Creative Technologies Certificate (CTC) program at TC. "This is not to entice our students to spend even more time in front of a screen, but rather to ensure that education has a seat at our future's table and that educators are knowledgeable about emerging technologies. DREAMS is an initiative that is built on such promise."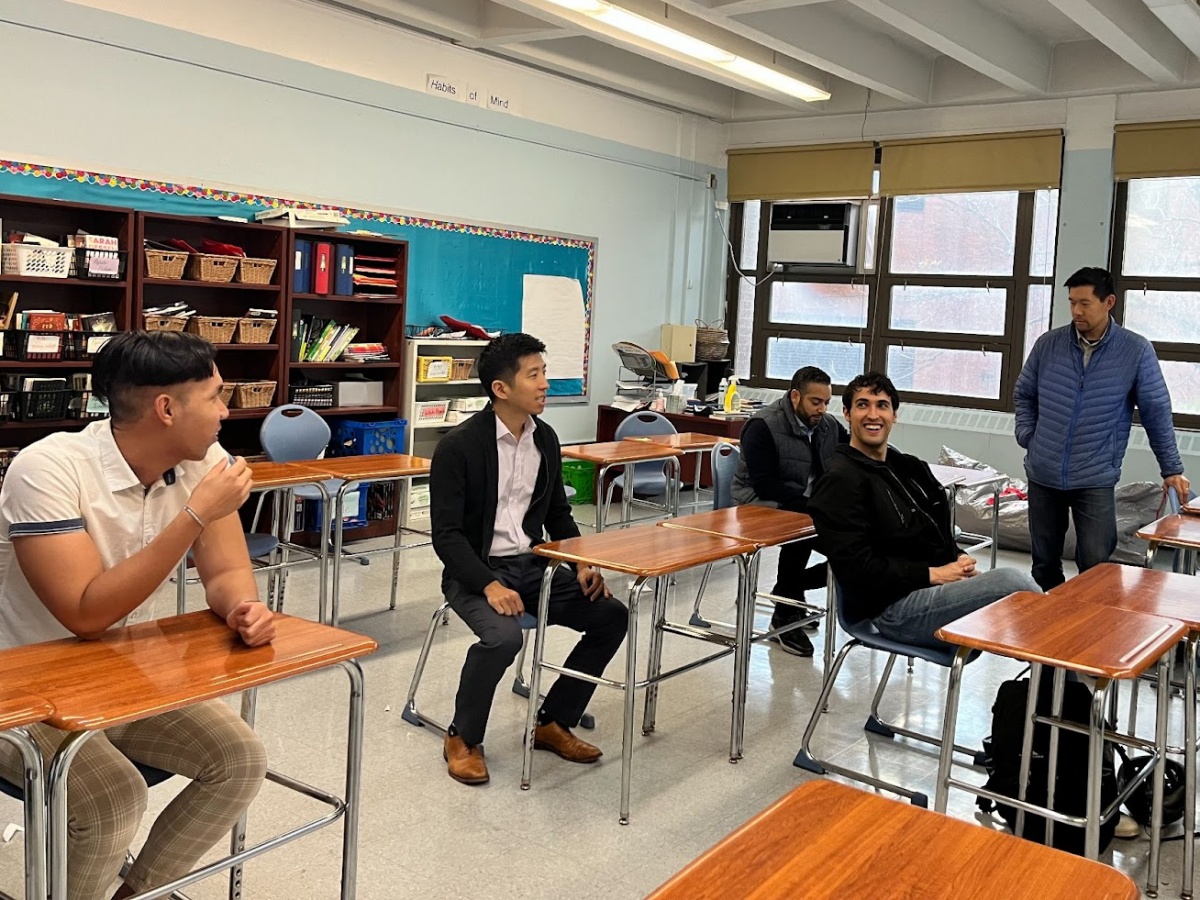 DREAMS has also recruited over 20 graduate students from the Department of Mathematics, Science, and Technology at Teachers College and assembled into four, smaller specialized teams. Each team works to develop lessons and learning experiences in partnership with TechRow, an innovative media network that works with underserved communities.
"We care about making an impact both in research and practice," explains Lee. "'DREAMS' has a double meaning — to dream of learning environments where anything is possible and also, to dream of a better future and to support positive identities that can lead to success throughout a young person's career journey." Lee adds that examples of this might include new ways for students to visualize abstract math concepts or a 'virtual time travel' through history.
While there is still work to be done for DREAMS, the future ahead looks bright. "Infrastructure of the school, digital literacy of the students and teachers, logistics are among other obstacles we need to consider during implementation," says Le, "but these are challenges that we are very excited to take on."
Just this past November, the team hosted their very first school visit to The School at Columbia and The New Design Middle School, where they plan to pilot their first exciting, immersive learning program. During the visits, the team had the chance to discuss with leaders and teachers at the two schools about the potential applications of VR while touring around the campus to observe classroom settings and interact with students.
And as the new year approaches, Lee encourages the TC community to "stay tuned" for upcoming events in 2023, some of which will feature hands-on learning stations for teachers and students to explore more of what DREAMS has to offer, especially in areas of STEAM and Socio-Emotional Learning.
DREAM big, TC.