When marginalized groups are still struggling to be seen and heard, how do institutions like TC ensure that graduates strengthen commitments to social and racial justice? One powerful method is through community-building, and a new fellowship that brings together 24 students from TC and University of KwaZulu-Natal (UKZN) is doing just that.
After their first in-person meeting in Durban, South Africa, students are building a network as racial justice scholars. But the fellowship also strengthens their position to become "the next generation to lead this important work," explains TC alum Thabo Msibi (Ed.M '08), Dean and Head of the School of Education at UKZN, who partnered with TC's Office of Global Engagement, which develops and coordinates international initiatives to encourage quality scholarship around the world.
The fellowship, funded by a U.S. State Department grant won by UKZN, will occur mostly online, but programming kicked off with a week-long trip to Durban in June when the 12 TC fellows had the chance to meet their South African counterparts.
"The Racial Justice Fellowship Program provides an historic opportunity for both participating fellows and faculty to explore issues of race and racism in our respective South African and U.S. contexts in order to advance racial justice and education for liberation," says TC's Sonya Douglass, a faculty leader of the program and Professor of Education Leadership.
The Complex Racial Histories of the U.S. and South Africa Drew in Scholars
Both the U.S. and South Africa have complex and long-standing conflicts with racial inequality and justice. While the U.S. is still grappling with the effects of slavery and the Civil Rights Movement of the 1960's, South Africa's legacy of apartheid is a much more recent wound that has directly impacted many adult South Africans because of how apartheid severely limited economic, social and political mobility for Black and multi-racial South Africans for decades. For several fellows, these unique yet similar contexts are what drew them to apply.
"While the histories of South Africa and the United States have been filled with examples of horrible injustice, each country also has its own unique story of liberation struggles and I wanted to understand these better," says Mark Eastburn (M.S. student, Neuroscience and Education).
For Sekou Cox (Ph.D student, Mathematics Education), the opportunity to collaborate with colleagues of varied interests was appealing, but the work itself was personal.
"Racial injustice influences almost every part of my being as a Black person in America," says Cox, who sees the project as the latest installment in his much longer mission to curb racial injustice. "The issues of racial injustice in South Africa and the USA are deep-rooted and they require a concerted effort to reverse. It is not impossible however, but requires strategy, patience and continued expansion of a knowledgeable anti-racist base."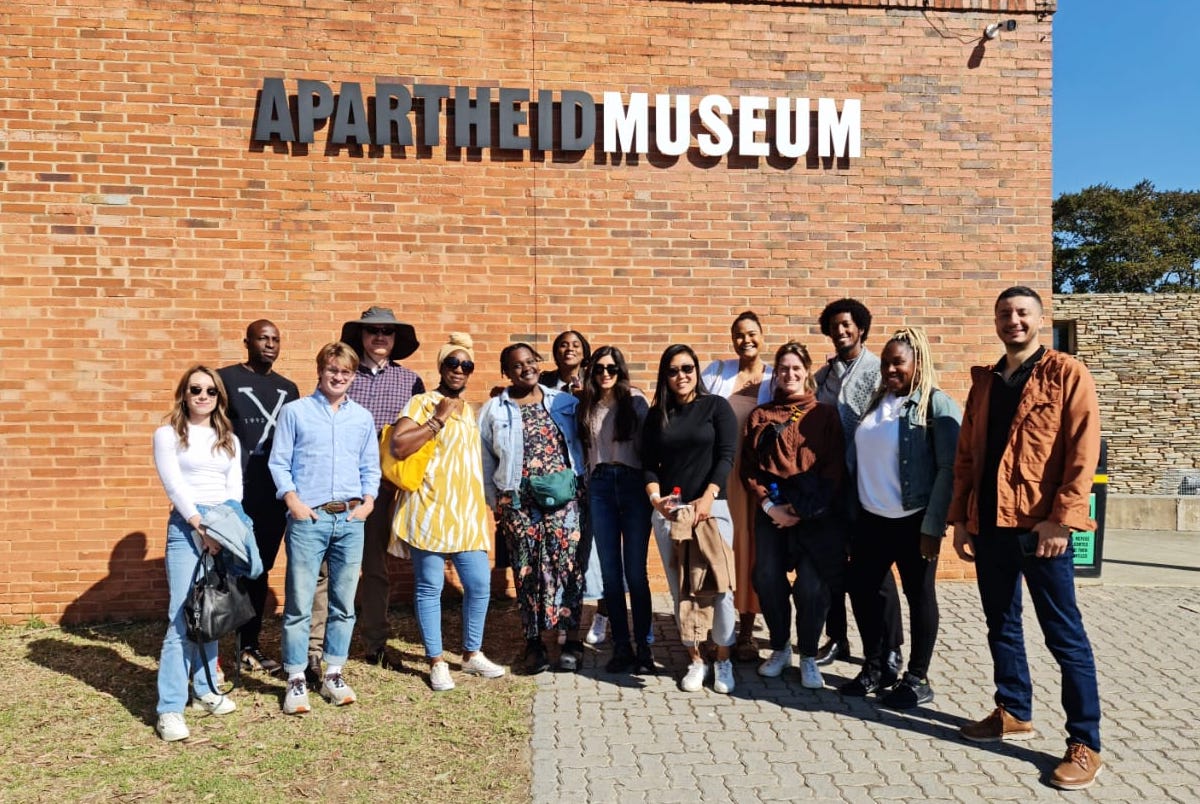 Experiences in Durban Provided New Perspectives on Racial Justice
The fellows learned about racial justice through lectures by academic experts, including TC's own Sonya Douglass, but they also experienced local life in Durban. With her TC and South African colleagues, Morgan Matthews (M.A. student, Social Organizational Psychology), toured Mahatma Gandhi's home. But their outing was cut short by a tornado that would require the group's evacuation as the storm destroyed homes in the area. While many American students wanted to stay and attempt to help, the issue sparked an intense discussion between fellows about what "helping" actually means. According to Matthews, a South African fellow said "in America, you're always trying to save people, but no one is asking you to save us," before going on to say that many Americans seek to help to make themselves feel better instead of supporting a community in need.
That difficult truth resonated strongly with Matthews and forced her to meditate on what help really means. For Matthews, help is "doing what you can in the area that you are well-versed in and most privileged."
Fellows are also learning lessons that they can take into their careers. Matthews' conversations with her cohort shifted her perspective on what makes for effective DEI training. Prior to the fellowship, she relied on workshops and training to raise awareness about racism and bias, but through her experience in South Africa found that it wasn't enough to simply raise awareness.
"What this program has taught me is that to advocate for racial justice, it's not a workshop or a training," says Matthews. "It's asking, how is [racial justice] lived in our values, in our every day? How is this showcased in how we make decisions?... in how we treat each other?"
Through the fellowship, Matthews is approaching her work more holistically and aims to make racial and social justice "an everyday thing" by ensuring policy development is inclusive and measuring the impact of biases on the workforce.
Building a Network of Tightly Knit Scholars is Key
Visiting South Africa and communing with like-minded, yet incredibly diverse, peers invigorated and inspired the fellows. "While short, the opportunity was truly life-changing; we were able to connect as colleagues, activists, and friends," says Eastburn.
The bonds formed in June will be reinforced come September, when the South African fellows come to TC and get a chance to see New York City through the eyes of their peers. While each student will round out the fellowship with a joint presentation on a race-related topic, the ultimate goal of this program is to foster a strong community of racial justice scholars who are unafraid to ask the tough questions, and who are empowered to seek out solutions. As Matthews put it "to be in a community where we're all striving for the same thing was that uplifting moment I needed to continue to carry on."