Note: Elise is now a proud TC alumna, having graduated in 2016.
Leading up to her enrollment as a student at Teachers College, Elise Jablow, now a Master of Education (Ed.M.) student in the Music & Music Education Program, was not completely convinced that she wanted to become a student again. She decided to apply for practical reasons – she was already teaching private singing lessons and was a teaching artist for a weekend school program, why not become a certified music teacher?
As it turned out, Elise was immediately convinced after taking her first class in the program in Summer 2015, Creativity & Problem Solving, taught by Dr. Randall Allsup, Associate Professor of Music Education. "I remember when I started that class last summer, it terrified me," she said. Elise remembers being shocked at the idea of taking up an instrument of her choice and playing without any rules attached. "I realized I needed to get over myself and work through this. I realized I needed to open myself up to more varied experiences."
She said she felt a wall between faculty and students at other institutions previously attended, but feels the Music Program is a special place. "Since I've been here, it's been way more meaningful for me than I ever could have anticipated," said Elise. "I wasn't expecting to develop so many close friendships or develop such close relationships with my professors."
As her last semester comes to a close, Elise can reflect on her decision to apply to Teachers College. "I've been so inspired to teach and my whole notion of what it is to be a music teacher has changed, but I've also been reinvigorated as a musician," she said. "Before, being a music teacher for me was more about music, and after being at Teachers College, it feels so much bigger than that, and it's just one way of teaching people to connect and be compassionate and find joy and meaning in their lives."
As a child growing up in Hartford, Connecticut, Elise loved performing in all mediums, but it was singing opera that really enveloped her interests. "When I was 14, I started on this path. It felt like I never really decided, but it was what everyone expected of me, and what I expected of myself," she said.
It wasn't until she had already received two degrees in Opera—one from McGill University in Montreal and the other from Manhattan School of Music—that music and education began to intersect. To support herself, she taught private singing lessons to children and adults and became a teaching artist in the Bronx through an opera company in the city. "It felt really natural. I enjoyed it and it felt like what I wanted to be doing," she recalls.
Her teaching interests soon developed another layer when she became a nanny for a young girl with severe developmental disabilities. Elise formed a close relationship with her, and soon began working with Sparkidz, a Saturday social and recreational program designed for children with learning differences.
Elise could not pinpoint why she feels such a deep connection to working with this population, but remembered while growing up, she was deeply devoted to her aunt, who also has an intellectual disability. Her involvement with Sparkidz seemed to affirm her decision to go into teaching music to students with special needs.
The course of study that Elise chose to pursue leads to an Ed.M. and K-12 Initial Certification, and asks students in the program to student teach in both primary and secondary placements. By Spring 2016, Elise already knew she wanted to teach special needs children, and asked her professor if the program had any placements that would accommodate her request.
A placement at the Aaron School, a private K-7 special education school, where an alumna of their program worked, fit the bill. The school, being private, and therefore not requiring their teachers to be certified upon immediate employment, was able to hire Elise as a music teacher while also completing both of her required teaching placements.
"Watching my cooperating teacher teach [at the Aaron School] was unbelievably helpful. I think that all of my professors [at TC] talk about the importance of valuing the individuality of each student. I always try to take that approach and make things meaningful, if I can," said Elise.
Strict vocal training had burnt Elise out, particularly in classical music, but her role at the Aaron School and knowledge from TC allows her to approach music teaching in a different way. "As a music teacher, no matter who I'm working with, I really try to make it about joy. I lost that, and the last thing I ever want to do is encourage that happening in someone else. These kids I work with now, touch me with the joy that we feel when we make music [together]," said Elise.
After graduating, Elise says she wants to continue to teach at her current placement and work on musical projects, especially ones that carry meaning for her. By the looks of her current activities, Elise has found many of these projects right at TC.
Aside from her teaching commitments and working at Sparkidz, Elise is also an Applied Music voice instructor at TC where she teaches private lessons for two credits. Forty-five minutes of her week are spent as an intern helping with audition preparation for the Every Voices Choir, an initiative spearheaded by Dr. Nicole Becker, Lecturer in the Music & Music Education Program, and Dr. Jeanne Goffi-Fynn, Senior Lecturer.
Elise also works with Opera on Tap, an organization that makes opera accessible to wider audiences by performing in bars around metropolitan cities. She founded a chapter in Washington, D.C., and later helped develop an educational outreach program, called the Playground Opera Series, for the New York chapter. Elise gets the opportunity to stretch her vocal wings through performing in a choir in the Music Department which gives students the opportunity to sing and take turns directing the choir in their spare time.
Elise's TC experience has taken her from classroom to classroom, choir room to choir room, and even across the globe. One year after her first class at TC, she found herself in China in a very similar class, also led by Dr. Allsup, only with 14 of her fellow students and 20 or 30 additional students from Xiamen University present. "We were put into these bands with a significant language barrier, but we still had to compose music. That was an incredibly meaningful experience and I translated it into working in the special education environment, because it can sometimes feel like a language barrier, figuring out how to communicate [with my students]," said Elise.
The Creativity and Problem Solving class followed Elise through her TC career and evoked a change in her. "There's been a transformation within me over the past year. That assignment a year ago terrified me, and now I love it. That's been my biggest takeaway, if you want to be a transformative teacher, you have to transform yourself, and I think that's what TC really gets."
---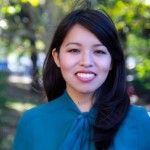 ‌‌Nori Kato is a Staff Writer and Social Media Coordinator for the Department of Arts and Humanities. She is also a graduate of the International Educational Development program at Teachers College.