Step-by-Step Application Instructions
With so many program offerings at Teachers College, we know it can sometimes be a little confusing navigating the online application system. For that reason, we've provided step-by-step instructions with screenshots to help you.
Don't forget to submit your application by the appropriate deadlines. For more information, please see the respective pages for each term.
From the Admissions menu on the TESOL Certificate Program Website, click on the orange Apply Here button or use this link to be directed to the TCP application page.
You will be taken to the online application management system.
If you are a first-time user, click on "create an account."
From there, you will be prompted to register with your name, email address, and date of birth. Please enter this accurately since the information will be used to create your student records when you are admitted.
You will then be sent a temporary PIN to the email address you entered.
Once you enter this PIN, you will be required to create a new password.
Congrats! You have now created your account and can begin the application. Click on the link that says "Start New Application."‌
You will be prompted to select an application type. Be sure to select "TESOL Certificate" as the application type. For the subtype, please select the term of entry you are interested in. We allow students to start in either the Summer or Fall. The TCP does not have a spring entry option.
Confirm the term of entry. You can choose from "(Year) Summer TESOL Certificate" or "(Year) Fall/Spring TESOL Certificate."
Please carefully read the application instructions.‌
We recommend completing the application in chronological order as you see in the left-hand menu. You can save and return to any of the sections at any time before submitting the application. Begin filling out your personal Information.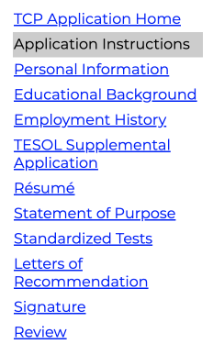 Educational background
List all post-secondary institutions you attended and obtained academic credit for. The minimum degree required to apply to the TCP is a bachelor's degree. You do not need to list institutions that were attended for certificates if you did not receive academic credit.
Additionally, upload a scanned (unofficial) copy of your transcript on this page to allow for faster processing of your application.
Note that you will be additionally required to send official transcripts to the TCP office. All official transcripts should be mailed to the address below. Official transcripts must arrive in envelopes sealed by the issuing institutions certifying conferral of a bachelor's degree.
TESOL Certificate Program
Teachers College, Columbia University
525 W 120th Street, Box 60
New York, New York 10027-6696
Recommendation Letters. We often get questions about how letters of recommendation should be submitted.
Enter your recommender's name and contact information on your application.
An email will be automatically generated and sent to your recommender with instructions on how to submit their letter online.
You can then track whether or not your recommender has submitted their letter in the online application system.‌
You are almost done! Review your application, pay the online application fee, and submit your application. You should hear a decision from us two to three weeks after ALL application materials have been submitted, so be sure to send your official transcripts and ask your recommenders to submit their letters in a timely fashion.
That's it!
Please email tesolcertprog@tc.columbia.edu with any questions.
We look forward to reviewing your applications.