The Society for International Education (SIE) is an active student-led organization at Teachers College. It aims to promote an academic, professional, and social network for students and alumni/ae who share a special interest in the field of International and Comparative Education Development. Let's look at some excellent initiatives they enact to serve the community!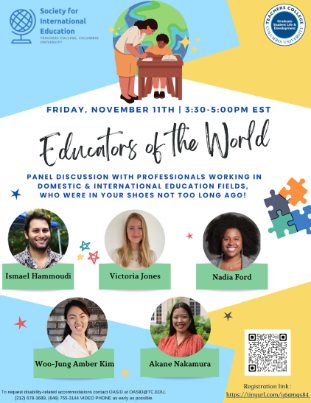 Educators Of the World (EOW) is a virtual professional development event where we feature guest speakers, sharing their career journey in both domestic & international education fields, as well as giving advice to TC students who aim to pursue similar careers. Some of the guest speakers are previous alumni of the IED & CIE program at Teachers College, and others have many years of career accomplishments already.
In the November of Fall 2022, we had the pleasure to invite 5 education professionals working as non-profit education organization co-founders, program coordinators, middle school teachers, and school diversity, equity, and inclusion chair, etc. They shared experiences serving marginalized refugee communities, women in developing countries, ethnic minorities, international students, and non-dominant language speakers. Our attendees benefitted to gain useful information from different perspectives, as well as inquiries about their concerns about job hunting, interviewing, workplace dynamics, and moreover.
This event truly gives hope for current students studying at TC by showing that what they learned from the studies could be applied practically well. We would like to express our gratitude again to our wonderful guest speakers for EOW last year: Ismael Hammoudi, Victoria Jones, Nadia Ford, Woo-Jung Amber Kim, and Akane Nakamura.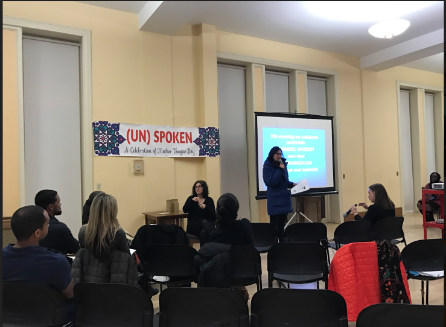 International Mother Language Day (IMLD) was proclaimed by UNESCO in 1999. Its aim is, " to promote the preservation and protection of all languages used by peoples of the world". The theme for 2023 has been established as " Multilingual education - a necessity to transform education".
Here at Teachers College this year will mark our 8th annual celebration of IMLD where we aim to shine a light on the languages of the world. In the past, we have had academic scholars for panel discussions, book donations to local schools, student & faculty performances in over 6+ languages from around the world, a film screening, and a Q&A with the director afterward.
This year we are excited to continue this tradition! We will have some exciting dance performances, recitals, art exhibitions, and other interactive activities. Thanks to the supportive community, the multimodal character of our event helps raise awareness of different languages and identities, but also to its necessity for education. We hope you join us on Friday, March 3rd, 4-7 pm in the Smith Learning center for a fun multicultural and multilingual experience!
The Language Resource Bank (LRB) at Teachers College is a great language exchange program proudly run by us. It was created by Dr. Carol Benson in 2018 and maintained by many student language enthusiasts.
LRB pairs students with peers to teach a language they speak while learning and improving additional language skills. This allows students to exchange any cultural and linguistic knowledge with each other in an informal and conversational environment on a weekly or monthly basis! One of our participants commented that "My partners are friendly, enthusiastic, communicative, and engaged when we meet up. They share what they want to work on but are also open to my ideas."
Some of the languages that were exchanged in Fall 2022 are: English, French, Spanish, Portuguese, Mandarin Chinese, Korean, Japanese, Arabic, Urdu, Vietnamese, etc! Besides providing a platform to provide resources, we also held engaging language trivia and games for social purposes. To join LRB, please email sie_studentorg@tc.columbia.edu with your name, and language of interest (teaching/learning), and we will try to pair you up with a partner.
Conclusion:
Last but not least, we would like to thank our Eboard members, our faculty advisors Erina Iwasaki & Carol Benson, GSLD, and ICED faculties. With all the support, SIE had some fantastic highlights in the past, and we continue to welcome passionate and creative individuals to join us in the future.