1.
In
a nutshell, how would you describe the concept and inspiration for the TC
Teach
-
In
on Climate Justice?
The framework from the TC
Teach
-
In
comes from Bard College's global
Teach
-
In
which encourages a myriad of educational institutions from around the globe to participate
in
climate change learning. That being said, the inspiration behind the TC
Teach
-
In
goes back four years ago to a conversation between Professor Oren Pizmony-Levy and I.
After analyzing the results of a campus-wide survey (n=550) that asked faculty and students about their learning about climate change at TC, we discovered that students from across the programs offered at TC had little to no engagement with Climate Change learning throughout their time here.
We grappled with the idea that future TC graduates entering the fields of psychology, education, and health would be unable to infuse their future work with climate considerations. We realized the desperate need to have a transdisciplinary conversation with stakeholders from across the college to tackle this issue head-on.
The idea had been percolating for some time and finally came to fruition this year. We had five faculty members representing the fields of psychology, health, and education who provided their perspective on climate change and sustainability and how it intersects with their research, work, and their future vision for TC. This was a huge step forward for Teachers College and was led entirely by student concern, passion, and commitment to addressing the climate crises from a higher-education institutional perspective.
2. What is Climate Justice and why should educators care?
Climate Justice places an equity lens upon the climate crises. It reveals that marginalized communities (refugee, immigrant, and BIPOC, amongst others) are disproportionately contending with and effected by climate change. It encourages scholars and practitioners
in
our field to infuse the hard science of a changing climate with the day-to-day reality of people who have had to move due to rising sea levels, who are dying of heat
in
urban spaces, or have had to abandon agricultural-based livelihoods because of unpredictable weather patterns.
We are living
in
a changing climate and educators are on the front lines
in
terms of having students understand the gravity of the situation and what students can do about it. There are many climate change denier lobby groups and corporations who continually influence climate change learning and curricula
in
classrooms. Without adding a justice lens to climate change education, we inadvertently dismiss the people who are impacted most by a changing climate.
3.
What are the key ingredients for a successful
teach
-
in
?
The first key ingredient was to have a great organizing team (Ye, Chris, and Seri) who are passionate and care a lot about climate change. We all brought our own interests and assets to coordinating the event which supported the kind of reach we wanted.
In
order to address climate changeholistically, we recognized the importance of having diversity
in
the room.
In
all, we had 13 clubs, centers and organizations join us and over 125 individuals register for the event. The breadth of topics and manners of addressing climate change lent itself the kind of coalition-building needed to address the climate crisis. For example, we had the Snow Day Learning Lab share the toys they had made from mycelium for early learners, the Community College Research Center offer ways that local colleges can contribute to adult learning, and the School Psychology Advocacy Collective for [Social/Racial] Equity (SPACE) who provided a way to view the psychological impacts of climate change to name a few. We are deeply grateful for all those who attended.
4. For people unable to attend, what did they miss out on, and why should they attend next time?
Those who were not present at the
Teach
-
In
missed a groundbreaking moment at Teachers College. During the faculty panel, we heard about the siloed nature by which TC is currently addressing climate change. Each program has been an echo chamber of sorts and has been largely losing out on the wealth of knowledge and discovery that can happen through interdisciplinary approaches to climate change.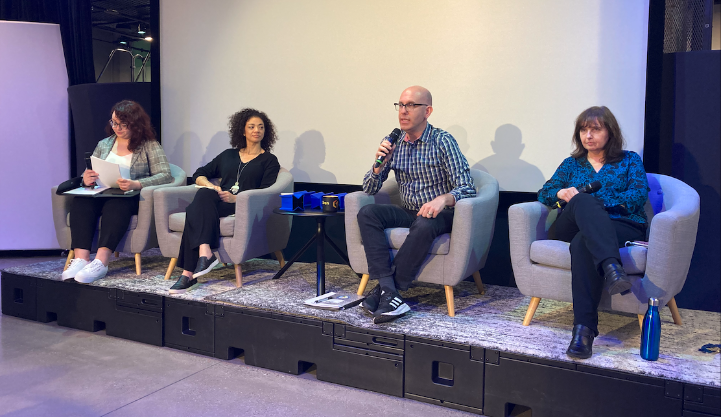 We saw partnerships blossom between faculty, fresh ideas being presented, for example, by Professor Helen Verdeli who suggested having a student and faculty coordinator for climate change
in
each department, and faculty foresight as to how the college can become a more equitable, sustainable, and greener institution.
This is a growing movement within TC and as someone who has seen it grow over the past four years, I know we have come a long way and there is still a long way to go. Those who did not attend, we look forward to having you attend the
Teach
-
in
next time as your voice and thoughts matter. We are all affected by climate change and, together, we can use our knowledges, skills, and education to make a distinct difference
in
creating solutions to save our planet.