Kamolnan Chearavanont is a first year MA student in IED.
One Young World is a charity that brings together young leaders from around the world and empowers them to create positive change. The charity stages an annual summit where young leaders from the business world, NGOs, universities and forward-thinking organizations are joined by world leaders, acting as their One Young World Counsellors. At past summits, counselors included Sir Kofi Annan, Justin Trudeau, Archbishop Emeritus Desmond Tutu and Professor Muhammad Yunus. At the summit, the young leaders (also known as delegates) debate, formulate and share innovative solutions to address pressing issues facing the world. After each summit, the young leaders work on their own initiatives or yield the power of the One Young World network to implement their initiatives. Many young leaders return to companies to create change from within and energize the corporate environment.
I had the opportunity to become a One Young World ambassador in Dublin 2014. The following year, I had the honor of speaking on the Human Rights Plenary Session at the summit in Bangkok where I advocated for the rights of stateless people.
Last year in 2018, at The Hague summit, I was recruited to be a part of the initiative for Young Leaders Against Sexual Violence Initiative by One Young World. We launched the initiative by having each of the summit members share their personal experience that led them to be a part of this initiative, in hope of expanding conversations, narratives and actions against sexual violence. The series of speeches at the launch brought to light the issue of sexual violence against children, men, slavery, refugees and stateless people, in addition to violence against women. We had writer Fatima Bhutto and actress Rosario Dawson join our initiative. As the co-founder of the Voices Foundation for Vulnerable Children, I focused upon human rights issues involving vulnerable children, particularly orphans and stateless children.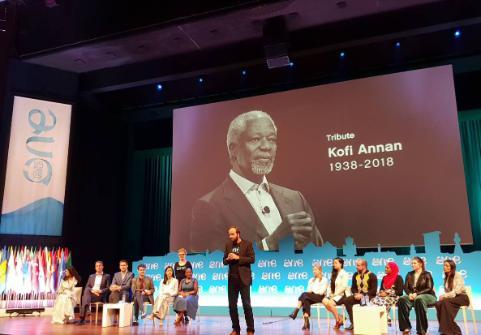 Tribute to Kofi Annan at One Young World, The Hague Summit.
Photo: Courtesy of Kamolnan Chearavanont.
I look forward to attending the One Young World summit every year. It is an incredible network of young leaders which represents over 190 countries. I learn so much and it inspires me to continue the work I do. Currently, I am studying International Education Development at Teachers College with a concentration in International Humanitarian Issues. I am able to apply both what I have learned from One Young World and from Teachers College in my humanitarian work. I hope that in the future, there will be fellow TC students who will join me at One Young World.