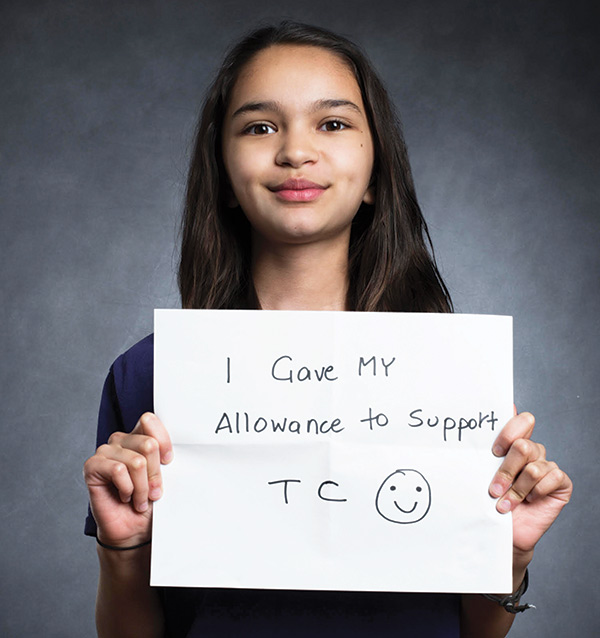 On August 31st, 2018, we will close the books on a historic Campaign that has raised $330 million — well above our original target, and the most ever for a graduate school of education.
Read more about TC's Campaign:
I have no doubt that even bigger and bolder TC campaigns lie ahead, and that we are beginning, not ending, a fantastic new chapter of engagement and innovation. Still, I want to take a moment to reflect on how we did it — the challenges, the milestones, and above all, the impact.
LAYING THE GROUNDWORK
There are three rules of thumb for launching a campaign as ambitious as ours: Identify the issues your institution is uniquely positioned to address; marshal the intellectual firepower to succeed; and pitch those strengths until your donor base is all but demanding that you swing into action.
Every campaign has a "quiet phase" to accomplish those goals. Ours stretched from 2011 to 2013, as we refined our case that Teachers College truly has been and will continue to be Where the Future Comes First — a place that shapes new fields of inquiry, transforming schools, fostering healthier communities and creating a more just, equitable and prosperous society.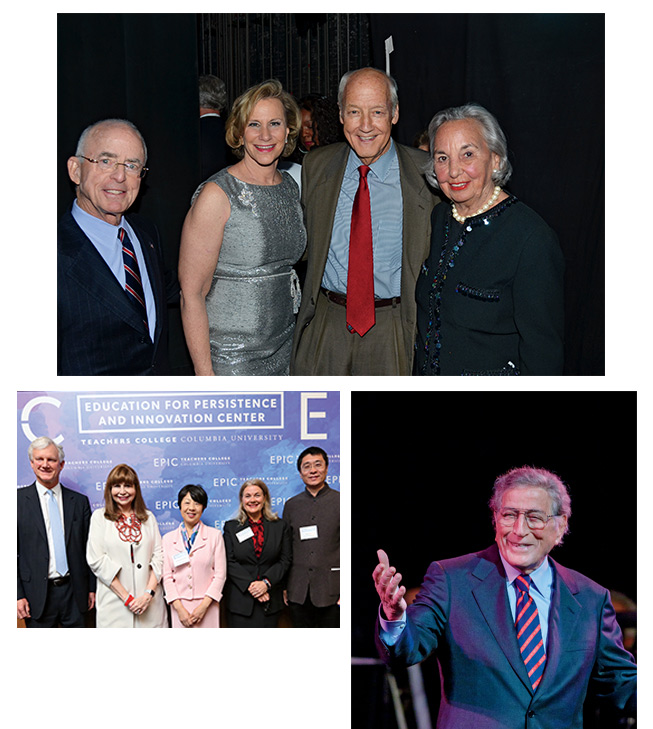 We were enormously fortunate:
First, to have a president with an especially keen sense of our historic strengths. Susan Fuhrman, an alumna, began her 12-year TC Presidency by vowing that TC would live up to the legacy of its greatest thinkers.
Second, to have an extraordinarily committed and knowledgeable Board of Trustees. Our Board provided tough and honest criticism, but its members were always pursuing the same goals we were, with equal passion and determination.
And third, to be expertly guided by our quiet phase Campaign Chairs: E. John Rosenwald, now in his 15th year as a member of our Board, and Laurie M. Tisch, then Board Vice Chair and now Trustee Emerita.
John and Laurie helped us pitch our case to TC's staunchest friends and supporters. John patiently critiqued and re-critiqued that pitch, urging us to think bigger and add more "sizzle" in conveying what a stronger and better TC would mean to the world. He also lived up to the first of his own "Rosie's Rules" — to ask of others only what you are willing to do yourself — with a generous gift that helped launch the Teachers College Community School.
Laurie, too, led by example. Half of her $11 million gift in 2012 was a pledge to match other Board members in supporting much-needed upgrades to our campus and technological infrastructure. Her challenge has since helped us create smart classrooms, renovate an auditorium and expand an early childhood center. The other half of her gift created the Laurie M. Tisch Center for Food, Education & Policy, now a major force in providing research-based information to policymakers at all levels of government. Laurie's gift set the standard we have since lived by: respecting the knowledge and vision of our savvy donors by providing them with the opportunity to fund their passion.
BROADENING OUR REACH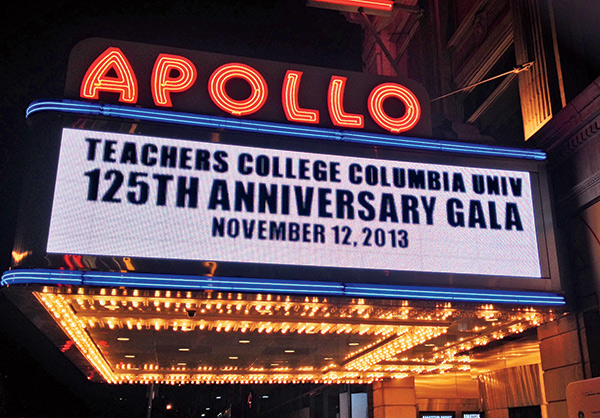 As the Campaign cohered, we amped up efforts to renew ties with TC's 90,000 alumni and show them that the institution of Grace Dodge, John Dewey, Lawrence Cremin, Morton Deutsch, Maxine Greene, Edmund Gordon and so many others was once again poised to help build a better world. Through Academic Festival, our annual spring homecoming event (this year was its 10th anniversary), we already were offering alumni and friends a day of intellectual discussion around themes such as human wellness, learning technology, and the connection between the arts and the STEM disciplines. But in 2013, we held a year-long celebration of TC's 125th anniversary, "Building a Tradition for Tomorrow" — a passionate, sustained effort to reconnect TC with its most deeply held principles and use them to chart our way forward.
During that year, we ran ads in bus shelters, on street lamps and in The New York Times Magazine linking past TC superstars such as Shirley Chisholm, Albert Ellis, Carl Rogers and Mary Swartz Rose to our current work. We held a month-long exhibition on TC at the New York Historical Society — including an opening night celebration of today's members of TC's five founding families: the Rockefellers, Vanderbilts, Macys, Milbanks and Dodges. New York City declared September 3rd, 2013 as "TC Day" and rechristened West 120th Street between Broadway and Amsterdam as "Teachers College Way."
And on November 12th, 2013, we capped it all with a gala at Harlem's Apollo Theater. We honored Laurie Tisch; TC Trustee and pioneering school reformer James Comer; Jeffrey Immelt, then Chairman and CEO of GE; and the wife-husband duo of educator Susan Benedetto (M.A. '98) and legendary singer Tony Bennett. We recognized TC visionaries who had already made transformational gifts, and announced a generous bequest from the entertainer Barbra Streisand, whose late father attended TC.
At the evening's end, President Fuhrman launched our Campaign, which had already raised $150 million, and handed the reins to three new leaders: TC Trustee Marla Schaefer (M.A. '03), Campaign Chair, and two Vice Chairs — Bill Rueckert and Leslie Nelson, Chair and Vice Chair of our Board. Tony Bennett sang "Imagination." Dr. Ruth Westheimer (Ed.D. '70), and two students, Clifton Shambry and Amanda Washington (the great-great granddaughter of Booker T. Washington), kicked off an appeal that has since raised nearly $100 million in scholarship support.
UNDERSTANDING OUR DONORS
Magic was in the air. But could we go the distance? The answer was yes — because, over time, we came to understand precisely what sparked our donors' enthusiasm. Those insights became catch phrases (highlighted below) that guided our work.
First, we recognized that money is only the most tangible result of a campaign — that success comes when people donate their time and talent as well as their treasure. Through events such as Academic Festival and our Global TC Day sin 2013, 2015 and 2017, and through the formation of regional alumni groups around the world, we recruited alumni to mentor students and recent graduates; to host gatherings and talks; and to share professional expertise from the front lines.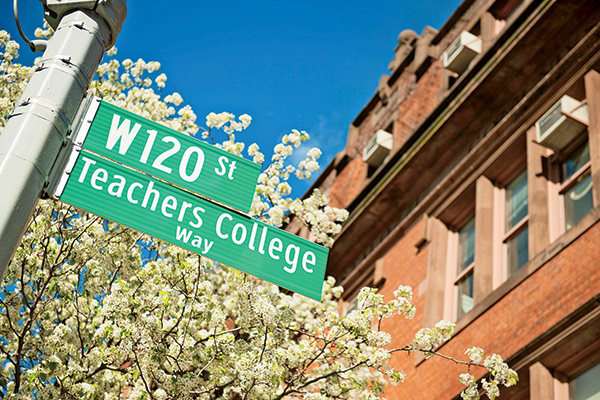 We saw that we were blessed with a particu­larly creative group of donors who are as savvy as the faculty and students they support, and who understand that TC is the place to fund their passion and make their dreams come true. It became clear that we would succeed by encouraging them to approach us with their ideas and partner with our faculty. Such collabo­ration would simply be an extension of the virtuous circle through which alumni already were informing our curriculum and practice. To cite just a few of the many donors who have since come forward with truly amazing gifts:
FOCUSING ON OUR STUDENTS
For our part at TC, as the Campaign progressed, we increasingly focused on our students, who represent the future of our fields of exper­tise. We launched an all-out push to create schol­arships named for great TC scholars of the past and present, adopting the motto that the legacy of our luminaries is in the promise of our rising stars. Our faculty came forward with their own scholarship gifts, underscoring that students are critical partners in their research. As of 2018, we have worked with donors to create more than 160 new endowed "tribute scholarships."
And then, unexpectedly, the American political landscape changed. Public discourse became increasingly polarized and uncivil. Civic institutions came under attack, as did the rights of many vulnerable minority populations. With journalists like Nicholas Kristof urging concerned citizens to support the organizations that best embodied their values, TC emerged as the cause for many citizen philanthropists who sought the continuing development of engaged, caring young people. For so many in our commu­nity, this became their TC moment.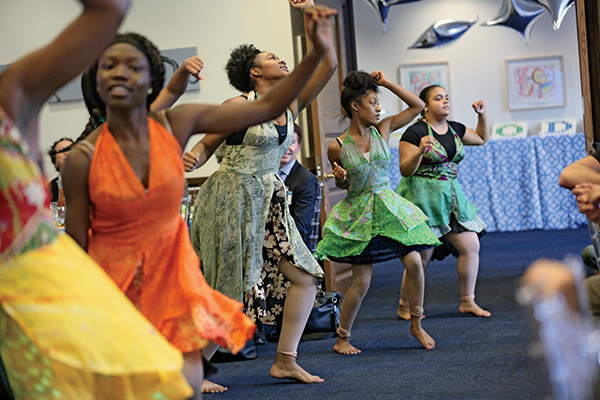 The result was that, when we hit our original $300 million mark this past winter, no one wanted to stop. The gifts have continued to pour in, in all sizes and forms. Just recently, they have included:
Generous support from WEIMING EDUCA­TION LIMITED, one of China's largest providers of private school education, and the ALVIN I. & PEGGY S. BROWN FAMILY CHARITABLE FOUN­DATION — as well as the NATIONAL SCIENCE FOUNDATION and the CARNEGIE CORPORA­TION OF NEW YORK — to create TC's Educa­tion for Persistence and Innovation Center (EPIC), a new, interdisciplinary center that studies failure as a catalyst for innovation and success.
Support from new TC Trustee CAROLE SLEEPER (M.A. '05) for the TC Fund and TC's partnership schools; a major new gift to the Carole L. Sleeper Endowed Scholarship, which supports students committed to working in K-12 schools; and a new endowed scholarship for students in our Department of Education Policy & Social Analysis.
The William S. Epps Endowed Scholarship Fund, which enables students who are not from privileged backgrounds to enjoy a Teach­ers College education without the burden of excessive debt. The REV. WILLIAM EPPS (M.Ed. '70) spent 14 summers at TC, where his par­ents, like many other aspiring Southern black teachers during the Jim Crow era, earned their degrees after being denied admission by institutions in their home states. Today, Rev. Epps is Pastor of Los Angeles' historic Second Baptist Church, which has figured prominently in the nation's Civil Rights movement. And now, his generous gift establishes a restricted, endowed fund in memory of his parents, Charles T. Epps, Sr. and Pauline J. Epps, and his broth­er, Charles T. Epps, Jr.; and in honor of his sister, Paula Epps Johnson.
Every one of these gifts so clearly comes from the heart. And what I want to say now, from my heart, is simply: Thank you. Thank you all, because TC donors are the best, the smartest, the most caring, and the most creative that I have ever worked with — and because your generosity and foresight is enabling one of the world's truly great institutions to rise once again and build its strength for the future.
We can't know what challenges will next come our way — but we do know that when Teachers College is able to put its best foot forward, the world benefits.
Thank you for making the right choice. Thank you for choosing Teachers College.
Suzanne M. Murphy (M.ED. '99, M.A. '96)
Vice President, Development & External Affairs
How to Support TC Students
PLEDGE $50,000 to create a new endowed scholarship in your name or someone else's.
CONTRIBUTE to an existing tribute or program fund scholarship.
SUPPORT a TC Fund Scholar or designate your TC gift to financial aid.
Contact Linda Colquhoun at 212 678-3679 or visit tc.edu/future/