Become immersed in a virtual stroll through Dinosaur Park. Next, create art inspired by tessellations across the galaxy. Don't forget to put your knowledge to the test and challenge the emerging capabilities of ChatGPT.
These are just a few of the many activities that students and TC community members participated in during this year's STEAMnasium, which returned to the College for its sixth consecutive year. Hosted by the Mathematics, Science, and Technology Department in the Smith Learning Theater, the expo included eight hands-on "learning stations," each focused on an innovative way to incorporate play-based learning infused with relevant education trends and DEI (diversity, equity, and inclusion).
Couldn't make it? We invite you to explore STEAMnasium through these "picture-perfect" moments:
Learn About Health Disparities & Environmental Justice
Developer: Monica Miles, Assistant Professor of STEM Education
STEAMnasium begins with the Dust Bunny Challenge, designed to highlight the intersections between environmental justice and health disparities, particularly around COVID-19. Participants learned about asthma through an interactive game where they tossed "dust bunnies'' into a jar and even had the chance to win prizes.
"We wanted to make each activity informative and relevant, but also as hands-on and interactive as possible," shared Felicia Mensah, Chair of TC's Mathematics, Science, and Technology Department and organizer of the event.
Explore Multicultural Math Connections
Developer: Rochy Flint, Lecturer of Mathematics Education
Curated by TC's Mathematics Education program, community members next enjoyed a stroll through the Multicultural Math Gallery, which featured an array of mathspaces, or spaces that foster learning, socialization, and identity development through mathematics. Each part of the exhibit simulated effective education practices from learning about mathematics to doing mathematics puzzles and games along with sidewalk math activities.

Experiential Learning for All Ages

Watch STEM come to life through 'prototype' drone construction and tablet-controlled robots. Attendees of all ages participated in this fun, experiential learning activity that demonstrated how the lived experiences and cultural connections of students, whatever the age, can be linked to core content areas.
"We opened the event up to be inclusive to all ages including students in local K-12 schools," added Mensah. "My heart leaped to see even the tiniest members of the TC community when students from the Rita Gold Childcare Center and the Hollingworth Center arrived!"


Dreams Come to Life with Science-Infused Virtual Reality
Carousel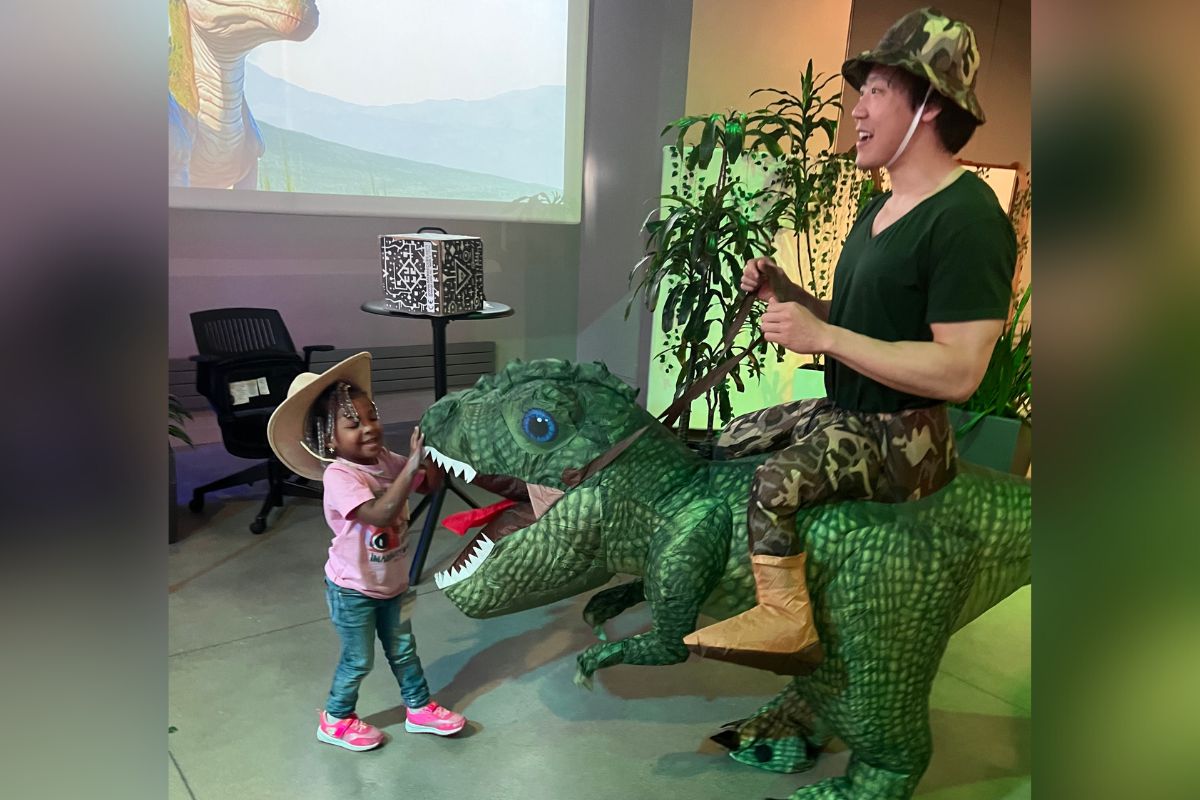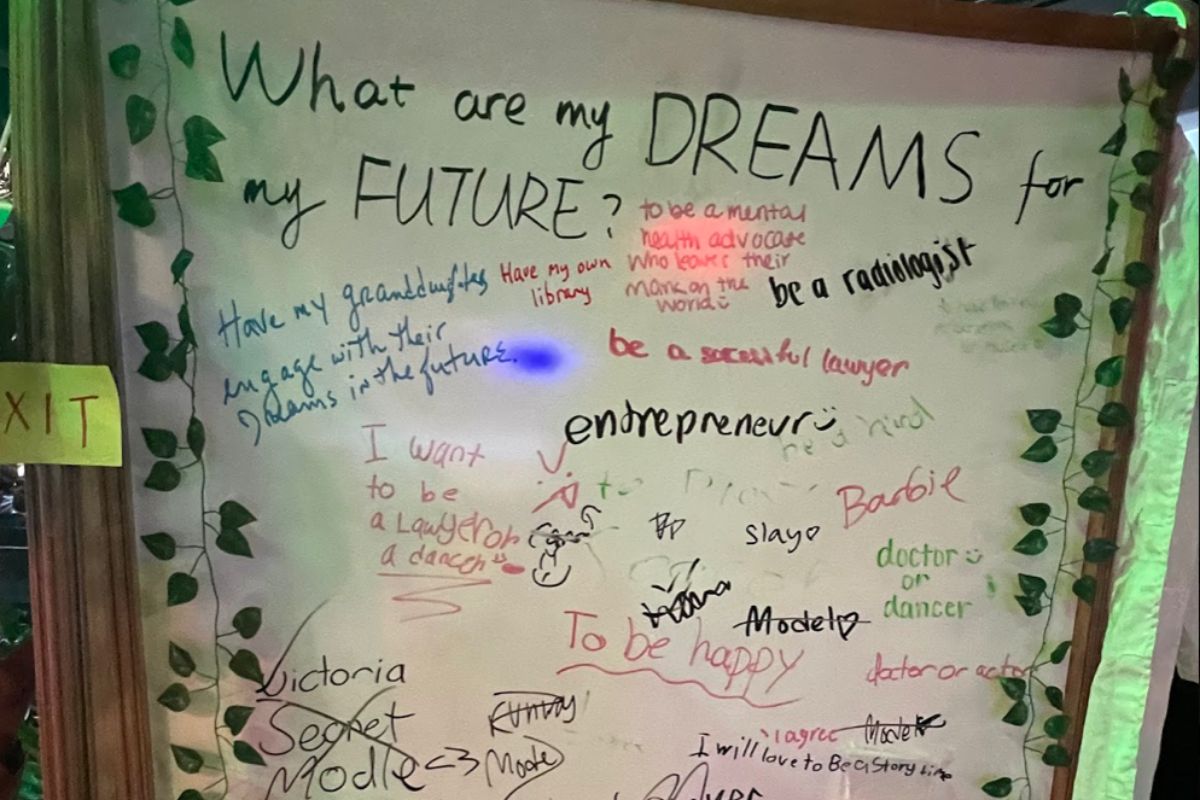 Next, explore Dinosaur Park in this immersive virtual reality experience hosted by Joey Lee, Director of TC's Games Research Lab and TC doctoral student, Elliot Hu-Au. Using some of the latest VR/AR technologies, students explored a simulated experience in Dinosaur Theme Park and uncovered scientific artifacts.
The activity concluded with everyone writing their dreams and aspirations on the "Reflection Wall." Lee shared, "It's always inspiring to see community members come together to engage with science, math and technology in a way that is relevant and fun. I loved seeing the "wow!" moments and the excitement in the children's eyes."
Tessellations Inspired Through Arts and Culture
Developer: Irina Lyublinskaya, Professor of Mathematics and Education

Learn about geometry, symmetry, and the intersections of art and mathematics in different cultures at Tessellations Around the World. Through hands-on activities focused on Islamic and Escher tessellations, students were able to create their own tessellation-inspired art pieces.


Elementary STEAM Exploration
Developer: Jessica Chen, Lecturer of Science Education
Developed by elementary preservice teachers, Station 6 focused on the historical use of natural materials in indigenous communities. Students enjoyed experimental crafts and exercises that included making sundials to tell time, building bird nests from raw materials, and even competing in an engineering design challenge!
Supporting Women in STEM
Developer: Dr. Jessica Riccio, Senior Lecturer of Science Education
Carousel
Building on the work of Matilda J. Gage, a U.S. women's rights activist, Station 7, titled #NoMoreMatildas, seeks to provide visibility to female scientists and encourages women to pursue science-related studies. Over forty projects created by the Women in Science and Engineering Chapter at the Academy of Holy Angels Middle School were displayed in Zankel Hall in hopes to ignite meaningful discussions around the importance of women in STEM. They also engaged in fun STEAM activities!
Exploring ChatGPT
Developer: Jin Kuwata, Coordinator of TC's Computing in Education Program
Carousel
STEAMnasium concluded at Station 8, where community members discovered, explored, and even challenged the emerging technological capabilities of ChatGPT. All were encouraged to share thoughts, play games, and test out exciting prompts through hands-on learning exercises.