MST's Innovation Award (INA) is a design-thinking incubator (six workshops) and team competition in which students are challenged to create innovative educational technologies that address problems faced in education. Now in its fourth year, the theme for the competition was "Designing Learning Experiences in the Metaverse," and intended to help bridge the gap between EdTech and learning research, especially in an age where virtual and augmented reality, online games, videoconferencing and Web 3.0 technologies have grown in importance. The INA Steering Committee consisted of Professors Joey Lee, Jin Kuwata, and Yoo Kyung Chang who are all faculty members in the CMLTD Program.
Over forty students across ten teams completed a series of design-thinking workshops which included a five-stage process: (1) empathizing with learners, (2) defining problems, (3) coming up with ideas for solutions, (4) prototyping them, and (5) testing these solutions. Throughout the competition process, students worked with faculty researchers and industry mentors to learn how to design, develop, and test their ideas. After all steps are completed, final product prototypes are presented and judged during a culminating competition and showcase event at the Smith Learning Theater. The judges for the 2022 Innovation Award were Dr. Katie Embree (TC's Vice President for Planning and Strategy), Dr. Charles Lang (Senior Executive Director of TC's Digital Futures Institute), Travis Feldler (CEO and Co-Founder of TechRow), and Abigail Adams (Senior Director of Product for BrainPOP).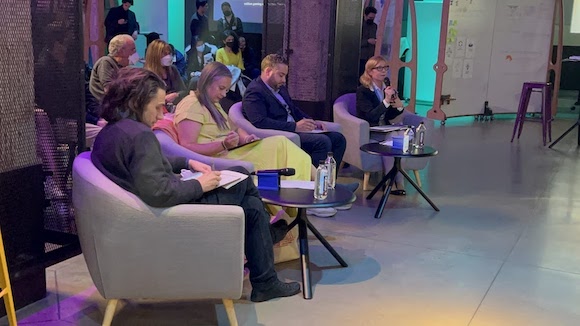 The winner of the 2022 Innovation Award was Team Melionaire (Keying Chen, Anqi Wang, Abu Abdelbagi, Xinyan (Helen) Song), who developed Project Dollar Dollar. The virtual reality game creates "a safe environment in the Metaverse where learners get to practice and develop their financial literacy skills" through playing 30-minute games. It will help youths develop the awareness and experience needed to make sound financial decisions. You can learn more about the project here!
There were a number of other compelling projects presented during the 2022 Innovation Awards, such as Project Soteria, a design which supports social connectedness in order to improve employee well-being. This project, which won the People's Choice Award, was created by team members Blake Danzig, Grace Choi, and Jordan Burkland. The Soteria team aimed to address the isolation and loneliness brought about by the shift toward remote work following COVID-19 lockdowns. As a result, they developed "a virtual reality cityscape that transports remote workers to a community of shared resources," as explained in their project video.
INA is always an exciting and fun event for the CMLTD Program and the MST Department, and we're so proud of all of the projects that were developed this year. Visit the INA website to explore the project gallery and video of the pitch competition. We look forward to next year's competition!