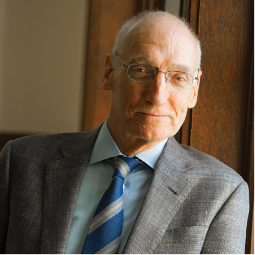 From the beginning, Teachers College's vision for education was ahead of its time, reflecting as it did a broad understanding of human flourishing. In an obituary for TC's founder, Grace Hoadley Dodge, the New York Tribune said, "she looked ahead a century and made her plans accordingly." It has been more than 100 years, but the events of the past year have brought into sharp relief the prescience of the College's comprehensive vision of human development.
2021 exacerbated and brought to light challenges and issues across areas—education, psychology, health, leadership, equity, access, justice—that have always been the core focus of TC's work. In response, our extended community brought to bear the full force of their expertise and commitment. From integrating mental health interventions across classrooms to identifying effective online strategies for diagnosing speech and swallowing disorders, to adapting culturally responsive practices for remote teaching, students, faculty, and staff worked hand-in-hand with partners, practitioners, and neighbors to share knowledge, gain insight, and advance solutions.
At the same time, the TC community initiated, produced and disseminated research that promises to raise awareness, empower practitioners and shape policy far into the future. Faculty with their students won grants to study gun violence and online learning in higher education and develop new curriculum in climate change and Black Studies; they published books on trauma and resilience, spirituality and mental health, deescalating polarization, and interventions to counter racism and bias; students and alumni shared experiences at the Academic Festival that spanned working with Liberian educators to implement a human rights curriculum to assessing mental health needs among Amazonian communities in Peru.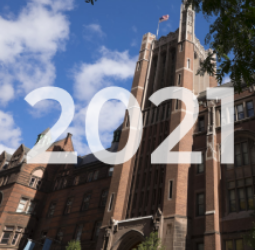 Internally, the year was characterized by the ability and willingness of the TC community to remain flexible and persevere in the face of great change and unpredictability. Students, faculty and staff proved to be nimble, creative problem-solvers as they worked within the constraints of the remote setting to tackle everything from fieldwork and residencies to maintaining a vital sense of community. By necessity, we gained skills and experiences that provide invaluable insights about where and how the online modality can strengthen our work and the opportunity to apply these lessons as we begin reimagining how to structure work, teaching, mentorship, and public outreach in a post-pandemic world.
Above all, 2021 was a year that reminded us what we value and love about TC. Our work has never been more relevant, and thus the imperative of continuously improving as an institution has never been more paramount. In 2021, we formally launched five strategic priorities to set a purposeful course for the College's future. Our efforts to better serve students and alumni, deepen our vibrant culture of diversity and inclusion, strengthen research capacity and academic excellence, and sharpen our expertise and leadership in digital learning will allow us to innovate, anticipate challenges, and forge new solutions as we head into the next 100 years.
None of this would have been possible without our students, faculty, and staff, our far-flung alumni—over 90,000 strong—and our donors, partners, supporters and neighbors. The 2021 Annual Report is a celebration of the power of collaboration and community, demonstrating all that can be accomplished when we join forces to advance the public good.
Warmly,

Thomas Bailey
President