Ginsburg, Herbert P. (hpg4)
Skip to content
Skip to main navigation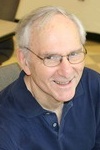 Ginsburg, Herbert
Jacob H.Schiff Foundations Emeritus Professor
Department of Human Development
212-678-3443
Office Hours:
By appointment; please email.
Educational Background
B.A., Harvard University
M.S., Ph.D., University of North Carolina
Scholarly Interests
Intellectual development
Mathematics education
Testing and assessment
Selected Publications
Ginsburg, H.P., Jacobs, S.F., & Lopez, L.S. (1998). The teacher's guide to flexible interviewing in the classroom: Learning what children know about math. Boston: Allyn and Bacon.
Ginsburg, H.P. (1997). Entering the child's mind: The clinical interview in psychological research and practice. NY: Cambridge University Press.
Ginsburg, H.P. (1989). Children's Arithmetic. (2nd Ed.) Austin, TX: Pro-Ed.
Ginsburg, H.P. & Opper, S. (1988). Piaget's Theory of Intellectual Development. (3rd Ed.) Englewood Cliffs, NJ: Prentice-Hall.
Courses
Related Articles