New York State Administrative Certification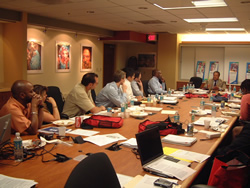 Many prospective students are interested in careers as school building or school district leaders. In most (but not all) cases, candidates for such positions are expected to have had prior successful experience as a school teacher, a relevant graduate degree, and state certification. Our Master's and Doctoral degree programs in Public School and School District Leadership lead to eligibility for New York State administrative certification.
If you aspire a particular kind of position it is often useful to speak with persons who already hold that position, so that you can understand the typical requirements for education and experience. More information about certification can be obtained online. Click here and choose administrator certification from the drop-down menus. At Teachers College, the Office of Teacher Education and School-Based Support Services helps students through the certification process.
New York State Exam
All candidates for certification as a School Building Leader (SBL), School District Leader (SDL), or School District Business Leader (SDBL) graduating from preparation programs after February 1, 2009 are required to pass the appropriate New York State School Leadership Examination.
Click here to view information regarding examination dates, examination frameworks, preparation guides, and other resources.