Doctoral dissertation research is the culmination of a graduate student's scholarly work and contributes to partial completion of the requirements for a doctoral degree. An accomplished researcher familiarizes themselves with the expectations of systematic investigations, human subjects research, and IRB regulations. With this in mind, all doctoral students must submit their dissertation research to the IRB for review and approval post-proposal hearing. The IRB will make the final determination of the IRB review category, or if the dissertation research does not involve human subjects. Students may also submit pilot studies, but only on a case-by-case basis, as it relates to human subjects research.
This article serves as a guide for submitting dissertation research through the Teachers College (TC) Institutional Review Board (IRB) online system and includes the following sections:
Timeline: When to Submit Dissertation Research for Review by the IRB
How to Prepare for the IRB Process
IRB Protocol Submission Overview
Expected Timeline
Modifications and Study Terminations
Timeline: When to Submit Dissertation Research for Review by the IRB
While working on your dissertation, you may wish to submit your pre-dissertation research (typically referred to as a pilot study) to the IRB prior to your proposal hearing, as it may be necessary to collect human subjects data in order to develop your dissertation plan. Pre-dissertation research can be submitted at any time for IRB review (or following the deadlines posted on our website if the study is a Full Board review).
Depending on your study design, the pre-dissertation research may or may not need IRB review and approval. For instance, a pilot study or pre-dissertation study requires submission to the IRB if it meets the definition of "research with human subjects." Additionally, if any of the results from your pre-dissertation research may be included in the final dissertation, you should plan to submit the research to the IRB for review.
An IRB approval letter for pre-dissertation research will not satisfy the Office of Doctoral Studies (ODS) requirement for graduation. A post-proposal hearing IRB approval letter will satisfy ODS's requirements.
All dissertation research must be submitted to the IRB after successful completion of the proposal hearing. Once the IRB has reviewed and approved the research, you will be issued an IRB approval or acknowledgment letter. This letter will be submitted to the ODS in the graduation packet as partial completion of your doctoral degree. Human subjects research may not commence until after the researcher has received IRB approval.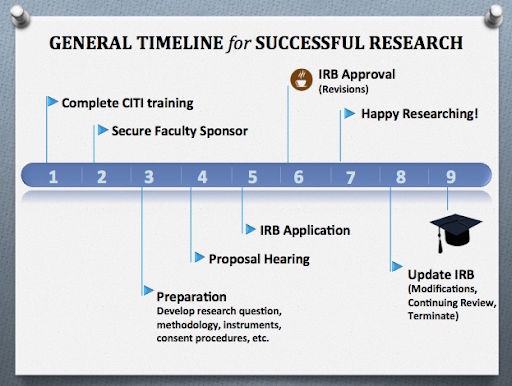 General Timeline for Successful Research Accessible Version
An IRB review is still required for post-proposal hearing dissertation research even if it does not involve human subjects, as that review is part of ODS requirements for graduation.
Internal studies

(e.g., office procedure evaluations, teaching evaluations, or customer service surveys).

Information-gathering interviews

(e.g., when individuals ask professionals product description questions, conduct office policy inquiries, or gain information from teacher-trainers about their upcoming workshop plans).

Course-related activities

designed specifically

for educational or teaching purposes

(e.g., instruction on research methods and techniques).

Case histories

(e.g., a 38-year-old adult female complained of chronic left ankle pain which led to a new joint stress-relieving physical therapy method).

Publicly available data

(e.g., census data, labor statistics).
For a comprehensive exemplification of studies that would not be considered human subjects research, please visit our What is Human Subjects Research? guide.
Reminders:
The IRB will review your pre-dissertation research (or pilot study with human subjects) after it has been approved by your faculty sponsor.
To meet ODS requirements for dissertation research, an IRB approval letter must be dated post-proposal hearing.
How to Prepare for the IRB Process
The doctoral dissertation research process begins long before embarking on your journey with TC IRB. As part of this initial research process, you will first need to verify that you have an up-to-date CITI training certificate (within the last three years) affiliated with Teachers College. If you have an affiliation with a different institution, please initiate the TC affiliation requirement by contacting CITI support and updating your user profile on CITI's website. All TC researchers must complete CITI's "IRB Social And Behavioral Research - Basic Course."
History and Ethical Principles – Social Behavioral & Educational

Defining Research with Human Subjects

The Federal Regulations

Assessing Risk

Informed Consent

Privacy and Confidentiality

And other topics...
Visit our Training & Certification page for information on how to update your CITI certification.
The next step is to secure a faculty sponsor who will guide you through the IRB process. In most cases, this will be your faculty mentor or a faculty member on your dissertation panel. This individual should review your IRB documentation prior to IRB submission. Make sure your faculty sponsor is aware of your intent to submit to the IRB, as they will be required to "accept" your protocol in Mentor IRB before it is reviewed by the IRB.
It is highly recommended that you set aside sufficient time to complete the application and all other submission materials (e.g.,, Informed Consent Form Template recruitment materials) prior to your proposed research start date. These documents can be downloaded from TC IRB's website, or from TC Mentor IRB from the Documentation list. Researchers can consult the Writing for an IRB Review guide and the IRB Reviewer Checklist. For support with developing your application or consent form, set up an appointment with the Graduate Writing Center.
Familiarize yourself with the IRB review categories and consider the risk to participants as it relates to the research project you are undertaking. You should decide which review category best fits your research, but remember that the IRB reviewer will make the final determination regarding your protocol submission. You can review TC IRB's Get to Know a Review Category series for detailed information about these review categories.
After consulting your faculty sponsor, addressing your study's review category, and reviewing research materials, you can engage in the IRB submission process. All IRB protocols must have a completed , even if the research is not with human subjects.
IRB Protocol Submission Overview
To commence the IRB application, locate TC Mentor IRB under the "Research Resources" in the Student Resources tab of your TC portal. When you are ready to upload your study, click on the My Protocols sidebar on the left navigation menu and select the Create New Protocol Option. For a detailed walk-through on how to submit a new protocol, please download the How to Submit a New Protocol guide. If you will be recruiting new human subjects, you must include recruitment materials, consent forms (Assent Form Template, Parental Permission Form Template, etc.), and site permission forms (if applicable).
In accordance with IRB submission requirements, you should also upload a signed copy of your post-proposal hearing report as "Additional Documentation" in Mentor IRB as proof of your completed proposal hearing.
If you need additional help reviewing your protocol, please reference our IRB Reviewer Questions. Templates for most materials are available in TC Mentor IRB/Documentation.
Expected Timeline
After you have successfully submitted your IRB protocol in Mentor IRB, you can expect to undergo multiple rounds of revisions. It is very rare that research will be approved after the first submission. Remember you cannot commence any interactions with human subjects (including recruitment or data collection) until you obtain IRB approval.
Often you will receive revisions or questions from a reviewer once your IRB protocol has been submitted. Typically, the reviewer will either reach out to you via the Mentor IRB messages function or through a Request for Revisions memo.
To respond to requested revisions, please download our Request for Revisions Memo Template, utilize tracked changes to submit the revised documents, and include a clean, final version of all updated documents. For information on how to mark revisions using the "track changes" feature, visit this guide for Microsoft Word and this guide for Google Docs.
When planning your research timeline, please keep the following in mind:
For most studies researchers should budget at least four weeks for their IRB protocol process which includes drafting materials, meeting with the faculty sponsor, IRB protocol submission, IRB review, response to revisions, and final IRB approval or acknowledgment. Times may vary based on the current IRB protocol queue, the population of interest (if the population is vulnerable), and other mitigating factors (e.g., a pandemic).
For most studies that are

minimal risk (exempt or expedited)

, researchers should likely hear from IRB reviewers between 5-10 business days after the protocol has been submitted in the Mentor IRB system.

Full Board studies

can expect to hear back from a reviewer five business days after the convened Full Board meeting.
Visit our Meetings and Deadlines page for more information concerning review details and dates.
Modifications and Terminations
After obtaining IRB approval, you may decide to alter certain aspects of your research study. Prior to making the changes, you will need to submit a modification. You can find templates and more information on how to submit study modifications on the modifications page of the TC IRB website, the "IRB Modification Submission Self-Check" blog, and ways to adapt research in an emergency blog.
A protocol should be terminated once recruitment has been finalized and all data collection has concluded (e.g., your dissertation has been published). An investigator-initiated voluntary termination is characterized by an investigator wishing to terminate activities involved in their research study and administratively close the protocol with the IRB. You should share these reasons for termination with TC IRB in the continuing review report. Please note that once an IRB protocol has been terminated, it cannot be reopened. For detailed information regarding when and how to terminate a protocol, please check out our terminating a protocol page.
Dissertation research is a rewarding experience that will inform your subsequent professional development. TC IRB has a myriad of resources available on our website to demystify the process and support successful dissertation research. If you have any questions or concerns, please send us an email at IRB@tc.edu to schedule a virtual meeting with an IRB administrator.
Happy Researching!