SMART IRB, a platform designed to ease multisite research challenges, provides institutions with ways to implement the NIH Single IRB Review Policy (effective date: January 25, 2018).
SMART (The Streamlined, Multisite, Accelerated Resources for Trials) IRB Reliance Agreement platform is not an IRB, but a master reliance agreement which has over 580 participating institutions. The Smart IRB master reliance agreement replaces an individual Institutional Authorization Agreement (IAA). This concept is called a single IRB reliance model. A single IRB refers to one IRB of record (or reviewing IRB), selected on a study-by-study basis, to provide the ethical review for all sites participating in a multisite study.
There are some exceptions to using SMART IRB. For example, some Department of Education (DOE) sites still require individual institutional reviews. Additionally, international research sites may require individual IRB reviews with the host country's institutional review board.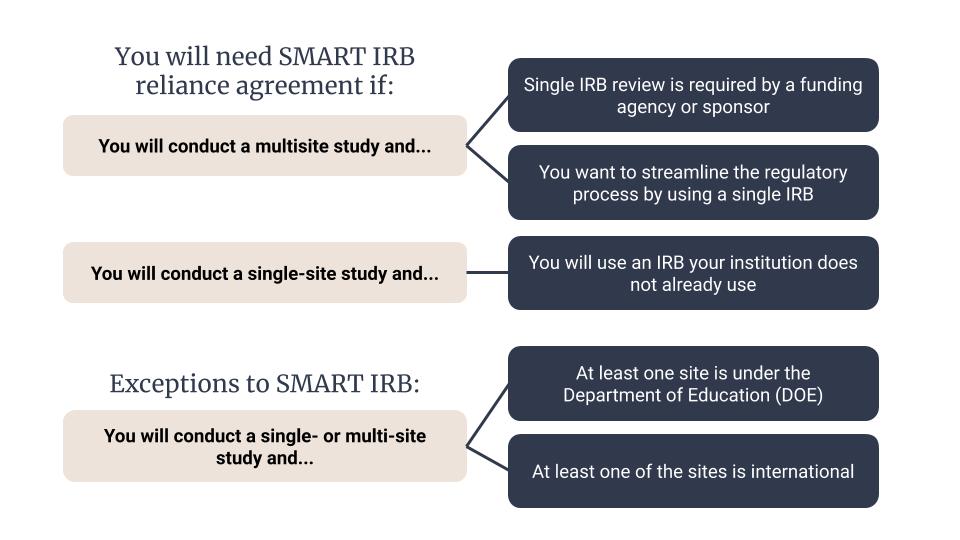 Please review the list of Participating Institutions to see if your collaborator is a member of Smart IRB. If your collaborator is not listed on SMART IRB, please contact Teachers College IRB (IRB@tc.edu; 212-678-4105).
A researcher wishing to conduct a multisite clinical study can easily access SMART IRB at https://smartirb.org/.
Authorization and Joinder (union) Agreements:
SMART IRB Authorization Agreement: Responsibilities for the reviewing IRB or IRB of record and the participating sites (also known as the relying institutions). The authorization agreement is also known as a reliance agreement (or Institutional Authorization Agreement (IAA)).
Joiner Agreement: The agreement for institutions to sign on to or join the SMART IRB Platform authorization agreement.
Guidance Documents: Descriptions on how to use the authorization and joinder agreements, and further describe how the single (reviewing) IRB, study team, and sites (relying institutions) work together.
SMART IRB Webpage Resources: