Introduction
"Graduate student research" refers to research conducted to fulfill graduate degree requirements. As part of completion requirements for a degree, many Master's students conduct research projects, including an Integrative Project (IP) or thesis. Master's students may observe guidance and educational materials geared at supporting research but may not realize what information is most relevant for their project. This article focuses on what Master's students need to know about human subjects research and the Institutional Review Board (IRB).
When is IRB Review Required?
If the proposed study meets the federal definition of research, it is required to undergo review by the IRB.
"A systematic investigation, including research development, testing and evaluation, designed to develop or contribute to generalizable knowledge."
How Can Master's Students Benefit from Engaging in Research?
As a Master's student, you will likely conduct research at some point in your academic career. A good research paper is time-consuming and requires complex skills and revisions. Honing your research skills can help you:
Foster critical thinking and analytical skills through hands-on learning (e.g., writing reports, editing, solving problems that arise during the research process).

Define academic, career, and personal interests (e.g., qualitative or quantitative research designs, program evaluations, or case studies).

Expand knowledge and understanding of a chosen field outside of the classroom (e.g., studying diverse viewpoints and positions on a topic).

Develop one-on-one connections with distinguished professionals in the field (e.g., your academic advisor, faculty sponsor, colleague, etc.).
Students planning to engage in research should aspire to submit a human subjects protocol.
Do All Master's Students Who are Completing an Integrative Project (IP) Need to Go Through the TC IRB?
No, the necessity to go through the IRB depends on several factors and situations. Master's students are only obligated to submit their study to the IRB if they are conducting research with human subjects. Master's students may be required to submit a protocol to the IRB if one or more of the following conditions are met, in that the project:
Poses more than minimal risk to participants.

Involves the participation of minors (those under 18 years of age).

Involves vulnerable populations (e.g., persons who are cognitively or physically challenged or disabled).

Is in coordination with a site or collaborator requiring IRB approval (e.g., the New York City Department of Education (

NYC DOE

)).

Is grant-funded or has other external obligations for IRB review.

Will be made public (e.g., published in an academic journal (or other publication) or presented at a conference). Further, classroom exercises or projects solely completed to fulfill course requirements or to train students in the use of particular methods or devices (under the guidance of a faculty member) are not generalizable (not research) and likely do not need IRB review.
If you are unsure whether your activity is human subject research, please visit TC IRB's review categories or contact the IRB office at IRB@tc.edu. Graduate students who plan to conduct human subjects research must submit an Institutional Review Board (IRB) protocol for review.
The TC IRB website contains a plethora of helpful guides and resources, including templates for creating consent documents and blog posts about topics such as the "Life Cycle of an IRB Protocol."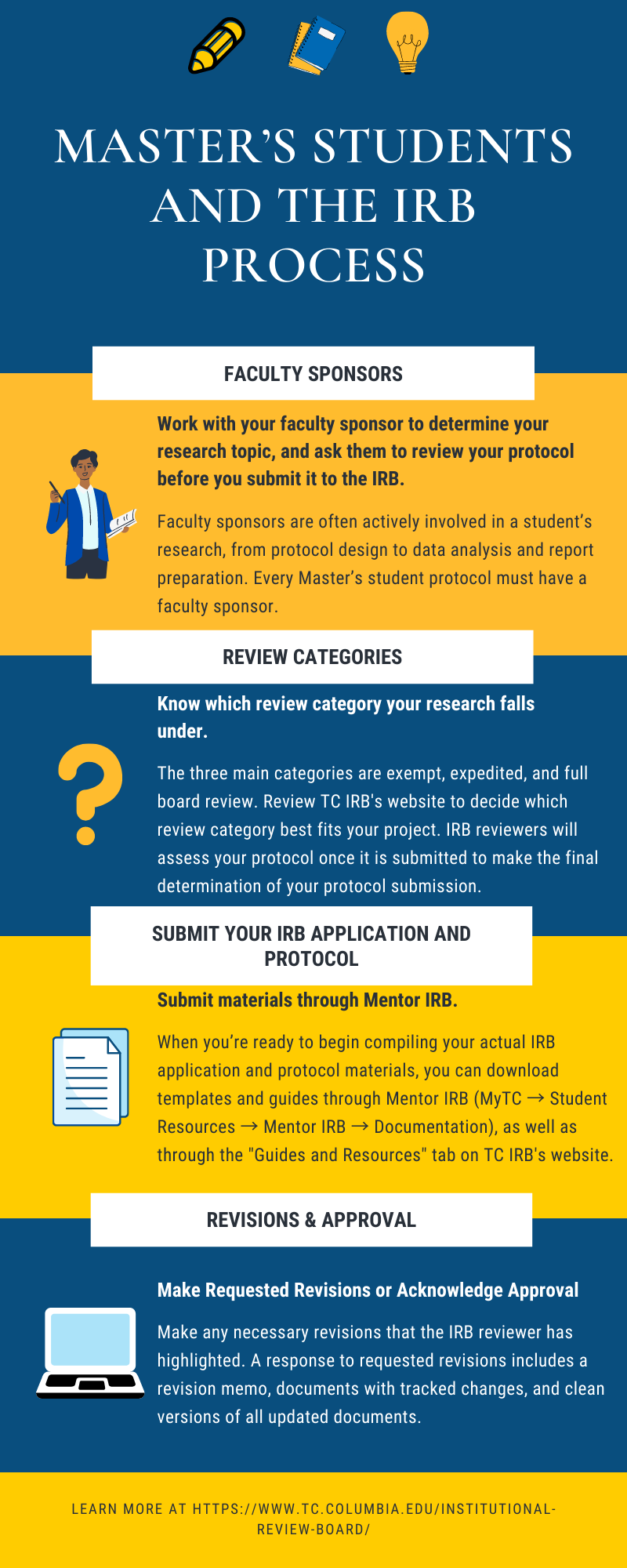 Before You Begin with the IRB
If your research involves research with human subjects, you will want to first engage with a faculty sponsor or academic advisor. Faculty sponsors are important for guiding students who are planning, or are in the process of, submitting IRB applications. They are often actively involved in the student's research, from protocol design to data analysis and report preparation. Every IRB protocol submitted by a Master's student must have a faculty sponsor who can provide recommendations about research that will decrease any risk to human subjects, while also serving as a point of contact for human subject concerns and ethical questions.
All research staff and faculty sponsors submitting an IRB protocol must have an updated CITI training certificate on Mentor IRB (awarded within the last three years). Please visit our "Training & Certification" page for information on how to update your CITI certification. Although you may have completed CITI training at a different institution, you still need to be affiliated with Teachers College through CITI's website for your current research project(s).
You can complete CITI's "IRB Social And Behavioral Research - Basic Course" even if you do not intend to immediately submit to TC IRB for review. Topics in CITI's Basic Course include:
History and Ethical Principles – Social Behavioral & Educational

Defining Research with Human Subjects

The Federal Regulations

Assessing Risk

Informed Consent

Privacy and Confidentiality

And other topics…
CITI certificates must be updated every three years. Therefore, if you completed your CITI training with Teachers College over three years ago, you'll likely need to complete the CITI refresher course before submitting a protocol to the IRB.
Review Categories
Next, you will want to know under which review category your research falls. The three main categories are exempt, expedited, and full board review. Most of the IRB protocol submissions at TC fall under the "exempt" research category. Do not worry if you are not exactly sure which category your project falls under at first; the IRB website has many helpful resources for deciding which review category fits your project the best. IRB reviewers will assess your protocol once it is submitted to make the final determination of your protocol submission.
Protocol Submission Materials
When you are ready to start your actual IRB application, you can download the application template through Mentor IRB.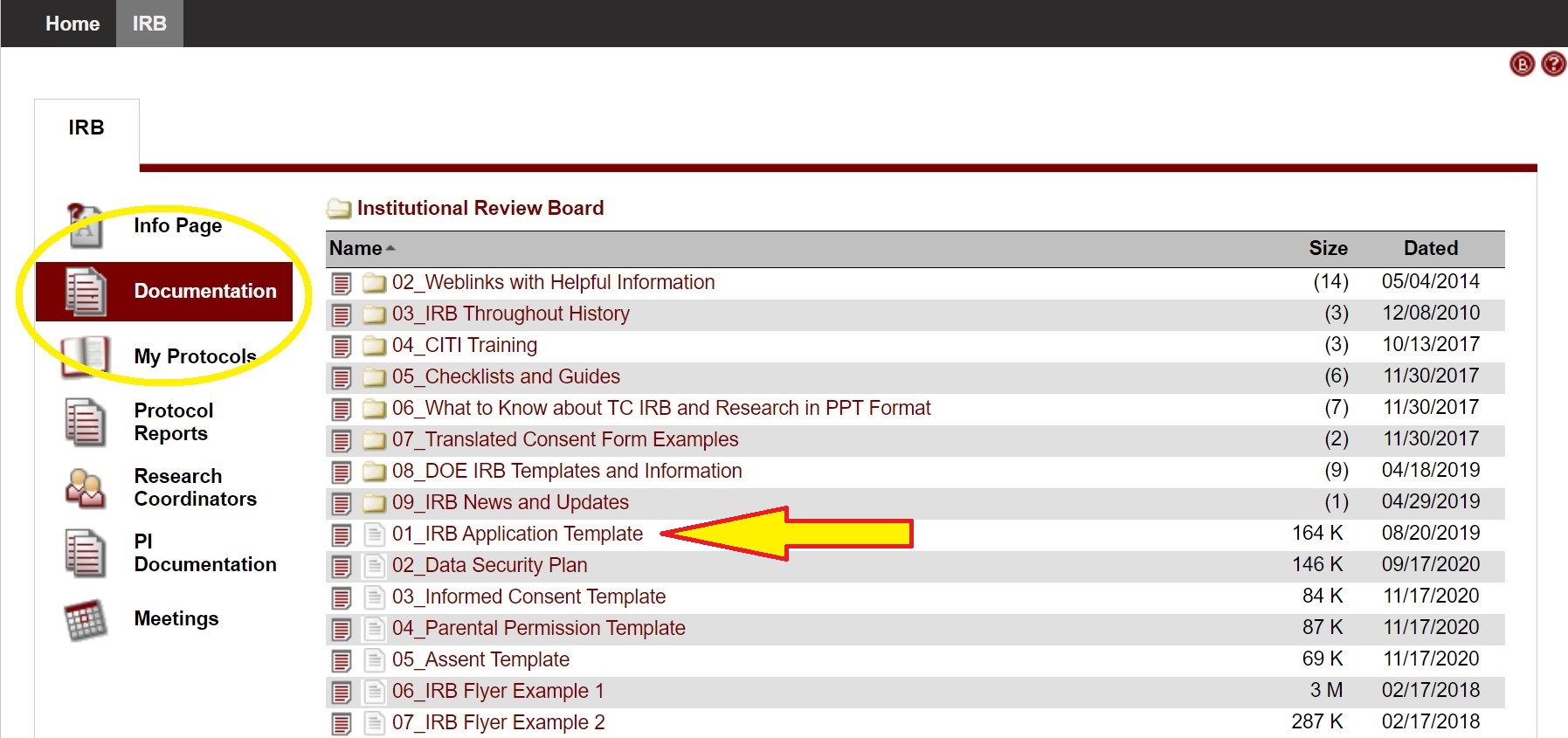 It is advisable to allow plenty of time to complete the application and all of the other submission materials (e.g., IRB Application Template, Informed Consent Form Template, recruitment materials, study materials). Researchers can consult "Writing for an IRB Review" and the IRB Reviewer Checklist for guidance.
You should engage in the IRB process as soon as you have reviewed your research materials with your faculty sponsor or academic advisor.
IRB Protocol Revisions
Do not worry if you end up needing to make revisions to any part of your IRB submission; it happens. A response to requested revisions includes a revision memo, revised documents with tracked changes, and a final protocol copy.
For information on how to mark revisions using the "track changes" feature, visit this guide for Microsoft Word and this guide for Google Docs.
IRB Protocol Modifications
Sometimes, a researcher will obtain IRB approval, then decide that they want to make a change to their study activities. These changes are called "modifications," and they can be either "minor" or "major." No matter which type of modification you decide to make, you must go through a modification process with the IRB in order to make sure that your changes fit within ethical guidelines. You can find more information on how to submit study modifications on the modifications page of the TC IRB website, in this "Common Types of IRB Modifications" blog post, and through this "IRB Modification Submission Self-Check" blog.
Happy Researching!
Master's students should also explore these resources to better understand their researcher role:
In conclusion, do not stress! There are many great resources on the TC IRB website that are specifically designed to make your IRB submission process go more smoothly. When in doubt, browse the IRB website, or send us an email at IRB@tc.edu.
Additional Resources